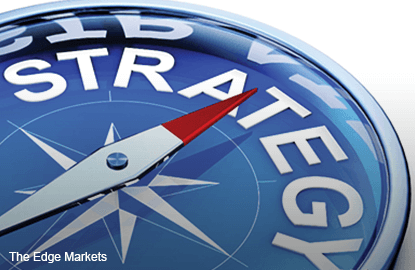 Trump's win spells long term pain for some sectors, says MIDF Research
KUALA LUMPUR (Nov 10): The surprise outcome of the U.S. presidential election which saw Donald Trump prevail over Hillary Clinton may have some downside for several sectors in Malaysia, according to MIDF Research.
In a strategy note today, the research house said the outcome would translate into long term pain for the manufacturing sector, logistics business, consumer and pharmaceutical products and the power sector
MIDF Research pointed out that early this year, Trump mentioned that he wants American companies to bring back manufacturing jobs back to the US.
"This will disrupt Apple's global value chain including Malaysia's semiconductor players and related sub contract manufactures.
"As a result, we could see local semiconductor players could possibly lose some of their major clients hence face excess capacity in their plants," it said.
The research house said that in addition, the expected weakening of the U.S. Dollar (USD) next year, will also eliminate any foreign exchange gain for the local semiconductor players as big chunk of the revenue from the export market is normally transacted in U.S. dollar.
As for logistics businesses, MIDF Research said Trump's campaign promises could possibly put a dent on FTAs, including NAFTA and TPP.
It said he may even impose trade barriers against China over concerns on currency fixing, excessive government subsidies and use of US intellectual property.
"These will unsettle global trade, and thus could negatively impact the logistics and shipping businesses in the long term.
"The mitigating factor, however, is that these policies would take time to implement and might not even be cost effective to operate. And the affected companies could still strategize to shift their reliance from the US related businesses, focusing more on other regions, such as Asia-Europe and Intra-Asia trade lanes.
"However, having said that we believe Westports Holdings Bhd (TP : RM5.00) and MMC Corporation Bhd (TP : RM3.11) will be able to withstand the tailwind," it said.
Meanwhile, it said consumer and pharmaceutical products will become more expensive.
MIDF Research said restrictions over the use of intellectual property would mean that products that are benefits from outcome of big research and development works done in the US, including consumer electronics, biotechnology, and pharmaceuticals could be adversely affected.
"With the inclusion of the higher cost of manufacturing in the US and threats of price controls no longer a concern, coupled with increase shipping cost to import these products, we could potentially higher selling price of consumer products, such as IPhone and higher cost of healthcare, particularly in the treatment of specific illnesses.
"This could possibly put pressure on the earnings of IHH Healthcare Bhd (TP: RM6.95) and KPJ Healthcare Bhd (TP: RM4.05)," it said.
Finally on the energy sector, it said having a national policy that puts all energy sources on a level playing field could potentially see a recovery of coal prices.
"As fuel purchases make up almost half of Tenaga Nasional Bhd's total cost with circa 39% of these comprising coal purchases, the power sector will face cost pressure.
"While the USD is expected to weaken next year, we opine that this might not be enough to offset the rise of coal price.
"Meanwhile, technically, Tenaga (TP: RM16.80) might be negatively impacted by the strength of both USD and Japanese Yen (JPY) currencies, but we take comfort in the fact that the majority of the borrowings are long–term in nature (96% of total debt are long-term), hence impact from the strength of the JPY and USD currently (which are expected to betemporary) will not be immediately realised. In the near-to-mid-term, currency fluctuations are only likely to result in mark-to-market impact," it said.
On the positive side, MIDF Research said there would be some short term relief for export oriented sectors.
It said as there will be temporary shock on the downside to the emerging market currencies, export oriented sectors, with a huge local content will likely see a rise in revenues during the uncertainties period, which will likely last for a year.
"The short term appreciation of USD against the ringgit post President Trump's win would be beneficial to the Glove Sector in terms of revenue as exports for gloves are USD denominated.
"We also do not foresee any impact on demand for rubber gloves as a result of the election as rubber gloves are deemed as an essential item.
"Having said that, we do note on the possibility that the appreciation of USD post-election will normalise in early 2017," it said.
The research house is Neutral on the palm oil sector and said stocks that are reliant on the domestic market are likely to be shielded from volatility.
It said for Banks, the possibility of overnight policy rate being maintained at current level due to the expected volatility in the financial markets will alleviate current NIM pressure that the sector is currently facing.
"Meanwhile for the property sector, its high beta nature of property stocks may cause near term share price volatility.
"As property stocks generally have higher beta, the short term decline in FBM KLCI is likely to cause more decline for most property stocks in the short term caused by risk off strategy adopted by foreign investors which will then cause them to sell emerging market stocks (including Malaysia property stocks).
"We opined the impact is temporary with the Fed unlikely to do a rate hike in December," it said.