This article first appeared in Personal Wealth, The Edge Malaysia Weekly, on July 10, 2017 - July 16, 2017.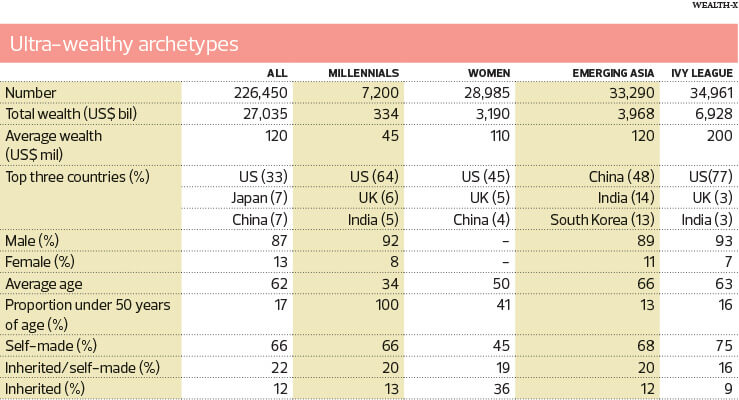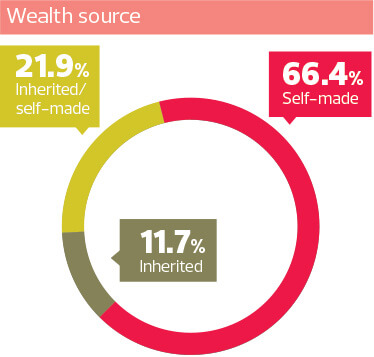 A combination of technology-driven service efficiency and personalised face-to-face client interaction will emerge as the desired form of wealth management for most ultra-high-net-worth individuals (UHNWIs), according to the World Ultra Wealth Report 2017.
For many UHNWIs with complex asset structures and intricate wealth transfer requirements, personal interaction provided by the traditional business model of wealth management is likely to remain in demand. But as they expect more digital functionality, many aspects of wealth management is highly vulnerable to digital disruption, says the report.
"There is ongoing innovation in algorithmic software, rising competition from standalone financial technology firms and a growing number of tech-savvy UHNWIs, who demand convenience and speed in service delivery. The evolution is already apparent across parts of the industry, with fully automated robo-advisers now able to offer streamlined wealth management services by employing algorithms to determine suitable investment strategies based on defined sets of personalised data," it says. 
As expectations of digital functionality continue to rise among UHNWIs — many of whom regularly use online and mobile banking services and review their portfolio markets online — an increasing share of the traditional wealth manager's role faces being delegated to technology, says the report. "A similar bifurcation of the market is becoming apparent in the luxury real estate sector, with technology now addressing many of the simpler aspects such as property availability, internal viewing and services support. The role of the luxury property broker has become more of a high-level wealth adviser, offering expertise, nuance and insight into specific markets and locations."
The June 27 report — published by Wealth X, a global wealth information provider — analyses the state of the world's UHNW population, or those with a net worth of US$30 million or more. 
Another notable trend is a push towards global asset disclosure and reporting requirements. In recent years, governments around the world have stepped up efforts to regulate the movements of capital, adopting stronger regulatory positions on secrecy, transparency and protection of personal data. 
"This extends beyond concerns about asset protection and tax liabilities to the pertinent challenge of how best to pass on their wealth and business to the next generation. It is more relevant than ever, given the more apparent threat to wealth preservation from the uncertain geopolitical environment and the rising privacy and security concerns of the UHNW population," says the report.
Contributions to philanthropic causes have increased steadily within the UHNW community since the global financial crisis. Although the precise drivers of this can be hard to pin down, a growing sense of social engagement and desire for personal fulfilment could be among the reasons.
"With the level of intergenerational wealth transfer set to rise sharply over the next decade and beyond, the growing share of social entrepreneurs and environmentally conscious individuals among the global ultra-wealthy population has implications across a range of sectors. From a wealth management and not-for-profit sector perspective, there will be rising demand to cater for the increasingly sophisticated channels for philanthropic engagement," says the report.
"New developments such as impact investing are building on the work of traditional foundations and financial vehicles are becoming more closely integrated into the core strategy of the UHNW population's businesses. Some examples are limited liability corporate structures, donor advice funds and social impact bonds. Many of these new products are hybrids, combining aspects of traditional philanthropy with tools more familiar to investment professionals." 
In recent years, the momentum in ultra-wealth creation has softened following a period of robust growth at the beginning of this decade, against a backdrop of weaker global economic activity, a slowdown in globalisation and heightened geopolitical risks. However, the steady expansion of the UHNW population last year underlined the resilience of this group. Therefore, the report forecasts strong growth in the number of these individuals and their combined wealth over the coming years. 
"By 2021, we expect the global ultra-wealthy population to total 299,000 — an increase of 72,550 from last year. The level of UHNW wealth is projected to rise to US$35.7 trillion, which implies an additional US$8.7 trillion of newly created wealth over the next five years," says the report. 
Short-term prospects for ultra-wealth creation have been boosted by the moderate but clear upturn in global economic activity since late last year, says the report. "A synchronised firming of industrial demand and financial market sentiment, alongside faster inflation and falling unemployment in most major countries, points to a world economy that is looking healthier than it has for some time. 
"A gradual tightening of monetary policy by the US Federal Reserve is a testament to the more upbeat tone across global markets, with equities, initial public offering activity and mergers and acquisitions all rising in the opening months of this year. The greater optimism should not be overstated, yet the expectation is for a more supportive economic environment for wealth creation this year."
On a broader level, a number of the underlying structural trends in the global economy will continue to provide opportunities for asset-value appreciation throughout the five-year forecast period. Growth drivers will include urbanisation, rising income levels, the shift among consumers towards more expensive premium products as their wealth rises, an increase in female labour in developing markets and the ongoing rapid adoption of transformative digital technologies around the world.
According to the report, it is important to acknowledge the dramatic shift in the geopolitical environment that has taken place recently. The changes bring greater uncertainty over the prospects of future wealth creation, along with a number of significant downside risks to global growth. 
"Underlying Donald Trump's unexpected victory in the US presidential election and the UK's decision to leave the European Union was a clear sense of deep popular dissatisfaction with the 'establishment elite' and a desire for change. Although the populist challenge in Europe has since lost some momentum following elections in the Netherlands and France, the threat of a broader retreat from peak globalisation around the world is likely to continue over the coming years, amid more strident views on issues of immigration, deindustrialisation and sovereignty," says the report. 
Last year, there was global growth of 3.5% to 226,450 UHNWIs and a 1.5% increase in their total combined wealth to US$27 trillion — a partial rebound from a sharp fall of 7.1% a year earlier. According to the report, North America and Asia recorded strong growth of 5.1% and 3.5% in 
UHNWIs respectively while Europe, Latin America, Africa and the Caribbean saw declines. 
"Asia recorded the fastest growth, with its 6.6% just outpacing the 5.7% rise in North America. The region's share of UHNWIs has been increasing steadily and accounted for more than 26% last year, up from just above 18% a decade earlier. Resilient economic growth and supportive currency movements were the main drivers of wealth gains across the region," it says. 
As the UHNW population is forecast to grow strongly over the next five years, it will provide a larger pool of potential consumers of luxury goods and services and greater opportunity for luxury brands to grow their global market share. 
According to the report, UHNWIs have been among the main buyer of electric vehicles and marques equipped with connected-car technologies. This is expected to extend to self-driving vehicles, which are touted to be available by the end of the decade. 
"A recent trend in the more established wealth markets of Europe and North America has been a shift in consumption away from tangible goods and towards more 'experiential' luxury. This shift is stimulating demand for other out-of-home luxury experiences such as 'transformative' travel (from socially engaged trips to the ultimate escape of space flights), fine dining and high-end entertainment as well as in-home indulgences linked to high-quality design, architecture and fine art," it says. 
Ultra-wealthy archetypes
The World Ultra Wealth Report 2017 examines in detail some of the key characteristics of four selected ultra-high-net-worth groups — individuals from emerging Asia (excluding Japan, Singapore and Hong Kong), millennials, women and Ivy League graduates. Each group displays a number of distinctive traits, whether related to age, geography, wealth source, asset holdings or average net worth. 
Ultra-wealthy millennials
According to the report, the number of ultra-wealthy individuals born between 1980 and 1995 is small, accounting for only 3.2% of the global ultra-wealthy population. Recipients of inherited wealth are a minority, with two-thirds having made their fortunes through their own endeavours. 
"This small share is a testament to the difficulty in amassing substantial levels of wealth at a relatively young age. Despite the media attention given to young tech billionaires or property heirs, wealth creation and accumulation is more often than not a long-term process," says the report. 
"As with the general population, our research has shown that the net worth of ultra-wealthy individuals rises steadily with age. At US$45 million, the average net worth of the millennial cohort was just over a third of the level of the global population, with women representing 8% of the group."
The report says the US is home to almost two-thirds of ultra-wealthy millennials, reflecting — among other things — the country's strong entrepreneurial environment, global pull of the country's higher education institutions and rapid advances of its technology sector. 
Ultra-wealthy women
The report says ultra-wealthy women are, on average, 12 years younger than the global ultra-wealthy population, have a lower average net worth — US$110 million compared with US$120 million last year — and are three times more likely to have inherited their fortunes. 
"This group is significantly under-represented in the global ultra-wealthy population, totalling just shy of 13% last year and accounting for about 12% of UHNW wealth. As with the cohort of millennials, the younger average age of the female group partly explains the disparity in average wealth holdings with the global mean," it says.
According to the report, stark differences in wealth source are also a factor as 55% of ultra-wealthy women received some or all of their fortunes via inheritance, compared with a third of men. "However, this does disguise a growing trend of family wealth and business responsibilities being transferred to younger women than was previously the case. This is likely to support the growth of the hybrid self-made or inherited wealth source category among females over the coming years."
Ultra-wealthy in emerging Asia
The report says emerging Asia represents an increasingly important and growing cohort of ultra-wealthy individuals. Last year, the region accounted for almost 15% of the global ultra-wealthy population, up from 10.5% in 2010. 
Growth has been driven predominantly by China on the back of still impressive rates of economic growth and the rapid evolution of the technology, consumer retail and real estate sectors. 
"More recently, however, there has been strong growth in the ultra-wealthy populations of India and Indonesia, and from a lower base, those of Vietnam and the Philippines. On average, ultra-wealthy individuals in emerging Asia are slightly older than their global peers and have a higher level of wealth," says the report.
"Most are still at the wealth creation rather than the wealth preservation stage, which contrasts with the multigenerational wealth patterns more common in Europe and North America. That said, the share of inherited wealth is expected to rise further in the next decade as emerging Asia undergoes its first major intergenerational wealth transfer."
Ultra-wealthy Ivy League alumni
According to the report, about 15% of the global ultra-wealthy population graduated from an Ivy League university, a select group of eight higher education establishments in the northeast of the US — Brown University, Columbia University, Cornell University, Harvard University, Princeton University, Yale University, the University of Pennsylvania and Dartmouth College. 
"This underlines the global attraction of the US higher education system — about a quarter of Ivy League alumni have their primary business outside the US — and the powerful 'network effect' at such elite institutions, where access to well-connected, privileged networks and a fast-track career can significantly boost the prospects of future wealth creation," says the report.
"The average net worth of Ivy League alumni is more than 1½ times that of the global ultra-wealthy population average. Given the exclusivity and highly selective admission criteria of the eight institutions, it is perhaps surprising that this cohort accounts for the lowest share of inherited wealth of all four archetypes, with an above-average 75% having made their own fortunes."