This article first appeared in Personal Wealth, The Edge Malaysia Weekly, on May 6, 2019 - May 12, 2019.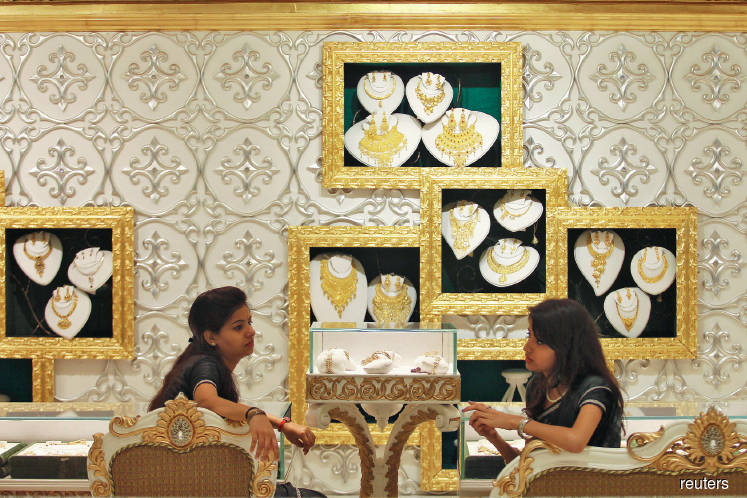 Rich Asians are allocating more of their wealth into bonds and gold in the face of increasing market volatility and uncertainty. Photo by Reuters
According to the recently published Knight Frank Wealth Report, 63% of those who responded to its Attitudes Survey said the wealth of their ultra-high-net-worth clients increased last year. Slightly more than 20% reported no change while 16% said their clients' wealth had fallen.
The survey was based on the responses of 600 private bankers and wealth advisers, who manage more than US$3 trillion for their clients. The report was released late last month.
The numbers were less encouraging in Asia, with less than 60% reporting an increase, 23% recording a fall and 18% reporting no change in their clients' wealth.
Australia saw the highest rise in wealth last year, with a whopping 93% of respondents reporting an increase in their clients' fortunes. Some 72% said they expected their clients' fortunes to increase this year.
In India, where the volume of wealth is rising the fastest, ultra-high-net-worth individuals (UHNWIs) are expected to decrease their cash exposure while increasing allocations to private equity this year — a sign that local investors are becoming more sophisticated.
In Malaysia, 59% reported an increase in wealth while 78% expect their clients' wealth to grow this year. That said, the respondents expect ongoing market volatility to pose challenges to their wealth creation and preservation efforts.
The increased volatility and uncertainty have brought about a more cautious sentiment among Asia-Pacific's UHNWIs. According to the survey, they are expected to allocate more of their wealth to cash and less cyclical assets such as bonds and gold.
Some 57% of Asian respondents and 59% of Australasian respondents expect cash allocations to increase over the next 12 months, higher than the global average of 48%. In particular, UHNWIs in China and Malaysia are expected to increase their exposure to gold. The precious metal is widely regarded as a safe haven asset in times of uncertainty.
"With the US Federal Reserve ending its rising interest rate cycle, at least for the time being, there is renewed confidence in gold. However, it is important to note that like other markets, the gold market can be subject to speculation and volatility. Thu, we advise investors to follow the three essential aspects of portfolio management — diversification of risk, seeking undervalued opportunities and taking a long-term view," says UOB Malaysia head of private bank Dill Choo Chooi Lin.
Volatility notwithstanding, wealth managers seem more optimistic about their clients growing and preserving wealth in 2019, as opposed to last year. According to the Attitudes Survey, 22% of wealth managers felt that Malaysia's political and economic environment would make it easier for clients to create and protect wealth this year. Last year, only 11% of respondents thought so.
According to Knight Frank Malaysia managing director Sarkunan Subramaniam, the improved sentiment among local wealth managers this year is associated with the historic change in government following the 14th general election in May last year. This is a reflection of the UHNWIs' confidence in the current administration, he says.
Meanwhile, UOB's Choo points out that despite slowing global growth, opportunities in equities and fixed income still exist. However, investors need to stay vigilant and rebalance their investment portfolios to help manage risk.
"In 1Q2019, global equities rebounded by 10%, recovering most of their losses from 4Q2018.  Meanwhile, the clarity from the Fed on pausing its interest rate hikes raises the attractiveness of fixed-income investments," says Choo.
"However, with markedly slower global economic growth and a challenging corporate business environment, investors should be discerning in their securities selection and ensure a thorough understanding of the portfolio companies. They need to be mindful of the factors that influence their portfolio's long-term growth, such as asset quality, earnings and revenue growth, and its ability to outperform industry peers. In addition, investors should adopt a flexible and diversified asset allocation strategy that allows them to
reallocate between asset classes and geographies."
Knight Frank Asia-Pacific head of research Nicholas Holt says many of the trends that shaped the global economy last year — from Brexit and international trade tensions to financial market volatility — still appear prevalent. "However, financial markets have long priced in the implications of these widely discussed events."
Asian portfolios double down on real estate
Property remains the mainstay of UHNWI portfolios, the report noted. With capital growth and stable income provided by rental yields, property is a key asset of wealth portfolios across Asia-Pacific. The report pointed out that real estate made up 23% of UHNWI portfolios in Asia, higher than the global average of 21%.
Some 28% of Asian respondents said they would be increasing their exposure to property this year, 42% cited unchanged allocations while 20% said they would decrease real estate allocations in their clients' portfolios.
Malaysian UHNWIs are moving in this direction as well, says Knight Frank Malaysia executive director for capital markets James Buckley. "There is a lower correlation between real estate and the public markets. So, property is well positioned to weather downturns. It is an opportunity to diversify and reduce volatility in a portfolio. To this end, we see Malaysians continuing to invest in real estate in 2019 and, in particular, diversifying abroad, where there is a wider selection of investment-grade properties."
UHNWIs in the Philippines recorded the most buying interest in the region. About 63% of respondents in the Philippines said their exposure to real estate would increase this year, compared with just 9% who expect real estate allocations to drop.
In Australia, 40% of respondents expected allocations to real estate to decline while 20% anticipated an increase in their real estate allocations over the next 12 months.
According to Holt, this rebalancing away from equities towards more defensive asset classes is a result of the more cautious sentiment. "While cash, gold and private equity are likely to be increasingly targeted, investment-grade properties with strong tenant covenants will also see significant interest in the next 12 months," he says.