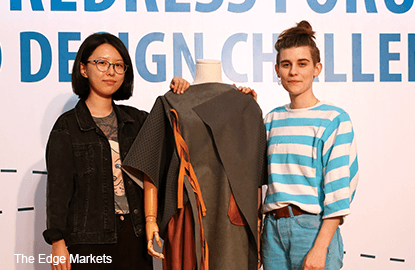 This article first appeared in The Edge Financial Daily, on January 21, 2016.
THE Redress Forum 2016: Ford Design Challenge was held on Jan 15; the event saw 10 finalists of the EcoChic Design Award 2015/16 create high-fashion outfits from sustainable seat fabrics used in Ford vehicles. The winners, Pan Wen from China and Amy Ward from the United Kingdom were part of up-and-coming designers from Hong Kong, China, Thailand, Poland, Spain and the UK. The challenge saw them putting forward an eclectic mix of designs, ranging from couture dresses to spiritually inspired pieces. 
The winning piece was a floor-length asymmetrical dress in hues of neutral fabrics and contrasting copper, and was inspired by a quiet underpass on Hong Kong's famous Victoria Peak, near the location where tourists take photographs of the city's iconic skyline. The design itself embodies the sustainable fashion industry. 
"With visible construction and hidden details, we wanted to create something that forces the wearer to dig a little deeper and to get to know the garment," said Ward. "Rather than picking an obvious skyscraper for our inspiration, we looked closer and liked the industrial feeling of the location, focusing on the finer details."
The outfit was handcrafted in just 3 ½ hours, following an educational workshop about the impact of design on product sustainability. The dialogue in the workshop promoted cross-industry thinking for sustainable solutions. 
Ford's sponsorship of the EcoChic Design Award 2015/16 reflects the company's long-standing and growing commitment to sustainable design research. Beyond seat fabrics, Ford produces storage bins using wheat straw, dashboards padded with scrap cotton from recycled jeans, and seat foam from a bioplastic made from soybeans. 
Today, the company continues to experiment with new biomaterials, including the use of tomato fibres from discarded tomato skins, seeds and stems, and retired US currency, to offset petroleum use in producing bins and other plastic parts for vehicle interiors. Research teams are also experimenting with biomimicry to develop a new sustainable adhesive for use under the hood. These efforts are all part of Ford's global sustainability strategy to lessen its environmental footprint