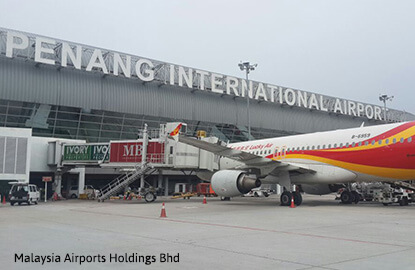 KUALA LUMPUR (Dec 22): Chinese low-cost carrier Lucky Air has officially executed a direct air route between Kunming City and Penang, which commenced its first flight landing at the Penang International Airport (PIA) on Tuesday at 12.20pm.
The twice-a-week flight from Kunming City to Penang will be served by a Boeing 737-800 aircraft.
In a statement today, Malaysia Airports Sdn Bhd (MASB) general manager Suhaimi Abdul Mubin said the inclusion of Lucky Air into the PIA family will further promote the airport as a preferred hub in this region.
"Malaysia Airports is delighted to welcome Lucky Air to Penang International Airport.
"Travellers now will have the option to use PIA via Lucky Air to connect with other major cities in China.
"I am confident it will also enhance the image and reputation of the airline as a transportation conduit among air travellers in this region," he said.
MASB is a wholly-owned subsidiary of Malaysia Airports Holdings Bhd that manages, operates and maintains all MAHB's airports, apart from the Kuala Lumpur International Airport.
As of November this year, PIA has registered an increase of about 6.3% in passengers' movement compared to 5.7 million passengers during the same period last year.
Headquartered in Kunming Changshui International Airport in the Yunnan province, Lucky Air is a subsidiary of Hainan Airlines that has been rebranded to further explore the potential in the Chinese low-cost market.