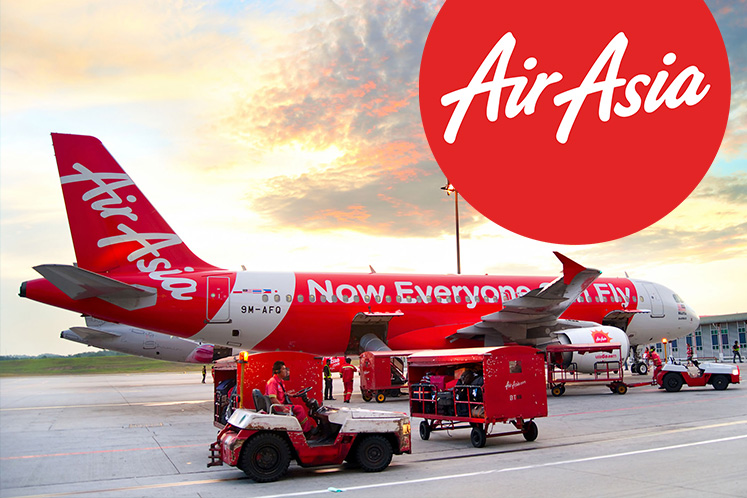 KUALA LUMPUR (July 7): Bursa Malaysia said it took into consideration the restrictions on movement in Malaysia and other countries where low-cost carrier AirAsia Group Bhd and its long-haul affiliate AirAsia X Bhd (AAX) operate, when it agreed to extend the deadline for submitting their financial year 2020 (FY20) first-quarter financial statements and FY19 annual report by another month.
The exchange has, upon application by the two airlines, granted a further extension of time of one month from June 30 until July 31 to issue their quarterly reports for the financial period ended March 31, 2020 (1QFY20) and their annual reports for FY19 ended Dec 31, 2019.
A Bursa spokesman said it also took into consideration the justifications provided by the two carriers in their applications including the impact of the Covid-19 outbreak and supporting representation from their external auditors.
"The exchange notes that the consequences of the Covid-19 pandemic and the Movement Control Order are unprecedented and could vary from one listed issuer to another. Hence, there could be instances where a further extension may be warranted," the spokesman said in a statement to theedgemarkets.com today.
"In this regard, any listed issuer with difficulties complying with the time frame despite the automatic relief granted above may still apply to the exchange for an extension of time. The exchange will consider such applications solely on a case-to-case basis, having regard to the individual circumstances of the listed issuer."
Bursa in April granted an extension of time (EOT) of one month until June 30 this year for listed issuers to issue their quarterly results and annual reports, which were originally due by April 30 or May 31. On June 22, both AirAsia and AAX announced that the regulator had granted their requests for an additional EOT of one month, effectively giving them two months' extension.
However, some investors were concerned over the lack of latest quarterly financial information which would make it difficult for them to make informed and timely investment decisions, more so as the airline industry has been hit the hardest by the pandemic.
In separate filings with Bursa yesterday, AirAsia and AAX clarified that the preparation of the respective companies' 1QFY20 results and the issuance of the FY19 annual report had been impacted by the unprecedented pandemic.
"Due to the Covid-19 pandemic, restrictions in movements have been enforced by various governments since mid-March 2020 that affected AAGB in its network jurisdictions including the Philippines and Indonesia which the company's accounts are consolidated with. The restrictions in movements have affected the company's normal work systems and accessibility leading to a delay in finalising the 1QFY20 results and FY19 annual report," said AirAsia.
Yesterday, AirAsia also announced that it posted its largest quarterly net loss of RM803.85 million for 1QFY20, partly dragged down by the wrong hedge against crude oil prices which collapsed in March and the hefty sum of depreciation. Quarterly revenue declined 15.3% year-on-year to RM2.31 billion. This leaves only AAX to release its 1QFY20 results.
"Notwithstanding the EOT, the exchange wishes to emphasise that we do not compromise on quality and timely disclosures. Hence, listed issuers are reminded to comply with the continuing disclosure obligations under the listing requirements, including the obligation to make an immediate announcement of any material information.
"The exchange will not hesitate to take any action should there be any breach of the other obligations set out under the Listing Requirements despite the extension of time for the issuance of financial statements and annual reports."
As at 4.10pm, AirAsia shares were down three sen or 3.35% at 86 sen, bringing a market capitalisation of RM2.91 billion. A total of 60.9 million shares were traded.
AAX shares were also down one sen or 9.09% at 10 sen, valuing it at RM414.81 million. A total of 7.57 million shares changed hands.