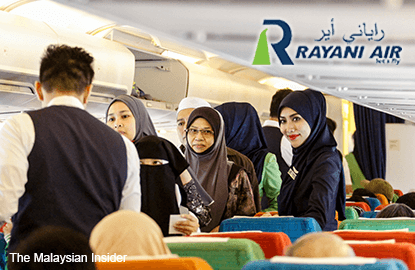 KUALA LUMPUR (March 21): Rayani Air Sdn Bhd, which describes itself as a syariah-compliant airline, may lose its operating licence if it fails to comply with the regulations set out by the Department of Civil Aviation (DCA) or receives more complaints from passengers, said Transport Minister Datuk Seri Liow Tiong Lai.
The airline was slapped with a warning from the government last month after more than 200 passengers were reportedly left stranded at Langkawi International Airport as the airline's Boeing 737 developed technical problems.
Rayani Airlines had stated that the 22-year-old plane's windshield in the cockpit was shattered.
Liow said the government had issued a warning to Rayani Air when the airline cancelled its Langkawi flight bound to Kuala Lumpur without due notice and with no replacement flight on Feb 9.
"We have given it warning that it has to comply with the DCA regulations. If there are more complaints, we can refer it to the Malaysian Aviation Commission, which is now in place," he told reporters at the Parliament lobby today.
"If consumers feel that it (Rayani Air) is not giving the due services, they can lodge a complaint to the aviation commission," said Liow.
"We will monitor Rayani Air more closely," he added. "We can even suspend (the airline) if we feel that it is not complying with our orders."
Nevertheless, Liow noted that Rayani Air, which launched its maiden flight between Kuala Lumpur and Langkawi on Dec 20, 2015, had indicated that it would comply with all the requests made by the government.
Liow also said his ministry is currently investigating the issue of Rayani Air issuing hand written boarding pass to passengers and would determine whether this could warrant another warning.
"We will investigate this, to see what causes the hand written ticket. It could be some breakdown in its system. That's why we have to investigate the merit of the case first," he said, adding that handwritten boarding pass can pose as a security threat.
"But we won't simply issue warnings. When we issue one, it is a serious matter.
"The first one was very serious. The airline had canceled the flight and not replace it. That was a serious offence," Liow added.
The issue went viral when DAP state assemblyman for Kampung Tunku Lau Weng San posted a photo of a hand written boarding pass issued by Rayani Air for his flight from Kuala Lumpur to Kuching on last Saturday.
On claims that Rayani Air's flights face delays on a daily basis, Liow said the government has set a Key Performance Index (KPI) for all airlines to meet an 80% on-time arrival a year.
"We have a KPI, all airlines have to fulfil a KPI 80% on-time arrival a year, if it couldn't reach on time, we will give another warning if they couldn't fulfil the time we have given to them," he noted.