Click / Tap image to enlarge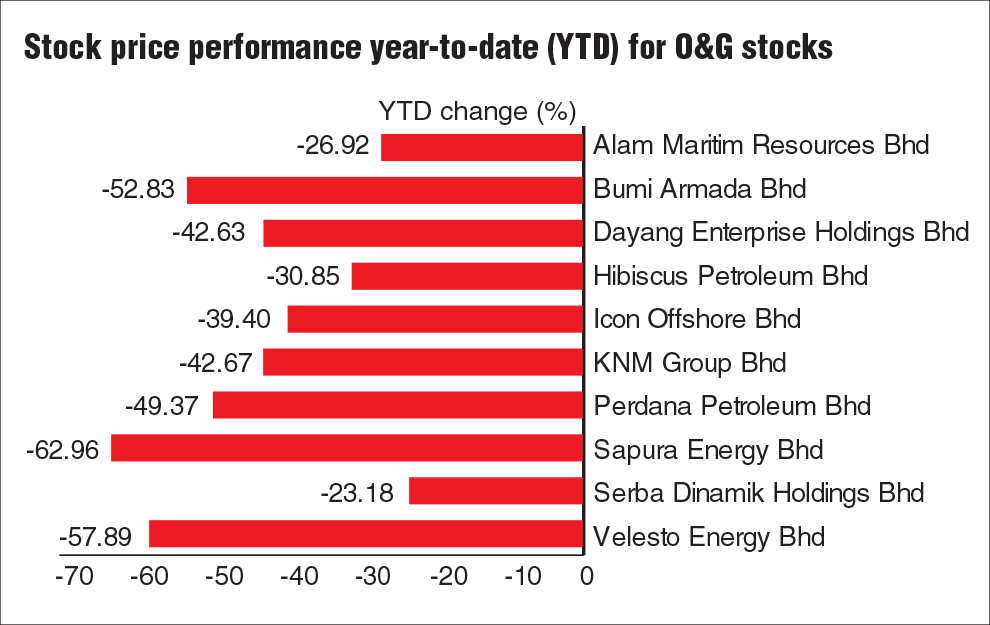 KUALA LUMPUR (April 18): Oil and gas (O&G) related stocks on Bursa Malaysia have surged with strong trading interests today, as the oil price has risen above US$30 a barrel for the first time in two months, following news that major producers are reining in efforts to rebalance the market.
At the time of writing, O&G stocks dominated the top actives on Bursa, led by Bumi Armada Bhd (up 25.64%), Velesto Energy Bhd (up 14.29%) and Icon Offshore Bhd (up 60%), with trading volume surpassing the 200 million shares mark.
Also actively traded were Hibiscus Petroleum Bhd (up 11.21%) and KNM Group Bhd (up 19.44 %), with trading volume exceeding the 100 million mark.
The Bursa Malaysia Energy Index was the biggest gainer among all indices across the bourse, gaining 9.7% to 829.46 points.
The brisk trading action among O&G stocks has pushed the trading volume across Bursa to cross 3.35 billion in just the first hour of trading.
Despite displaying strong performance today, most of the O&G stocks were still largely down year to date (YTD), by 23% to 62%.
The biggest laggards YTD include Sapura Energy Bhd (down 62%), Velesto Energy Bhd (down 57%) and Perdana Petroleum Bhd (down 49%).
Serba Dinamik Holdings Bhd, the top pick among most analysts and which have won several large engineering, procurement, construction and commissioning contracts, is currently down 23% YTD.
The US WTI crude June futures climbed around 4.4% to US$30.72 a barrel after almost doubling in a run of three weekly advances. Brent for July settlement added 3.6% to US$33.67 following a 4.9% advance last week.
This comes as the number of drilling rigs in the US fell for a ninth week to levels not seen in more than a decade, while stockpiles at the key storage hub in Cushing, Oklahoma, shrank for the first time since late February.
The US producers have shed nearly 10% of their production with almost 10 million barrels a day.
Meanwhile, OPEC+ responding to the oil market's collapse with an urgency never seen before, was also seen well on their way to removing around 10% of global supplies, according to tanker-tracking data.