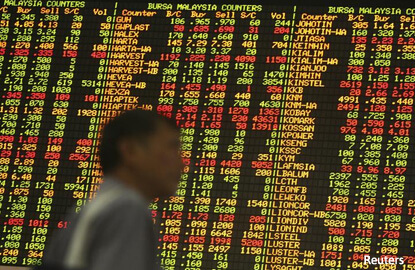 (Jan 25): Southeast Asian stock markets edged up on Wednesday, tracking broader Asian peers, as investors viewed the consequences of President Trump's trade decisions in a favourable light.
A more protectionist United States under Donald Trump could push Asian countries towards their own regional trade alliances, Thailand's Central Bank Governor Veerathai Santiprabhob said on Tuesday, after Trump withdrew the U.S. from the Trans-Pacific Partnership (TPP) trade deal.
"U.S. pulling out of the TPP in fact can be a net positive for Asia, considering China or any other Asian country can fill the vacuum and we can renegotiate our own trade partnership," Felix said.
In Asia, MSCI's broadest index of Asia-Pacific shares outside Japan rose 0.1% to its highest levels since late October.
Thai shares edged up 0.2% to hit its highest in 22 months, led by financials and material stocks, after Thailand's customs-cleared exports rose in December for the
first time in four years.
The central bank governor said growth could pick up this year, due to government spending and last year's figures were weaker, due to drought in agricultural regions and the death of King Bhumibol Adulyadej.
Malaysia crawled up 0.2% to hit its highest in 4 months, after a 9.3% surge in its palm oil exports in January.
World's largest palm oil planter by land size Sime Darby, up 0.6%, was among top gainers along with telecommunication giant Axiata Group, that surged as much as 2.5% to touch its highest in 2 months.
Philippines remained steady, ahead of economic data to be announced on Thursday and corporate earnings starting later this month.
"Consensus estimates put fourth quarter GDP at 7%.
We're going to be outpacing our regional peers," said Felix.
Real estate and industrial sectors dominated gains with real estate conglomerate Ayala Land rising 0.8%. 
SOUTHEAST ASIAN STOCK MARKETS
Change at 0418 GMT
| | | | |
| --- | --- | --- | --- |
| Market | Current | Previous Close | Pct Move |
| Singapore | 3045.18 | 3041.95 | 0.11 |
| Bangkok | 1582.83 | 1578.82 | 0.25 |
| Manila | 7372.13 | 7370.65 | 0.02 |
| Jakarta | 5301.617 | 5292.088 | 0.18 |
| Kuala Lumpur | 1683.27 | 1680.69 | 0.15 |
| Ho Chi Minh | 692.2 | 691.36 | 0.12 |
Change this year
| | | | |
| --- | --- | --- | --- |
| Market | Current | End 2016 | Pct Move |
| Singapore | 3045.18 | 2880.76 | 5.71 |
| Bangkok | 1582.83 | 1542.94 | 2.59 |
| Manila | 7372.13 | 6840.64 | 6.04 |
| Jakarta | 5301.617 | 5296.711 | 0.09 |
| Kuala Lumpur | 1683.27 | 1641.73 | 2.53 |
| Ho Chi Minh | 692.2 | 664.87 | 3.00 |