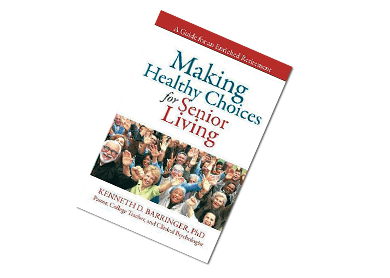 Retired clinical psychologist and professor Dr Kenneth Barringer talks about the key to happy and productive retirement years. 
"A PEACOCK today, a feather duster tomorrow," was an expression the late Tan Sri Ani Arope, a former executive chairman of Tenaga National Bhd, used in his inspiring speech to soon-to-be retirees of a plantation company nearly six years ago. He was, of course, referring to an adage that means nothing is meant to last forever. 
In his speech, the corporate heavyweight goes on to say that in order to overcome feelings of gloominess, anxiety, resentment and rejection, one should plan for an enriching retirement. This includes being financially fit and staying emotionally and physically healthy, so that one does not feel alienated in his senior years. 
The key to happy and productive retirement years is having the ability to balance a healthy lifestyle with a sound financial plan. But whether the knowledge is put into action is a matter of concern. 
According to Dr Kenneth Barringer, 90, a retired clinical psychologist and professor based in the US, those headed for retirement need to be able to make "deliberate and intentional" life choices, which in turn will shape the value of healthy ageing.
Barringer in his first book, Making Healthy Choices for Senior Living, encourages seniors — using real-life stories — to review their actions in key areas, such as health, nutrition and social interaction, to reduce the stress of retirement and move towards a more fulfilling life. The author, who has worked as a consultant for the South Shore Coalition of Mental Health and Aging in Florida, says effective and successful living does not happen by itself.
"People put off retirement planning because they are often in 'age denial' or simply are not good at making positive, long-term choices. They do not like getting older or facing a major change in their life. They put off what they do not want to confront. Sometimes, the core issue is a negative attitude towards ageing," he tells Personal Wealth in an email interview.
"Often, they have also not developed a pattern of doing long-term planning. This is especially true when it comes to their own retirement. On occasion, the task seems overwhelming for some mid-life adults and they avoid it."
Barringer shares from his own experiences, having retired almost two decades ago, and also patterns based on observation of his patients and students and how a lack of planning had led them to make poor choices about their future. He observes that most people fail in the need to be more conscious about the process of daily decision-making. 
Barringer says many retirees become addicted to sedentary living, indulge in poor habits such as overeating and smoking, and are not the least bit concerned about their appearance — which he says is the bane of retirement as such a lifestyle will take a toll on one's limited finances and mental health. 
By being thoughtful about your daily habits and employing pre-emptive measures for the future, one can reduce the stress of retirement, he adds. "But it does not come free. It is a product of an intentional commitment to strong ideas and values developed over time. It is really learning how to make responsible choices every day, by trial and error. Then, we come to realise that the greatest benefits of healthy choice-making are real happiness and contentment."
Barringer says planning in areas of physical and mental health, social interaction, nutrition, exercise, spirituality and financial affairs creates an emotional and spiritual comfort that everyone needs to experience in order to age healthily.
Most Americans, whom the book targets, go on to live about 20 years after retirement. Thus, staying emotionally, mentally and physically healthy will contribute to a positive attitude in facing retirement.
Deriving from his experience as a former pastor, he suggests seeking out social support groups apart from the family to stay positive and optimistic. 
Another key topic he addresses is having a spending blueprint that looks at every possible expense and to protect one's nest egg. He points out that even with a financial plan, seniors will have to live on a limited income and need to cut cost to survive financial pressures. 
Barringer outlines several key questions to help seniors set goals for retirement, including the purpose of a financial plan, dealing with debt, financial support for family members, health and life insurance as well as financial demand during a medical emergency.
"Come to understand the purpose and intent of financial planning ... financial planning is critical and if you are not capable of doing it effectively, you need to approach a family member or even a volunteer professional who is a friend to help make all the financial decisions in the future," he says. 
This article first appeared in Personal Wealth, The Edge Malaysia Weekly, on May 18 - 24, 2015.