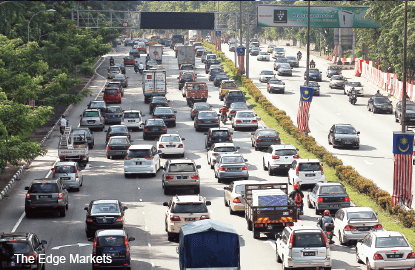 This article first appeared in The Edge Malaysia Weekly, on February 1 - 7, 2016.
More value, more deals," reads a local carmaker's advertisement that promises an extended warranty, low financing rates and down payment and sizeable discounts on post-purchase service packages. It typifies the kind of promotional offers made by car marques at the end of 2015 to push the automotive industry to set another record, which reached a total industry volume (TIV) of 666,674 units for the year.
It is only 0.03% higher than 2014's record of 666,487 units. Yet, it is a number carmakers will be content with given a market environment in which potential buyers are grappling with a rising cost of living, the implementation of the Goods and Services Tax (GST) and the weak ringgit.
The worry now, is that the record cannot be broken again this year. The Malaysian Automotive Association (MAA) expects vehicle sales to reach only 650,000 units, a contraction of 2.5%. Market research firm Frost & Sullivan is slightly more conservative, projecting TIV at 648,000. Analysts who track the automotive sector in Malaysia polled by The Edge say these numbers are in line with their own expectations.
MAA data shows that a weakening trend in TIV was already present throughout 2015. Vehicle sales post-GST implementation (April to July), in particular, consistently underperformed 2014 on a year-on-year (y-o-y) basis. Sales momentum picked up in the final quarter, with December improving 7% y-o-y to 69,401 units after carmakers like Toyota and Honda announced price revisions in October, which would come into effect in January.
"In December, it was mostly pre-emptive, before the price hike and 2016, and the aggressive year-end promotions," says Desmond Chong, an analyst with Kenanga Research.
Chong, who is "underweight" on the sector, says the 2015 troubles of automotive and automotive parts players will be exacerbated this year. One of the problems is weak consumer sentiment hindering big-ticket purchases. The Malaysian Institute of Economic Research's Consumer Sentiment Index dipped to a record low of 63.8 in the final quarter of 2015. Many are already betting that demand for new vehicles will worsen once the effect of the government's subsidy rationalisation plan digs deeper into purchasing power.
"Don't forget the difficulty of obtaining a hire-purchase loan these days with Bank Negara Malaysia's tightened lending policy. This is a factor that is unlikely to change," says another local analyst.
Another important factor affecting the automotive sector last year was the performance of the ringgit, pushing industry players to redraw bottom lines and profit margins. Against the yen and the US dollar, the ringgit fell 22.4% and 23% respectively in 2015. Analysts point out that this has especially hurt companies that carry foreign car marques with high imported input (vehicle parts and components, completely knocked down kits and completely built up units) in their businesses.
Although the ringgit has stabilised this year, it does not end the woes of automotive-related firms.
"The full impact of the weakened ringgit will only be seen in 2016, as original equipment manufacturers (OEM) partially hedged their input cost three to six months ahead," says Daniel Wong, an analyst at Hong Leong Investment Bank Research.
The extent of the damage the falling ringgit can do to the profit margins of automotive companies can be seen in the decisions by among others, Toyota, Lexus, Honda, Mitsubishi and Perodua, which have opted to raise their product pricing for 2016. Others, like Proton, are contemplating the same move. But raising prices comes at a cost.
"It is volume versus value. Most automotive players cannot have both," says Wong.
Frost & Sullivan associate director Animesh Kumar highlights that carmakers will not increase product prices until it becomes "absolutely necessary", a decision car companies will only make after looking closely into factors such as inventory levels, sourcing strategies and level of localisation.
On that note, Chong says investors seeking exposure in automotive players could look at Berjaya Auto Bhd, which is arguably less vulnerable to the weakening ringgit and has a customer base in the mid- to high-income bracket who are less sensitive to the rising cost of living.
"It has a good pipeline of new modest, stable margins owing to lower import duties from free trade agreements with Japan and a dividend payout of 56%, which translates to 5.5% dividend yield. Its valuation is also sound at 9.1 times versus the industry's average of 14 times," he says.
Chong also has an "underperform" rating for Tan Chong Motor Holdings Bhd, UMW Holdings Bhd and DRB-Hicom Bhd because these companies lack re-rating catalysts in the current market environment. Auto parts maker MBM Resources Bhd warrants a "market perform" call but warns that its automotive parts manufacturing division will come under pressure as weaker car sales are expected.
"Most of MBM Resources' earnings strength will come from its stake in Perusahaan Otomobil Kedua (Perodua), where it has a 22% shareholding. When the industry finds it hard to sell cars, car parts will be dragged down too," says Chong.
Wong, meanwhile, takes the view that local car marques stand to gain market share as the prices of foreign brands increase, causing buyers to switch their preferences due to a mismatch between price and demand. This, he says, will eventually force companies to offer discounts and aggressive promotions in the second half of 2016 to meet fixed costs.
"I have a TIV projection of 665,000 units. I am optimistic about the sector because I think local brands — Proton and Perodua — can capitalise on current market conditions. Both are launching new models in the volume-driving B-segment. I wouldn't say the same for companies selling foreign marques," says Wong.
Wong has "buy" ratings for DRB-Hicom, the major shareholder of Proton, and MBM Resources with target prices of RM1.45 and RM3 respectively based on their "distressed valuations". UMW Holdings and Tan Chong Motor both received "sell" ratings.
"DRB-Hicom is undervalued based on sum-of-parts. Its share price is lower than the combination of all its businesses, excluding the automotive division. MBM Resources has been affected by the weak ringgit and lower demand from Proton. But, we expect new orders from Perodua to be a boost," says Wong.