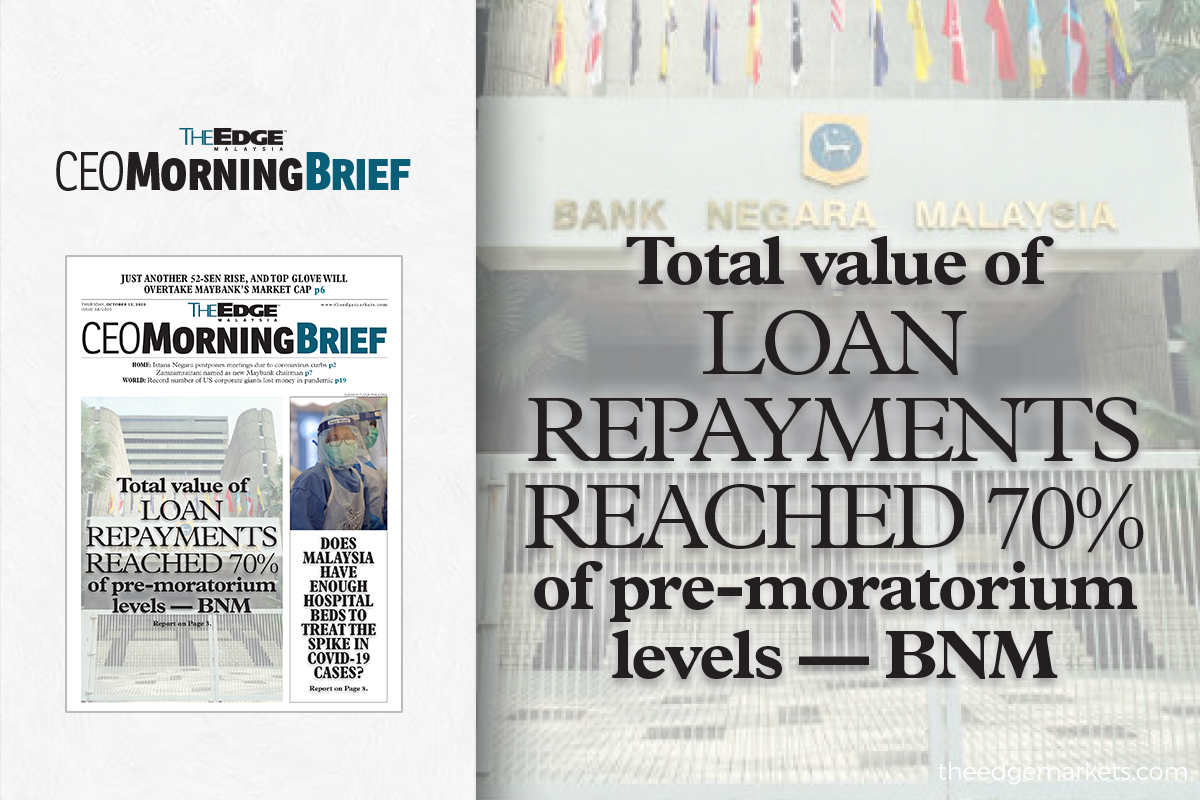 KUALA LUMPUR (Oct 14): Bank Negara Malaysia (BNM) data showed that the total value of loan repayments had reached 70% of what it was prior to the blanket loan moratorium period.
"Many borrowers are starting to repay their loans," BNM deputy governor Jessica Chew told the media in a virtual briefing yesterday.
BNM data revealed that two million borrowers had been engaged by banks by the end of September, out of which 514,000 were R&R (rescheduling and restructuring) applications received with a 98% approval rate. 
For businesses, banks approved 6.3 times applications compared to total outstanding R&R loans at the end of 2019.
Just this month, Malaysia transitioned into a targeted moratorium after the blanket automatic loan moratorium period ended on Sept 30, 2020. 
Chew reiterated that a targeted repayment assistance measure is more suitable going forward as it would continue to extend temporary relief to borrowers that may still face challenges, while also improving visibility of loan performance of banks, which she believes is necessary to encourage and support an economic recovery.
At the start of the blanket moratorium period, more than 95% of individuals and small and medium enterprise (SME) borrowers took up automatic repayment deferment, according to BNM's latest Financial Stability Review report for the first half of 2020 (1H20). 
"Up to Sept 25, 2020, 840,000 individual and SME borrowers had opted out or already started to resume repayments in line with improved economic conditions. This number is expected to increase further following the end of automatic repayment deferment. 
"For those who still face difficulties to resume repayments, banking institutions will continue to provide more targeted repayment assistance upon request by borrowers," BNM stated in the report.
The regulator observed that more borrowers started to resume their loan repayments in recent months as their income and employment prospects became clearer (see chart). 
"Many of the borrowers who recently opted out of the loan moratorium were also those with larger loans, earning salaried income of above RM5,000 a month. Given that around 70% of household debt comprises floating rate loans, debt serviceability after the moratorium [period] will be further supported by lower monthly debt obligations following successive OPR (overnight policy rate) cuts during the year," the regulator noted in the 1H20 report.
"With the automatic moratorium in place, aggregate impairment and delinquency ratios remained low at 1% and 0.9% of total outstanding household debt respectively (2019: 1.2% and 1.1%). Household asset quality is expected to see some deterioration in 2H20 and throughout 2021 with the automatic moratorium ended, but banks are well positioned to absorb higher credit losses," it added. 
BNM said the automatic loan moratorium had provided many households with immediate temporary financial relief, particularly those who lost their jobs and were experiencing income declines. 
"At its peak, close to 90% of household borrowers with about 87% of outstanding household loans in the banking system were under the moratorium as most borrowers elected to defer their loan repayments to secure greater flexibility in managing their cash flows during a highly uncertain period," it said.
It also pointed out that "many of these borrowers would have been able to continue servicing their debt if chosen to".
Based on the enhanced financial margin framework, BNM estimated that household borrowers who may experience difficulties (such as those with negative financial margins) in servicing their debt as a result of income and unemployment shocks are unlikely to account for more than 15% of total borrowers. 
Among these borrowers, about 1% of total borrowers with 3% of outstanding household debt are expected to default after accounting for financial buffers held and targeted repayment assistance extended to borrowers in need. 
BNM also noted that about 40% of potential defaults arise from housing debt with an average loan-to-value (LTV) ratio of 70%, thus limiting financial exposure of affected borrowers and losses for the banking system. 
In the Financial Stability Review report, the regulator noted that household loan impairments are projected to double — albeit from historically low levels. 
Higher household impairments are expected to emerge in 2H21 given the extended repayment assistance programmes that will remain in place through the first quarter of 2021 (1Q21) for individuals who have experienced a loss in income, it added. 
For more BNM Financial Stability Review stories, click here.