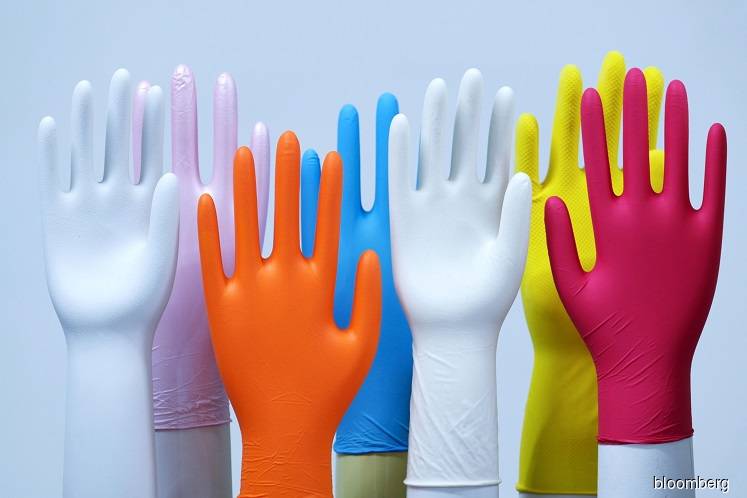 KUALA LUMPUR (July 3): Top Glove Corp Bhd's and Supermax Corp Bhd's share prices jumped to their all-time highs today as the rising number of global Covid-19 infections spurs expectations of higher demand for rubber gloves and stronger earnings for glove manufacturers.
Top Glove's share price has risen as much as 76 sen or 4.34% to its record high of RM18.26 so far today while Supermax has climbed as much as 47 sen or 5.25% to its all-time high of RM9.43.
At 3:36pm, both stocks pared gains. Top Glove was traded at RM18.14 while Supermax changed hands at RM9.36.
Meanwhile, Hartalega Holdings Bhd rose to a record high again today after its share price climbed as much as 66 sen or 4.4% to RM15.66 to surpass its previous all-time high at RM15.60 yesterday.
At 3:36pm today, Hartalega pared gains at RM15.60.
Top Glove was Bursa's top gainer followed by Hartalega. Supermax occupied the sixth place on the leading gainers list.
Top Glove and Hartalega are FBM KLCI constituents.
Glove manufacturers' current share prices reflect the apparent relentless demand for gloves amid a resurgence in global Covid-19 infections.
Such sentiment has directed the spotlight on glove manufacturers' potential higher earnings as they capitalise on higher demand for their products.
CGS-CIMB Securities Sdn Bhd said it expects the 30-stock KLCI's 2020 core net profit to decline by a smaller quantum following upgrades in glove players' earnings.
"Following our latest earnings revisions, we now expect the KLCI's 2020 core net profit to decline 11% versus 15% previously, as we adjust for the upgrades in the glove players' earnings," CGS-CIMB analysts Ivy Ng Lee Fang and Nagulan Ravi wrote in a note yesterday.
Globally, the US is in focus as a Covid-19 hotspot. According to Reuters, the US reported more than 55,000 new Covid-19 cases on Thursday (July 2), the largest daily increase any country has ever reported.
"Coronavirus cases are rising in 37 out of 50 US states including Florida, which confirmed more than 10,000 new cases on Thursday. That marked the state's largest daily spike so far and a level that exceeded single-day tallies from any European country at the height of the outbreak there," reported the newswire.