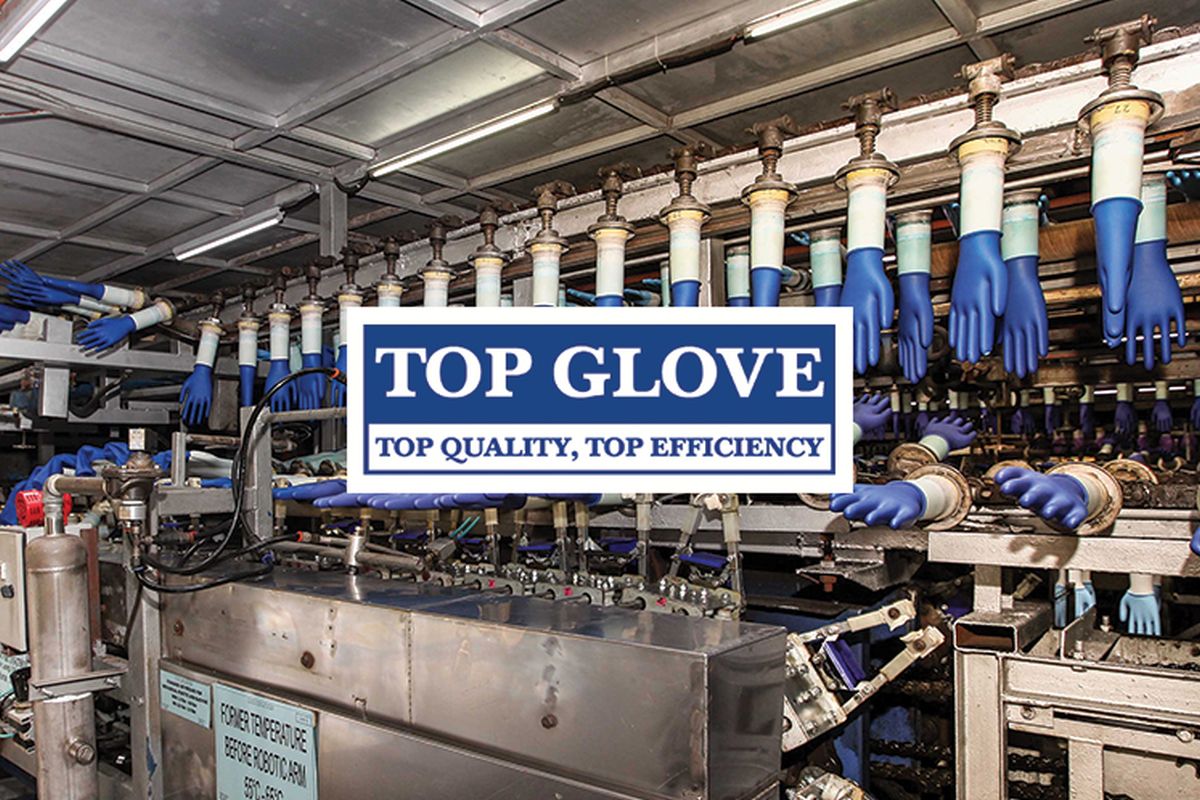 KUALA LUMPUR (June 9): After recording rapid profit growth in the past few quarters, Top Glove Corporation Bhd's earnings could have peaked in the March-May quarter but would start declining thereafter amid lower glove prices, said analysts.
Rakuten Trade Research's head of equity sales Vincent Lau said it is also possible that the world's biggest rubber glove maker may report flat earnings growth for the third quarter ended May 31, 2021 (3QFY21) compared with the preceding quarter.  
He said the group's earnings could be affected by lower average selling prices (ASP) for its gloves products, adding that this trend could continue as there will no longer be a rush for gloves amid a more competitive environment as new companies jump on the glove bandwagon while existing glove makers ramp up their production.
"Having said that, Top Glove's earnings could have peaked in 3QFY21,' he told The Edge, adding that demand for gloves may also sustain as "new norms of Covid-19 are expected to stay and buoy the group's earnings".
Malacca Securities Sdn Bhd head of research Loui Low also expects the demand for gloves to stay, partially offsetting the impact from the decline in the ASP.
"Demand for gloves is expected to maintain as countries will continue to stock up glove products to ensure sufficient gloves supply due to increased health awareness and to quell Covid-19, albeit there is no rush to stock up gloves as witnessed in the previous multiples waves over the year," said Loui.
However, he cautioned that spot prices for gloves, which fuelled glove makers' earnings in the previous quarters, are expected to drop with more countries, especially Western nations, making good progress in reaching herd immunity through vaccination.
Fellow glove maker Supermax Corp Bhd saw its net profit for the third quarter ended March 31, 2021 drop 5.2% to RM1 billion, from RM1.06 billion in the preceding quarter, due to production losses experienced at its Meru plants as workers were placed under mandatory quarantine in February.
On the other hand, Hartalega Holdings Bhd's net profit for the fourth quarter ended March 31, 2021 grew 11.73% to RM1.12 billion, from RM1 billion in the third quarter, due to higher sales revenue and lower operation costs, offset by higher raw material price.
MIDF Research, which has a "buy" call for Top Glove is among reasearch outfits with a positive view on the group's financial performance. It has revised its earnings estimates by 24.3% to RM10.53 billion for FY21  after the group's first half earnings beat  expectations.
MIDF analyst Ng Bei Shan expects Top Glove to post better results in 3QFY21 driven by higher production capacity and operational efficiency. The expected better performance will be supported by production capacity that may increase by around 7.5%, she said.  
"We do not foresee major disruption going forward due to the precautionary measures taken. And the normalisation in production is expected to yield positive efficiency for the company," Ng added in a note earlier this year.
She also expects the group's ASP for nitrile rubber gloves to be adjusted by a single-digit due to the slight softening of raw material costs of  3% to 5%.
"Overall, we opine that its blended ASP in 2HFY21 may surpass 1HFY21 due to the high-base effect and potentially firmer prices of other products," she added.
Ng said dividend yield for FY21 and FY22 is 16.4% and 4.2% respectively.  She said the "buy" recommendation is premised on the positive outlook for Top Glove's earnings as well as attractive valuation. She has kept the target price at RM8.29, 42% higher than yesterday's closing price of RM4.78.
Has Top Glove shares price hit rock-bottom?
Top Glove's closing price of RM4.78 yesterday is half its peak value of RM9.60 reached on Oct 19 last year. Year to date, the counter has fallen 13% from RM5.50 on Jan 4.
Some market observers foresee a further downside risk to Top Glove's share price owing to the uncertainty arising from the forced labour issue putting a dent on the sentiment.
Against the backdrop of Supermax being kicked out as a constituent of the FBM KLCI in the recent semi-annual review of the index, Top Glove may also be not be spared from a selldown going forward.
"With Supermax dropping out from the KLCI index, the weighting of glove makers in the gauge will decline. Hence, fund managers may trim their exposure in the glove companies," said a head of research requested anonymity.  
"Hence, I expect the company's shares price may trend lower to RM3.30 to RM3.60 level in the next three months," he added.
Meanwhile, it has been reported that Top Glove may defer its listing in Hong Kong as the group seeks to resolve the US import ban on its products.
Experts said there are chances for delays for the planned Hong Kong listing as the US import ban is negative on environmental, social and governance perception among investors.
"To me, the timing to list in Hong Kong is not good given the company's ASP is in downcycle. If the company delays the plan to list in Hong Kong, it may not get the value it intends to get initially," said a local head of research.