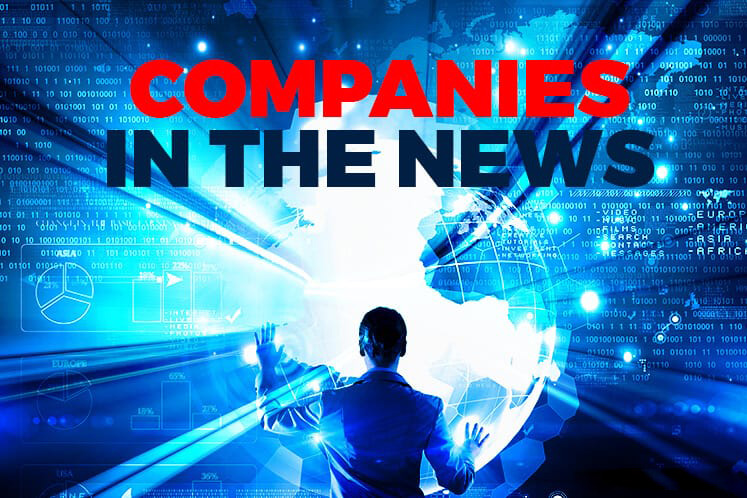 KUALA LUMPUR (July 30): Based on corporate announcements and news flow today, companies in focus on Tuesday (July 31) may include: Top Glove Corp Bhd, JAKS Resources Bhd, Star Media Group Bhd, Malaysia Building Society Bhd, Barakah Offshore Petroleum Bhd, Handal Resources Bhd, Fima Corp Bhd, Datasonic Group Bhd, New Hoong Fatt Holdings Bhd, Rev Asia Bhd and Tadmax Resources Bhd
The High Court in Kuala Lumpur has dismissed a Mareva application filed by Top Glove Corp Bhd and Top Care Sdn Bhd against Adventa Capital Pte Ltd and related parties.
Top Glove said it will be appealing the decision.
Singapore-based Adventa said the court had ruled there was "no good arguable case for the alleged fraudulent misrepresentations or for that matter, negligent misrepresentations".
JAKS Resources Bhd has been granted an interim injunction by the Federal Court to restrain the payout of a RM50 million bank guarantee to Star Media Group Bhd.
JAKS said the interim order is in effect until Aug 1, which is when the Erinford injunction application will be heard before the Federal Court.
JAKS's application for the injunction was earlier dismissed by the Court of Appeal on July 27, and by the High Court on July 23.
Malaysia Building Society Bhd (MBSB) saw its net profit fall 5.9% to RM85.69 million in the second quarter ended June 30, 2018 from RM91.08 million a year ago, on lower gross loans and financing.
This resulted in a lower earnings per share of 1.37 sen compared with 1.57 sen previously.
Quarterly revenue fell 2.4% to RM794.14 million from RM813.42 million on lower income from financing activities due to cessation of conventional businesses since the first quarter.
For the cumulative six months, the group's net profit doubled to RM402.48 million from RM192.41 million a year ago, while revenue fell slightly to RM1.61 billion from RM1.62 billion.
Barakah Offshore Petroleum Bhd has bagged a contract from Enquest Petroleum Production Malaysia Ltd to provide Pan Malaysia maintenance, construction and modification (MCM) services from 2018 to 2023 under Package A.
Barakah said its wholly-owned subsidiary PBJV Group Sdn Bhd has received a letter of award from Enquest for the contract.
"The total value of the contract is not fixed and will depend on the actual scope based on work orders to be issued by the client from time to time throughout the duration of the contract. The contract duration is for five years from July 13," Barakah said.
Handal Resources Bhd said Sunildeep Singh Dhaliwal will be taking over the position of group managing director effective immediately.
Sunildeep, 44, replaces Mallek Rizal Mohsin, who has been redesignated to executive vice-chairman. Mallek, 52, has also been appointed as the group's risk management committee chairman.
At the same time, its founder and executive chairman Datuk Mohsin Abdul Halim, 75, has been redesignated as the group's non-independent non-executive chairman.
Handal also named three new independent non-executive directors, namely Tan Sri Dr Mohd Munir Abdul Majid, founding chairman of the Securities Commission Malaysia; Tengku Baderul Zaman Sultan Mahmud; and Jacqueline Fong Yean Yee.
Fima Corp Bhd's wholly-owned subsidiary Percetakan Keselamatan Nasional Sdn Bhd has launched a legal action against Datasonic Technologies Sdn Bhd, claiming RM24.98 million for unpaid dues.
Fima said the amount is for 1.5 million Malaysian passport booklets which were supplied by Fima to Datasonic Technologies, a wholly-owned unit of Datasonic Group Bhd.
"As at July 30, Datasonic Technologies has refused, failed and/or neglected to pay the outstanding amount," it added.
New Hoong Fatt Holdings Bhd's (NHF) net profit rose 13.5% to RM2.88 million in the second quarter ended June 30, 2018 from RM2.53 million a year ago, thanks to lower foreign exchange losses for the current quarter under review.
This was partially offset by higher raw material and other manufacturing costs, the group said in a bourse filing today.
Quarterly revenue was also up 6.2% to RM65.49 million from RM61.66 million a year ago, mainly attributed to higher demand and favourable sales mix in both local and overseas markets.
For the cumulative six months, however, the group's net profit dropped 52.5% to RM4.7 million from RM9.9 million a year ago, mainly due to unfavourable forex impact, as well as higher raw material and other manufacturing costs.
Revenue rose by a marginal 1.2% to RM125.59 million, from RM124.13 million in 1HFY17.
Rev Asia Bhd signed a Memorandum of Understanding today with its largest shareholder Catcha Group Pte Ltd to look into acquiring a majority stake in a foreign group.
The MoU is in respect of the "proposed acquisition of a majority interest in a foreign-owned group of companies with foreign based operations," Rev Asia said.
It is part of a plan to regularise Rev Asia's Guidance Note 2 (GN2) condition so it could maintain its listing status, the group added.
Tadmax Resources Bhd has signed a Memorandum of Understanding with Selangor State-linked company Worldwide Holdings Bhd for the development of a 1,000-1,200 MW combined cycle gas turbine power plant in Pulau Indah, Selangor.
Tadmax said that the MoU was pursuant to a letter of intent from Worldwide dated Dec 28, 2017, with the view to acquire a 30% participation in Tadmax Indah Power Sdn Bhd (TIP)'s equity and also to be in compliance with the Majlis Tindakan Ekonomi Selangor decision dated Dec 15 last year for a State-owned company to own an equitable shareholding in the power plant project.
Worldwide will be Tadmax's strategic partner for the project, while its technical partner is Korean Electric Power Corporation.