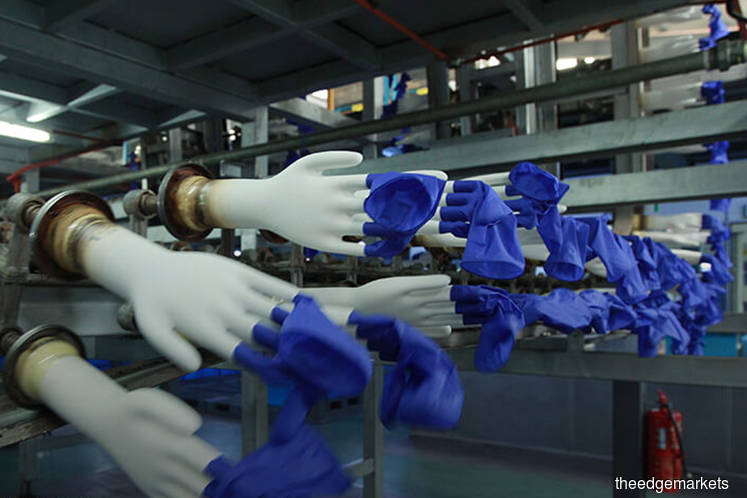 KUALA LUMPUR (Feb 10): Share prices of rubber glove manufacturers including Hartalega Holdings Bhd and Top Glove Corp Bhd rose in morning trades today on expectation of higher demand for their products amid the 2019 novel coronavirus (2019-nCoV) outbreak, the global death of toll of which, reached at least 904 so far.
At Bursa today, Hartalega shares rose seven sen or 1.21% to RM5.87 while Top Glove added six sen or 1.06% to RM5.72.
Bloomberg reported today the global death toll from the coronavirus outbreak reached at least 904, as the World Health Organization's chief voiced concern over the spread of the disease from people with no travel history to China. 
It was reported that China's nationwide coronavirus death toll is at least 902, with 871 in Hubei. It was reported that there have been two deaths outside of Mainland China -- one in Hong Kong and another in the Philippines.
Hubei province's capital Wuhan is the epicentre of the 2019-nCoV outbreak.
In Malaysia, Kenanga Investment Bank Bhd analyst Raymond Choo Ping Khoon wrote in a note :"The stage is now set for a solid FY20 (for rubber glove manufacturers) following three quarters of anemic quarterly earnings growth." 
"Coming off this low base due to the lackluster demand of the past 12 months, forward earnings growth will amplify as restocking activities ramp up on the current outbreak of the Wuhan virus which enforces higher hygiene standards" Choo said.