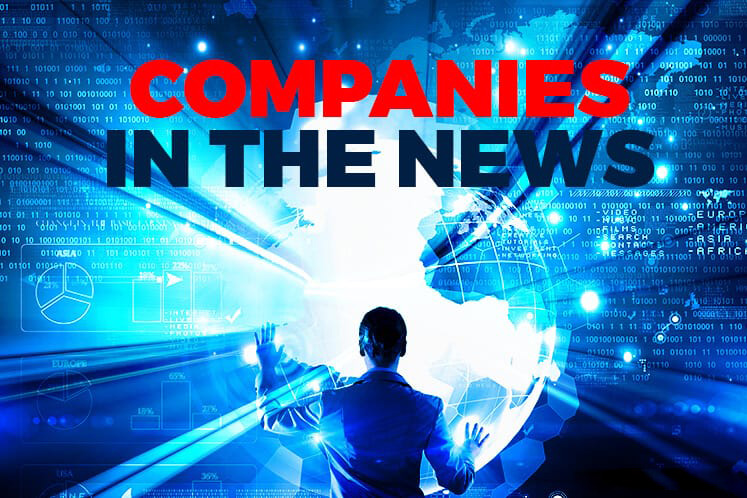 KUALA LUMPUR (June 19): Based on corporate announcements and news flow today, companies that may be in focus on Wednesday (June 20) may include the following: Top Glove Corp Bhd, GSB Group Bhd, Kerjaya Prospek Group Bhd, PRG Holdings Bhd, Gabungan AQRS Bhd, Press Metal Aluminium Holdings Bhd, Lay Hong Bhd and AirAsia Group Bhd.
Top Glove Corp Bhd saw its net profit for the third financial quarter ended May 31, 2018 (3QFY18) surge 51.4% to RM117.57 million from RM77.71 million in 3QFY17, thanks to increased demand for gloves.
In a filing with Bursa Malaysia, Top Glove said it had delivered sales revenue of RM1.1 billion in 3QFY18, a 26.6% increase year-on-year (y-o-y) and the first time Top Glove has achieved sales revenue of above RM1 billion within a single quarter. The group reported revenue of RM869.64 million in 3QFY17.
It also declared a first interim dividend of 7 sen per share, payable on July 17.
For the nine-month period ended May 31, 2018 (9MFY18), Top Glove reported a 41.8% y-o-y increase in net profit to RM332.03 million from RM234.08 million, while revenue went up by 19.6% to almost reach RM3 billion from RM2.51 billion in 9MFY17.
GSB Group Bhd has appointed Datin Toh Siew Chuon as executive chairman of the company, replacing Loy Kwee Keow, 59, who has been redesignated as non-executive director.
Toh, 52, is the executive director of Kerjaya Prospek Group Bhd. She is also the spouse of Datuk Tee Eng Ho and sister-in-law of Tee Eng Seng, who are both controlling shareholders of Javawana Sdn Bhd, the major shareholder of GSB. Eng Ho is executive chairman of Kerjaya Prospek, while Eng Seng is an executive director.
Toh holds an indirect interest of 40.58% in the company via Javawana.
PRG Holdings Bhd is in talks to extend the deadline for the proposed purchase of healthcare services provider Roopi Medical Centre Sdn Bhd for RM7.29 million and related properties from Linecom Corp Sdn Bhd for RM11 million cash.
PRG said the conditions precedent under the share sale agreement (SSA) and sales and purchase agreement (SPA) have not been fulfilled within the stipulated period that ends today (June 19).
PRG said it will make the relevant announcement to Bursa Malaysia once both parties reached a definitive agreement to extend the fulfilment of the conditions precedent.
The founder and chief executive officer of private equity firm Creador Sdn Bhd, Brahmal Vasudevan, has emerged as Gabungan AQRS Bhd's substantial shareholder.
Brahmal said it has acquired an indirect stake of 178,700 shares, bringing its total shareholding in the property and construction player to 5.07% or 23.11 million shares.
Post-transaction, Brahmal has 0.44% direct and 4.63% indirect stakes.
Press Metal Aluminium Holdings Bhd is on the hunt for acquisitions to meet growing capacity needs as its smelting operations are now running at full capacity.
Its group chief executive officer and co-founder Tan Sri Paul Koon Poh Keong told reporters after the group's annual general meeting today that Press Metal's position now is to grow the group inorganically.
Koon said Press Metal's acquisition target could be either downstream or upstream players, but unlikely ones that are local.
He noted that the group has various fundraising options available to it and has engaged with international financial institutions for when the opportunities arise.
Lay Hong Bhd has allocated RM39 million as capital expenditure (capex) for the financial year ending March 31, 2019 (FY19), which is to be utilised to increase broiler production.
Its group executive director Yap Chor How told Bernama the integrated livestock farming company planned to increase broiler production capacity to two million birds monthly from the current 1.2 million.
He said the group's focus in FY19 includes the production of liquid eggs and processed food, for which Lay Hong has two plants scheduled for operations this year.
AirAsia Group Bhd today refuted "strongly" the allegations made in the Indian Central Bureau of Investigation's (CBI) first information report (FIR), saying they are "baseless, unsupported and unjustified".
"The board of directors of AirAsia Group refutes strongly all the allegations made in the FIR... and will vigorously challenge these allegations. We question the motives of the unnamed person, persons or organisation that lodged this FIR, but we will co-operate fully with the Indian authorities in accordance with due process provided in law," it said in a filing with Bursa Malaysia.
It was reported that the Indian police had on May 29 filed a case against, among others, AirAsia Group, the airline's group chief executive officer (CEO) Tan Sri Tony Fernandes, deputy group CEO Tharumalingam Kanagalingam (Bo Lingam) and its domestic entity AirAsia India Pte Ltd, over allegations of corruption and breaking rules in obtaining a flying licence.