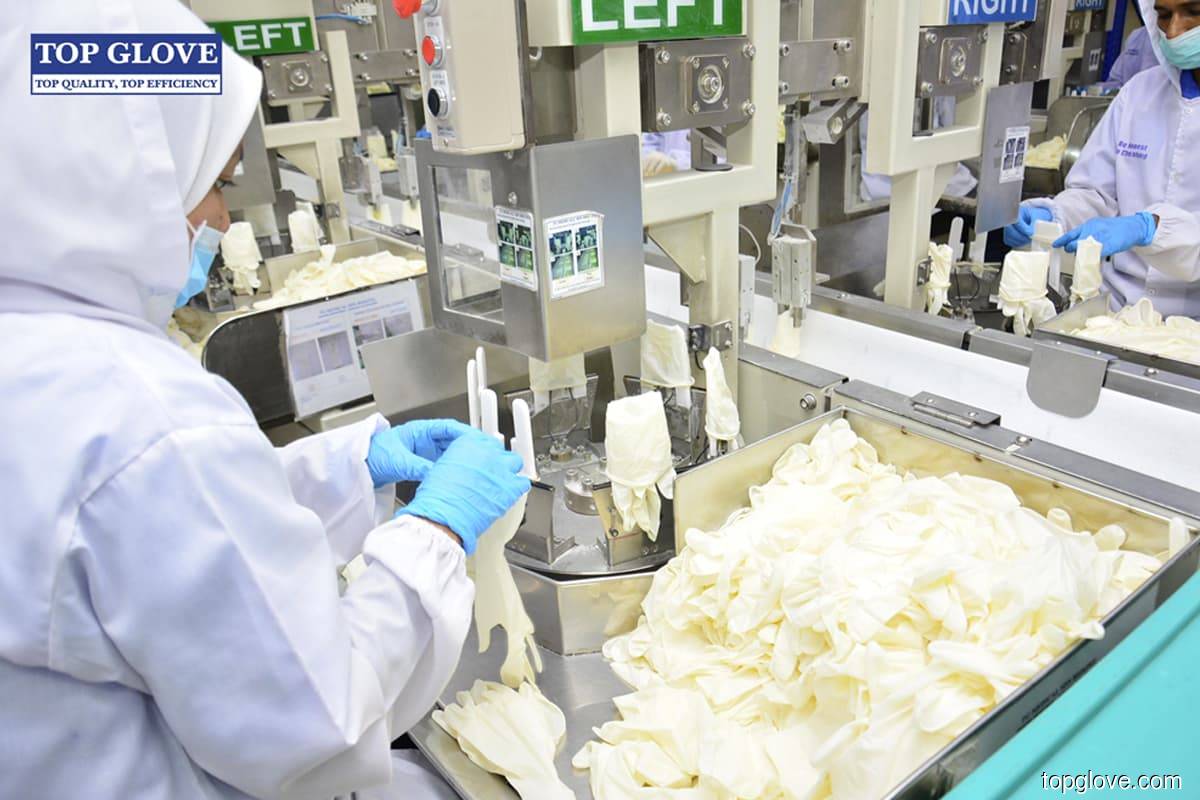 KUALA LUMPUR (July 30): Shares of Top Glove Corp Bhd pulled back on profit-taking today, as there has yet to be any resolution in sight on the ongoing US import restriction of its products due to forced labour allegations.
This was as shares of all other glovemakers continued to rise, with several counters emerging among leading gainers across Bursa Malaysia today.
At the time of writing, Top Glove shares fell 12 sen or 0.46% to RM26.02. Its peer and fellow KLCI component Hartalega Holdings Bhd rose 4 sen or 0.19% to RM20.16.
The other big-cap glovemakers also rose, namely Supermax Corp Bhd (up 16 sen or 0.85% to RM18.84), as well as Kossan Rubber Industries Bhd (up 8 sen or 0.44% to RM18).
Supermax warrant SUPERMX-C81 led Bursa Malaysia's top gainers with a jump of 48 sen or 8.42% to RM6.18.
Meanwhile, small-cap counters Careplus Group Bhd (up 23 sen or 6.97% to RM3.53) and Rubberex Corp Bhd (up 21 sen or 4.17% to RM5.25) were also among the top five biggest gainers across Bursa Malaysia this morning.
Top Glove and the US customs are reportedly still in talks to settle the import ban issue, which has lasted for two weeks.
Last night, the US customs reportedly said it will not modify or revoke the 'Withhold Release Order' on products by two Top Glove subsidiaries — which has lasted two weeks — until it receives proof to demonstrate the goods were not produced with forced labour.
Further, the US Customs also said it could not specify a timeline for resolving the concerns. According to reports, Top Glove has submitted the related information to the US customs, and talks are still ongoing. Banned importers have three months to submit related proof for the ban to be revoked.
This is not the only time Top Glove products have faced supply chain issues in recent months due to forced labour allegations.
Yesterday, New Zealand's leading supermarket chain Foodstuffs reportedly said it pulled Top Glove's disposable rubber gloves off its shelves while investigating whether they might have been made in slave-like working conditions.