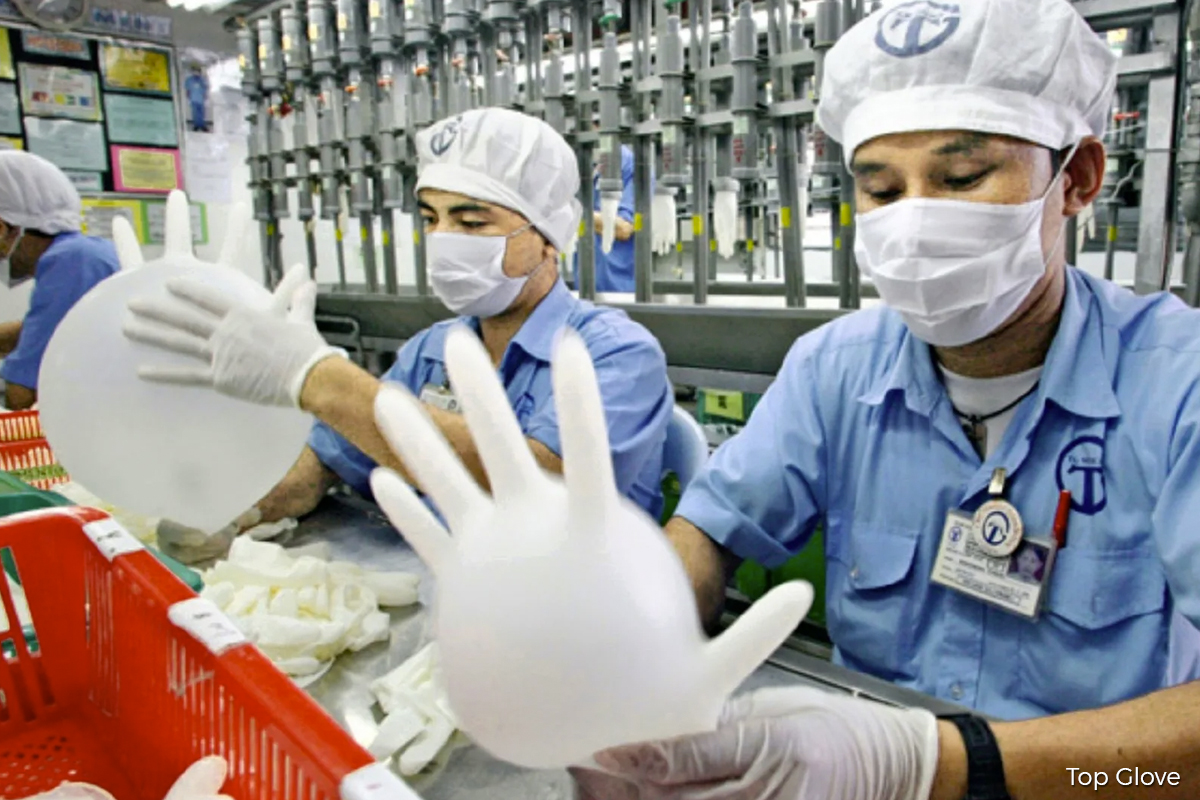 KUALA LUMPUR (Nov 24): Top Glove Corp Bhd fell as much as 55 sen or 7.48% to RM6.80 in morning trade after the group confirmed that it would temporarily shut down 28 factories in Klang, Selangor following an insurgence of Covid-19 cases among its workers.
At 10.07am today, the counter had pared some losses at RM6.90, still down 45 sen or 6.12%, making it the third top loser on the local bourse.
The counter saw 37.71 million shares traded.
Hong Leong Investment Bank (HLIB) Research analyst Farah Diyana Kamaludin said in a note today she had decreased her earnings forecast for Top Glove by 5.6% for the financial year ending Aug 31, 2021 (FY21) to reflect the temporary disruption due to the closing of factories.
"This prudently assumes all the 19 affected factories (which are glove factories) will be closed for one month. A quicker resolution timeline would present an upside to our revised earnings [forecast]," she said.
Yesterday, Senior Minister (Security Cluster) Datuk Seri Ismail Sabri Yaakob announced that a total of 28 Top Glove factories in Klang would cease operations in stages to allow the factory workers to undergo screenings and mandatory quarantine in an effort to contain the spread of the virus among the employees.
Top Glove later confirmed the news, and said it would work closely and cooperate fully with the authorities to implement stoppage by stages of its manufacturing facilities in Klang.
"We are slightly negative on the news. The closures are expected to impact about 50% of Top Glove's total capacity," said Farah.
While she was still unsure about the factories' closure schedule and timeline, she expects some disruption to production for two weeks to a month.
"Also, Top Glove is said to be ramping up production of other factories. However, as most of its factories are already running close to full capacity, we reckon it would be tough to make up for the shortfall from the affected factories," she said.
Post earnings adjustments, Farah's target price (TP) for Top Glove was lowered to RM10.38 from RM10.95.
"Our TP is pegged at a price-to-earnings (PE) multiple of 14 times tagged to [forecasted] FY21 earnings per share (EPS)," said Farah, who maintained her "buy" call for the stock.
Meanwhile, BIMB Securities Research analyst Saffa Amanina Mohd Anwar also said in a note today that assuming a staggered stop in factory operations for two weeks, this will negatively impact Top Glove's FY21 earnings by about 2%.
He noted that the additional cost would be a one-off screening cost.
"Top Glove has about 8,000 to 8,500 workers in Klang and if all workers are required to be screened (with estimated cost of RM300 per test), this is seen as a one-off cost of RM2.6 million or 0.4% of our FY21 earnings [forecast]," he said.
He maintained his "buy" call and TP of RM10.80 for the stock but noted that his earnings forecasts and TP may be revised lower due to the aforementioned impact.