This article first appeared in The Edge Financial Daily, on October 15, 2018.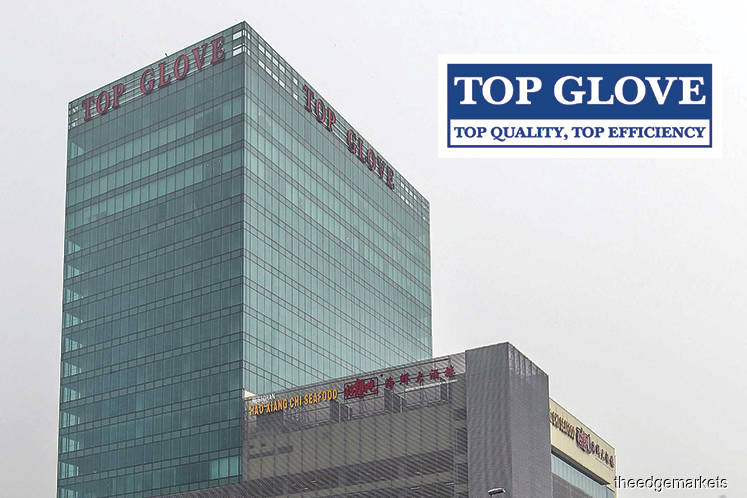 Top Glove Corp Bhd 
(Oct 12, RM10.78)
Maintain underperform with a target price of RM8.85: Top Glove Corp Bhd's profit after tax and minority interest (Patami) for financial year 2018 (FY18) of RM433.6 million (+31.9% year-on-year [y-o-y]) came in within expectations at 96%/98% of our/consensus full-year forecasts. A final dividend per share (DPS) of 10 sen was proposed, bringing full FY18 DPS to 17 sen (FY17: 14.5 sen), which is above our expectations. As such, we raise both our FY19 and FY20 DPS estimates from 14.5 sen to 17 sen each. The one-for-one bonus issue will go ex on Oct 24.
 
On a quarter-on-quarter basis, Top Glove's revenue for fourth quarter of FY18 (4QFY18) rose 10.6% due to higher sales volume (+6%) and average selling prices (ASPs) (+1%), underpinned by strong demand emanating particularly from Asia as well as Eastern Europe and Latin America. 4QFY18 profit before tax (PBT) rose 6% but PBT margin fell 0.5 percentage point (ppt) to 11.7% from 12.2% in 3QFY18 as improvement in production efficiency and new capacity coming on stream were slightly offset by higher input nitrile latex prices (+13.9%), which caused some pricing pressure. This brought 4QFY18 Patami to RM101.6 million (-13.6%) due to a higher effective tax rate of 28.2% (due to provision for deferred tax) compared with 11% in 3QFY18.
On a y-o-y basis, FY18 revenue rose 23.6% to a record high of RM4.21 billion due to a higher sales volume (+26%) and ASPs (+6%). The improved results followed strong demand growth stemming from developed and emerging markets, particularly from Asia (including India, China, and Vietnam), as well as Eastern Europe and Latin America. FY18 PBT margin expanded by 1.2 ppts to 12.4% compared with 11.2% in FY17 due to better economies of scale, improved productivity, and higher ASP although slightly chipped by a marked increase in natural gas price. As a result, FY18 Patami was 31.9% higher at RM433.6 million.
We understand that the production of vinyl gloves in China resumed and normalised in early 2018. Hence, over the past six months, delivery lead time (the time frame between order and delivery) has shortened from 60-70 days to 30-45 days, indicating that the strong demand is potentially tapering off.
Looking ahead, Top Glove is in the process of constructing several manufacturing facilities namely, Factory 32 (phases one and two to be completed early and end-2019 respectively; 4.4 billion pieces), Factory 33 (operational by March 2019; 1.2 billion pieces), Factory 5A (operational by October 2019; two billion pieces) and Factory 8A (operational by early 2020; 3.2 billion pieces), which will boost the group's total production capacity by 9.8 billion gloves per annum to 69.1 billion (+14%). — Kenanga Reseach, Oct 12