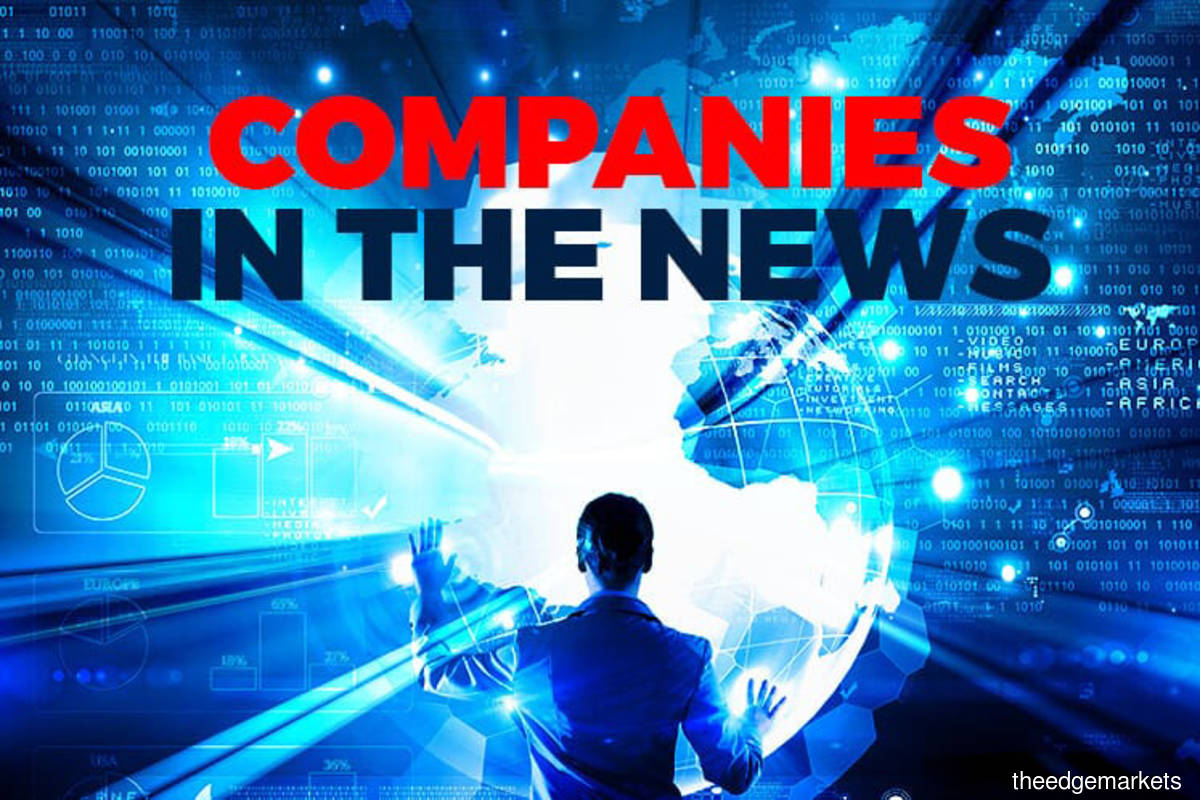 KUALA LUMPUR (July 21): Based on corporate announcements and news flow today, stocks in focus tomorrow may include Top Glove Corp Bhd, CIMB Group Holdings Bhd, CapitaLand Malaysia Mall Trust, TAS Offshore Bhd, Puncak Niaga Holdings Bhd, Sime Darby Plantation Bhd, Zecon Bhd, Marine & General Bhd, Tenaga Nasional Bhd, Komarkcorp Bhd, Sime Darby Property Bhd, SBC Corp Bhd, Prestariang Bhd, and APFT Bhd.
The Ministry of Human Resources said that the headquarters of Top Glove Corp Bhd in Meru, Klang was raided by enforcement officials last Monday to investigate matters relating to breach of Movement Control Order (MCO) rules and cramped quarters provided to foreign workers. The minister, however, said no offences involving elements of forced labour were found. In a separate statement, Top Glove said it was recently accorded an "A" rating during a social audit by Amfori, a leading global business association for open and sustainable trade. The rating was awarded in a social audit conducted from May 23 to 26, as a result of Top Glove receiving 12 "very good" scores and one "good" score for a total of 13 performance areas assessed during the audit.
CIMB Group Holdings Bhd's 94.83% indirectly held subsidiary CIMB Thai Bank PCL reported a 52.44% rise in its second-quarter net profit to 306.04 million baht (about RM41.14 million), from 200.76 million baht a year earlier, helped by a rise in net interest income and gains on financial instruments. CIMB Thai's net interest income rose to 2.92 billion baht for the second quarter of financial year 2020 from 2.86 billion baht a year ago.
Impacted by significant rental waivers and rebates to tenants affected by phases of lockdown, CapitaLand Malaysia Mall Trust's net property income fell 61.5% to RM19.36 million for its second quarter ended June 30, 2020 against RM50.33 million a year ago. Gross rental income, meanwhile, fell 35.1% to RM42.85 million from RM66.05 million a year ago.
TAS Offshore Bhd is expected to lose RM70 million for cancelling two contracts with two shipbuilders, namely Guangzhou Hangtong Shipbuilding and Shipping Co Ltd as well as Jiangmen Hangtong Shipbuilding Co Ltd, in China to build 16 units of offshore support vessels. TAS Offshore said its wholly-owned subsidiary TA Ventures (L) Ltd had earlier entered into the shipbuilding contracts with the two shipbuilders.
Puncak Niaga Holdings Bhd said its Kuantan regional sewage treatment plant contract sum has been revised downwards by about RM57.28 million to RM432.65 million from RM489.93 million. The project was previously won by Puncak's wholly-owned subsidiary Puncak Niaga Construction Sdn Bhd in May 2018, with the contract period spanning March 5, 2018 to Feb 19, 2022.
Sime Darby Plantation Bhd (SDP) has managed to retain ownership of its 75ha land in Merlimau from being a compulsory acquisition by Taiwan-controlled company GI A Resources Sdn Bhd, which claimed it was acting in the interest of former Yang di-Pertuan Agong cum current Sultan of Kelantan Sultan Muhammad V, for a below-market-value price of RM35.282 million. In a statement today, SDP said it had reached an "amicable settlement" with the parties involved in relation to the judicial review application made by SDP against the director of Melaka's Lands and Mines Department, Jasin district land administrator, the Melaka state government and GI A Resources.
Zecon Bhd has received approval from its shareholders for its proposed rights issue to address its current funding requirements to meet short-term obligations and liabilities, as well as strengthen its financial position. The Sarawak-based construction and property firm announced on Feb 28 that it was planning to raise between RM19.4 million and RM46.1 million via a renounceable rights issue of up to 576.4 million of irredeemable convertible preference shares at an issue price of eight sen each and a conversion rate of 16 sen.
Marine & General Bhd (M&G) has sold its 40% stake in wholly-owned subsidiary M&G Sutera 8 Sdn Bhd (MGS8) to Muhibbah Engineering (M) Bhd for RM21.84 million, to settle the remaining outstanding sum owed to Muhibbah Engineering for the construction of a chemical tanker, JM Sutera 8. Upon completion of the deal, M&G still owns a 60% equity interest in MGS8.
Tenaga Nasional Bhd (TNB) said it has commenced legal proceedings against the Inland Revenue Board (IRB) over a RM1.81 billion tax assessment dispute between the two parties. TNB said the additional assessment notice from IRB was similar to the notices it had received in past years.
Komarkcorp Bhd has set up Komark Mask (M) Sdn Bhd to carry out the manufacture and sale of face masks. It also anticipates the face mask venture to contribute to 25% or more of the net profit of the group through manufacturing the commonly used three-ply surgical face masks and KN95 masks.
Sime Darby Property Bhd said Phase 1 of Elmina Green Three located within its City of Elmina in Shah Alam has been fully taken up and 65 units of Phase 2 have been sold. The Elmina Green Three project was first previewed in early June, comprising a total of 218 units for Phase 1 and 109 units for Phase 2.  The property developer also said the launch of Elmina Green Three kick-started the return of its Spotlight 8 campaign, which features new launches and super deals on properties in different townships every weekend for 11 weeks, until Sept 27.
SBC Corp Bhd said it will delay filing its annual report for the financial year ended March 31, 2020 by another one month to Aug 31, after having considered the challenges the group has been facing during the MCO period and the current situation. The construction and property development company was due to issue the annual report by July 31.
Prestariang Bhd's founder cum group chief executive officer (CEO), Dr Abu Hasan Ismail, is taking up 79.58 million new ordinary shares or a 15% stake in the company at 35 sen per share. The group is expected to raise RM27.85 million to address the group's working capital needs and tackle going concern issues raised by auditors.
Practice Note 17 company APFT Bhd said its group CEO Siva Kumar Kalugasalam, 50, is stepping down effective July 30 to pursue his personal interests.