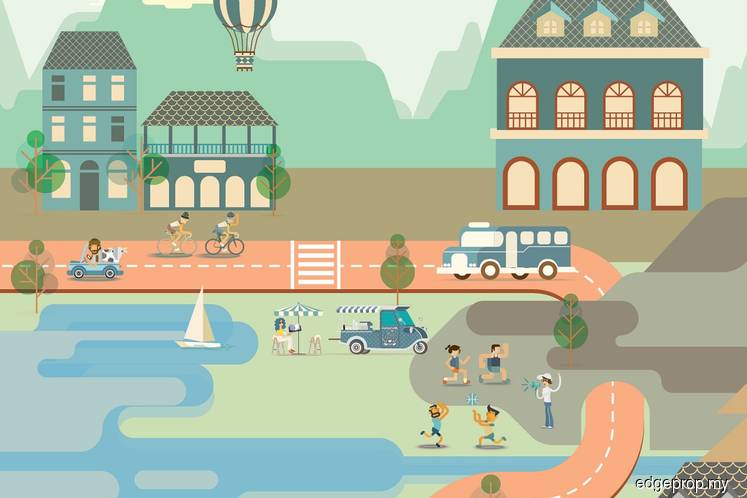 BUILDING a township is no longer as simple as it used to be. What used to be merely housing estates with some shoplots and basic amenities, are now holistic master-planned developments with parks, waterfronts, landscaped streets, and other community or common spaces filled with recreational facilities. In other words, place-making elements are today an essential concept in the overall planning and design of a township.
The aim of place-making is to make a common or public space so interesting that it draws people to it. It must have elements that make the space attractive, comfortable and pleasant enough to make them visit or spend time in the space.
Place-making is also very much in line with the lifestyle demands of consumers today. They want more than just a roof over their heads, they want a self-sustaining, vibrant community to be a part of that would make them proud.
The master planner, architect, designer or property developer's mission is therefore to create "something out of nothing", so to speak.
When asked for his definition of place-making, Malaysian Institute of Planners president Ihsan Zainal Mokhtar puts it simply as turning a 'public space' into a 'public place' by "making the space attractive, safe, comfortable and more importantly an inclusive place for everyone," he tells EdgeProp.my.
Ihsan believes that place-making is an important factor in the design of a successful township.
"Place-making brings life to any township. You can redesign or just 'tweak' an existing area and turn it into an enjoyable place for all. You can add in more vibrancy to the place to allow the place to have more engagement with residents or even the public," Ishan notes.
"Successful place-making could turn a mundane existing township into a place that is like new and value added," he says.
He adds that place-making is also important as an active space that could draw people or the residents in the township to have community activities and this will enhance social interaction and integration. "Place-making is an expression of freedom and inclusivity of a society".
Ihsan highlights five of the most important place-making elements for a township.
1 Clean and comfortable
Studies have shown that people tend to spend more time in a clean and comfortable common space. It was also found that a clean space also discourages crime.
Therefore, well-planned common spaces with landscaping and facilities such as plants, benches and jogging tracks that allow for both active and passive activities to be carried out in a clean and comfortable environment are important in place-making.
2 Water features
Many township builders may think that water features are not necessary in place-making, but Ihsan says water elements such as rivers, lakes, the seafront or even a pond, make a place cooler and hence more comfortable for people visiting the area. On top of that, water bodies also provide scenic views that give a sense of calm and serenity that many city folks seek.
3 Community participation
A space will not come to life without people visiting it. Therefore, Ihsan thinks that one of the most critical place-making elements is to get the community involved by contributing ideas in the design and planning of the common space.
Township developers can then create spaces from the residents' and users' perspective. They could also call for volunteers from the public or the local community to organise public events to be held in the common space. This could enhance a sense of belonging and engagement with the place among the people.
4 Accessibility
The common place-making areas of a township must be easily accessed, preferably by all modes of transport. According to Ihsan, accessibility is one of the most important place-making elements because it determines the footfall of the place.
Besides connectivity, he also stresses that the township planner should also understand the needs of every group in the community or society when designing the common areas or spaces including the special needs of the elderly and the disabled.
5 Multi-use spaces
Ihsan also believes that urban planners should plan for multi-usage spaces. This is because multi-usage public places can create more place-making potential for the space.
For example, when planning a sports stadium, the architect or planner may consider incorporating a covered or partly covered car park that could be used as an event space for community activities, bazaars or markets, and as such, the space should be attractive enough to event organisers.
This story first appeared in the EdgeProp.my pullout on Nov 9, 2018. You can access back issues here.