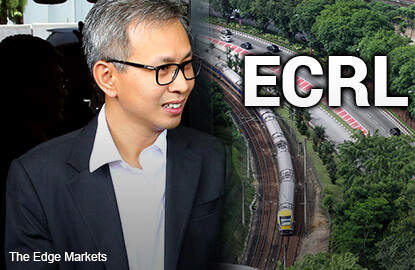 KUALA LUMPUR (Nov 15): DAP lawmaker Tony Pua said the government's previous feasibility study conducted by Bursa Malaysia-listed HSS Engineers Bhd showed the project value of East Coast Rail Link (ECRL) should not be more than RM30 billion. 
"HSS stated the project value was RM29 billion or RM53.2 million per km. The study hence supports East Coast Economic Region Development (ECERDC) CEO, Datuk Jebasingam Isaac John, who has previously quoted that the ECRL will cost about RM30 billion," he told a press conference at the parliament lobby today.
"Within a year, the cost doubled?" he questioned.
According to Pua, HSS Integrated Sdn Bhd, a subsidiary of HSS Integrated, was appointed to carry out the ECRL feasibility study in December 2009 and completed their work December last year. The company was paid RM8.7 million for the services.
"In our research over the controversy surrounding the 600km ECRL, we have discovered that the ECERDC has appointed HSS Integrated Sdn Bhd to conduct a feasibility study, including engineering studies, ridership studies, systems and rail operation studies, economic and financial evaluation," he said.
According to HSS, the proposed route was approximately 545 km in length from Kuala Lumpur to Tumpat, passing through Mentakab, Kuantan, Kuala Terengganu and Kota Bahru.
He has also challenged Economic Planning Unit minister Datuk Seri Abdul Rahman Dahlan to make public, the feasibility study conducted by HSS, which was commissioned by ECERDC.
"He has to justify to Malaysians [as to] why did Prime Minister award the contract to China Communications Construction Co Ltd (CCCC) at RM91.7 million per km, which is 72.4% more expensive than the HSS study of RM53.2 million [per km]," Pua said.
On the other hand, the government had earlier denied claims the ECRL project could be the world's costliest rail project.
Abdul Dahlan has previously clarified that the cost of the ECRL is RM55 billion, and not RM46 billion as mentioned in CCCC's announcement.
"Initially, the plan was to build a 600 km stretch that connects Tumpat to Gombak. But the government subsequently decided to extend the ECRL network to connect Port Klang as well, which will add another 88km — that's why the expected cost goes up to RM55 billion," he said.