This article first appeared in The Edge Malaysia Weekly, on January 14, 2019 - January 20, 2019.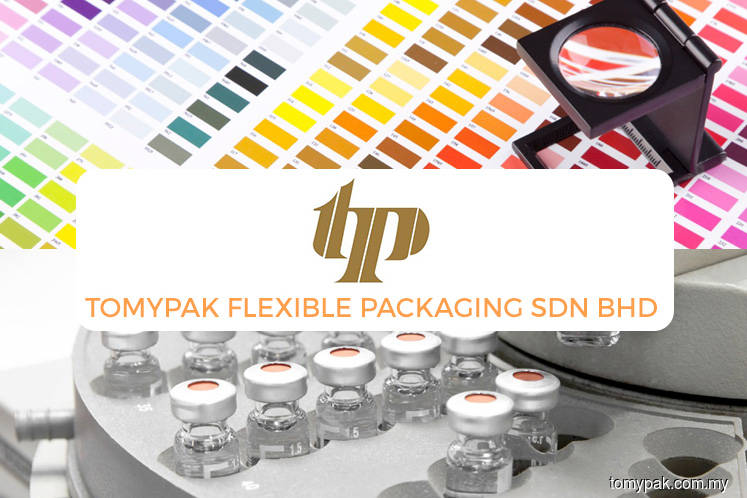 ADRIAN Yong Kwet On, the single largest shareholder of Tomypak Holdings Bhd, is planning to offload his entire 22.81% stake in the Johor-based plastic flexible packaging (PFP) producer, according to reliable sources.
"Adrian is looking for (a) buyer to take over his stake in Tomypak. But his asking price is quite high at the moment, so he might scare off any potential buyers, until and unless the company shows better financial results," a source tells The Edge.
Based on Tomypak's closing price of 67 sen last Friday, Yong's 22.81% stake is worth about RM64 million.
It is learnt that Yong is looking at an exit price of at least RM95 million or RM1 per share, which is a considerable 47% premium over its current price.
The source, however, points out that if potential buyers do not intend to purchase Yong's entire 22.81% stake, they could always accumulate Tomypak shares from the open market at a lower cost.
Over the last 12 months, the counter has fallen by 30%. It closed last Friday at 67 sen, giving it a value of RM280.7 million.
Through his private vehicle, New Orient Resources Sdn Bhd, Yong owns an indirect 22.55% stake in Tomypak while the remainder is held directly.
New Orient Resources had acquired 25.4% of Tomypak from its founders, the Chow family, at RM1.30 per share in October 2014. In 2016, Tomypak made a 1-for-2 cash call, before undertaking a 1-to-2 share split and 1-for-4 bonus issue the year after.
Against an adjusted cost ex-corporate exercises of 48 sen apiece, Yong is now enjoying a paper gain of about 39.5% at the current share price levels.
It has not gone unnoticed that via New Orient Resources, Yong has been gradually paring down his stake in Tomypak and he has sold 2.63% since September 2017. New Orient Resources' more recent disposals, amounting to 3.8 million shares, were transacted at between 45 sen and 58 sen apiece, according to filings with Bursa Malaysia. Yong's private vehicle held 25.18% on Sept 14, 2017.
The share divestment has been perceived by some observers as an early indication of Yong's plans to exit the company. However, another industry source offers a different perspective: "New Orient Resources has been paring down its stake in Tomypak as it is said that Adrian was being forced to sell his shares, possibly due to margin calls."
Interest from Japan?
Another source from a stockbroking firm says a potential Japanese investor had visited Tomypak's new plant in Senai, Johor, and was recently in talks with the relevant parties. According to the source, the Japanese investor appears willing to acquire Yong's stake at a premium.
It is worth noting that in late 2016, Japan-based plastic films producer Taisei Lamick Co Ltd had privatised flexible packaging materials manufacturer Malaysia Packaging Industry Bhd — a smaller rival of Tomypak's — at a revised offer price of RM1, a significant premium of more than 100%.
The Scientex and Daibochi merger provides a more recent comparison. Last year, Scientex Bhd acquired 42.41% of Daibochi Bhd — Tomypak's closest rival — in a share swap deal worth RM222.5 million, which effectively valued Daibochi at RM1.60 a share, or a 18.8% discount to its price.
Scientex's purchase consideration valued Daibochi at a price-to-book value of 2.62 times.
Using this as a yardstick, Tomypak shares should be worth RM1.23 apiece. Thus, it is no surprise that Yong — should he be looking to exit — would like nothing less than RM1 per share.
At press time, Yong, Tomypak managing director Eddie Lim Hun Swee and executive director Tan See Yin had not responded to The Edge's request for comment.
Lim — the second largest shareholder with a 16.2% direct stake — has helmed Tomypak since January 2015. The 66-year-old Singaporean joined the board as a non-executive director in May 2014 before being appointed executive director three months later.
Yong, 61, was appointed a non-independent and non-executive director in November 2014, a month after he surfaced as a substantial shareholder.
According to the company's 2017 annual report, Yong has more than 38 years' experience in technology and ICT, spanning large-scale data centre infrastructure development projects, process engineering, manufacturing systems and technology implementation.
A founding member and former honorary secretary of the Malaysia Canada Business Council, he is also a founding member of the Malaysia Data Centre Alliance.
Yong has also been involved in two successful international initial public offerings (IPOs) — on Sesdaq (now known as Catalist), the secondary board of the Singapore Exchange Ltd; and the Alternative Investment Market (AIM) of the London Stock Exchange.
Because of the rising demand for PFP products from its clients — including Nestlé (M) Bhd, Ajinomoto (M) Bhd, Apollo Food Holdings Bhd and Hup Seng Industries Bhd — the company built the Senai plant with an annual production capacity of 35,000 tonnes. Located on a 10.5-acre parcel, the facility's capacity is twice that of its plant in Tampoi, Johor Baru.
Once the Senai plant is running on full steam, Tomypak's total annual production capacity is expected to triple to 52,000 tonnes by 2026.
Save by subscribing to us for your print and/or digital copy.
P/S: The Edge is also available on Apple's AppStore and Androids' Google Play.