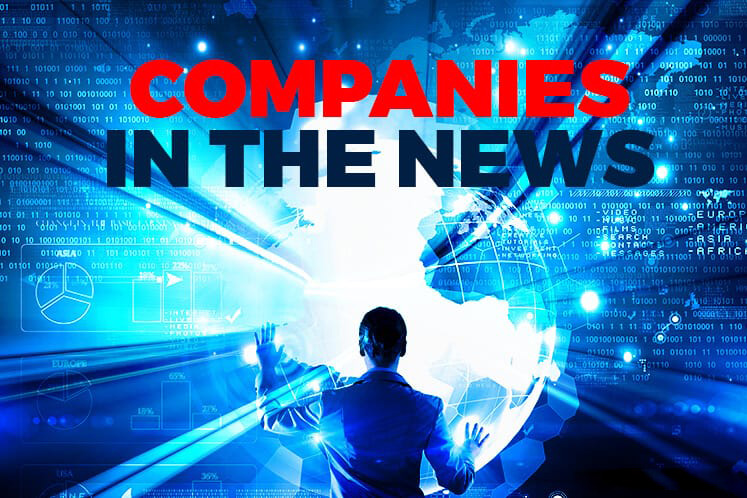 KUALA LUMPUR (Dec 18): Based on corporate announcements and news flow today, companies that may be in focus tomorrow (Dec 19) may include: TMC Life Sciences Bhd, Econpile, Hai-O, Berjaya Sports Toto, TH Heavy, Ekovest, IWCity, United Malacca and Bina Puri
Singapore tycoon Peter Lim is injecting his healthcare assets, comprising 100% of Thomson Medical Pte Ltd and 70.36% of TMC Life Sciences Bhd, into his real estate company Rowsley Ltd.
Singapore-listed Rowsley announced yesterday that it is acquiring Sasteria Pte Ltd, the owner of Thomson Medical and the controlling shareholder of TMC Life, from Lim for S$1.6 billion (RM4.85 billion).
Lim is also the controlling shareholder of Rowsley, with an indirect 45.36% stake held through Garville Pte Ltd, Garville (Hong Kong) Ltd, Jovina Investments Ltd and Bellton International Ltd.
Thomson Medical is Singapore's largest private provider of healthcare services for women and children, while TMC Life operates the Tropicana Medical Centre in Kota Damansara.
Econpile Holdings Bhd, via its subsidiary Econpile (M) Sdn Bhd, has secured a RM32.8 million contract from Majestic Maxim Sdn Bhd, to undertake piling and related works for a mixed development in Kuala Lumpur.
The subsidiary will undertake bored piling, pilecaps and substructure works for four 37-storey blocks of apartments; an eight-storey podium for retail and office space, as well as car park. The duration of the contract is about 10 months.
Hai-O Enterprise Bhd's net profit rose 34.76% in the second quarter ended Oct 31, 2017 (2QFY18) to RM21.44 million from RM15.91 million a year earlier, on higher revenue in its wholesale and multi-level marketing (MLM) divisions.
Revenue for the quarter ended Oct 31, 2017 (2QFY17) grew 23.8% year-on-year to RM123.53 million from RM99.78 million.
Hai-O declared an interim dividend of six sen per share, to be paid at a date to be decided later.
The group said the higher earnings at its MLM division was due to higher sales volume of consumer products, while the increase in revenue in the wholesale division was mainly due to higher sales generated from Chinese medicated tonics.
For the cumulative six months ended Oct 31, 2017 (1HFY17), Hai-O's net profit surged 53.22% to RM39.3 million or 13.58 sen per share, from RM25.65 million or 8.84 sen per share a year earlier.
Cumulative revenue rose 39.02% to RM248.07 million in 1HFY17, from RM178.44 million.
Berjaya Sports Toto Bhd's net profit slid about 1% in its second quarter ended Oct 31, 2017 (2QFY18) to RM61.73 million from RM62.15 million a year ago, dragged mainly by lower contribution from its units HR Owen Plc and International Lottery Totalizator Systems, Inc (ILTS).
Quarterly revenue retreated 5% year-on-year to RM1.38 billion from RM1.45 billion.
It declared a second interim dividend of four sen per share in respect of FY18, payable on Feb 13.
The company said HR Owen recorded lower earnings due to a drop in sales from new and used cars during the quarter, as a result of softening demand in the UK car market and the product life cycle of car models available for sale, while the recognition of substantial project contract sales in 2QFY17 caused ILTS to register a drop in revenue and pre-tax profit of 83.7% and 96.6% respectively.
For the first six months of FY18 (1HFY18), BToto posted a net profit of RM136.04 million, up about 13% y-o-y from RM120.89 million, though revenue slid 1% to RM2.86 billion from RM2.89 billion, mainly due to lower contribution from ILTS as mentioned earlier.
TH Heavy Engineering Bhd (THHE) received support from its creditors at the Court Convened Creditors Meeting last Friday with all its secured creditors supporting the scheme, and 94.5% of unsecured creditors backing it.
THHE said the support received is in excess of the 75% required for the Scheme of Arrangement pursuant to Section 366 of the Companies Act 2016 (Scheme).
Three of its subsidiary companies, namely wholly-owned units THHE Fabricators Sdn Bhd (THF) and O&G Works Sdn Bhd (OGW), and 70%-owned subsidiary THHE Offshore Services Sdn Bhd (THHE Offshore) held the Court Convened Creditors Meetings last Thursday.
THF had all the secured creditors and 91.1% of the unsecured creditors supporting the debt restructuring scheme, while OGW had 94.87% of the unsecured creditors supporting the scheme.
However, 81.33% of THHE Offshore's unsecured creditors voted against the scheme.
Ekovest Bhd has issued a takeover notice to buy a 62% stake in Iskandar Waterfront City Bhd at RM1.50 per share, via a cash deal or a one-for-one share swap deal to take the latter private.
Ekovest said its board of directors, after having considered all aspects of the proposed offer, has decided to present the bid for consideration to its shareholders at an extraordinary general meeting (EGM) which is aimed to be convened in the middle of February next year, or earlier.
The offer price of RM1.50 represents a discount of more than 50% to IWCity's estimated revised net asset value of RM3.03, IWCity said. As at Dec 11, Ekovest does not hold any shares in IWCity.
Ekovest also updated that it has inked a conditional share sale agreement (SSA) with Kumpulan Prasarana Rakyat Johor Sdn Bhd to acquire the latter's 6.4% stake in IWCity for RM80.39 million or RM1.50 per share.
United Malacca Bhd's second quarter ended Oct 31, 2017 (2QFY18) net profit fell 30.5% to RM12.86 million from RM18.5 million a year ago, due to extended wet weather in Sabah which affected crop production, coupled with low fresh fruit bunches (FFB) yield and higher unit cost of production.
Revenue for 2QFY18, however, rose 8.8% to RM80.99 million, from RM74.44 million last year. The group declared a first interim dividend of six sen, which will be paid on Feb 8, 2018.
In the first half of FY18 (1HFY18), United Malacca's cumulative net profit fell 12.3% to RM19.19 million from RM21.88 million a year ago, while revenue grew 17.6% to RM151.28 million from RM128.66 million.
Bina Puri Holdings Bhd through its wholly-owned subsidiary BP Energy Sdn Bhd bagged a project from Malaysia's Energy Commission to develop a 5MW solar photovoltaic plant in Kunak, Sabah under the commission's large-scale solar plant initiative.
The project is on a build-own-operate (BOO) basis, is located in Kampung Dasar in Kunak and all the documentation is expected to be finalised by March 2018.
Bina Puri group executive director Datuk Matthew Tee Kai Woon revealed its plans to add more solar farms and mini hydro powers into its power portfolio.