This article first appeared in The Edge Financial Daily, on October 27, 2017.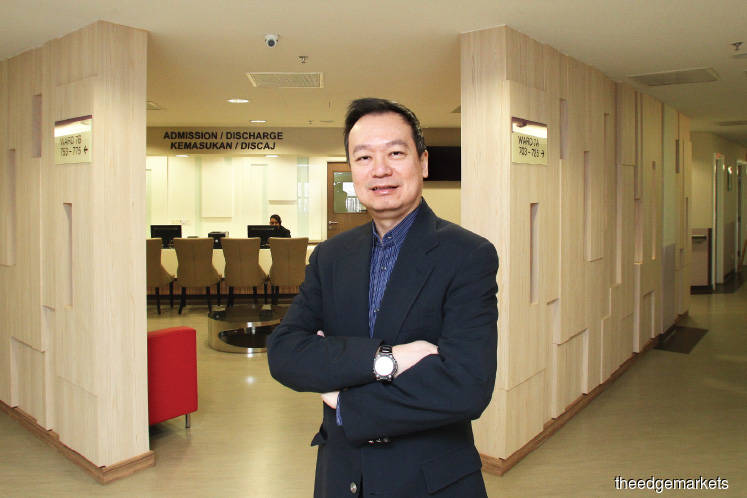 PETALING JAYA: Healthcare provider TMC Life Sciences Bhd is hoping to expand its combined bed capacity from 200 to 1,100 within five years and subsequently boost earnings at an exponential rate.
"We are hoping to achieve this target if, and only if, we manage to complete the expansion of our capacity at Tropicana Medical Centre, as well as get the health ministry's go-ahead to kick-start the Iskandariah Hospital in Johor," said its group chief executive officer (CEO) Roy Quek.
Quek said TMC has received the ministry's approval to expand the capacity of its flagship Tropicana Medical Centre in Kota Damansara, Selangor, by adding 400 beds to the current 200.
"Most importantly for us is to expand our current facilities first, as we bank on the growing local population and increasing demand for medical services. Gradually, I am hoping the facility in Kota Damansara will reach to 600 beds by 2020," he told a media briefing yesterday.
Quek said the construction of the additional facilities on a six-acre (2.43ha) land in Kota Damansara, serving a neighbouring population expected to increase soon to 200,000, will take three years to complete and cost around RM300 million.
Tropicana Medical Centre CEO Wan Nadiah Wan Mohd Abdullah Yaakob said the centre's overall weekly utilisation rate is 60%. "If you look at weekdays [alone], it can go all the way up to 70% — that is pretty high," she said.
On the Iskandariah Hospital, Quek said its construction is estimated to cost RM1.2 billion with an initial capacity of 500 beds. TMC is hoping to get the health ministry's approval for the project by the first quarter of next year.
"The approval is taking a slightly longer time because the regulator wants to ensure the design and planning comply with the best possible standards. We are now at the tail end of the discussion with the regulator and it is a matter of time for them to announce the approval."
Iskandariah Hospital is part of the Vantage Bay Healthcare City integrated development, a RM5 billion project expected to feature a wellness centre and a retail mall.
To fund the project, Quek said TMC may tap into its internal funds, where it still has outstanding warrants which, if fully exercised, could generate an additional RM650 million. "Then, we will look into the relevant financing modes, which we have no problems of securing given the project's scale and impact."
As for future earnings, Quek said TMC aims to maintain its current pace of growth, and if possible leap further as it banks on incoming stream of new capacity at a gradual pace. "At the same time, we are looking at increasing the intensity of higher complex cases that will have bigger billings," Wan Nadiah added.
For the fourth financial quarter ended Aug 31, 2017, TMC's net profit nearly doubled to RM11.1 million from RM5.87 million a year earlier, on resource optimisation initiatives.
Quarterly revenue jumped 16.28% to RM39.31 million from RM33.81 million previously, on higher patient load supported by additional bed capacity, additional consultants recruited and continuing marketing activities.
For the full financial year 2017, TMC's net profit surged 45.68% to RM26.03 million, from RM17.87 million in the previous year, supported by revenue that soared 15.43% to RM151.71 million from RM131.43 million.
In line with stronger performance, Quek said TMC will be forking out a total of RM2.9 million to pay a 0.17 sen dividend to its shareholders, higher than the RM2.7 million it incurred in paying a dividend of 0.15 sen in the previous year.
Going forward, Quek said TMC will focus on maintaining its business growth including ramping up marketing efforts to boost medical tourism.
"We are also planning to open a fertility centre in East Malaysia. Hopefully, this will garner more interests from the locals and tourists," said TMC fertility and women's specialist centre CEO Woon Ming Ming. "We recently celebrated the delivery of the 1,000th baby born via the in-vitro method. Obviously, this business is doing well."
Currently, Woon said TMC has six fertility centres in the Klang Valley, Perak and Johor. TMC's share price dropped one sen or 1.2% to 82.5 sen yesterday, with a market capitalisation of RM1.43 billion.