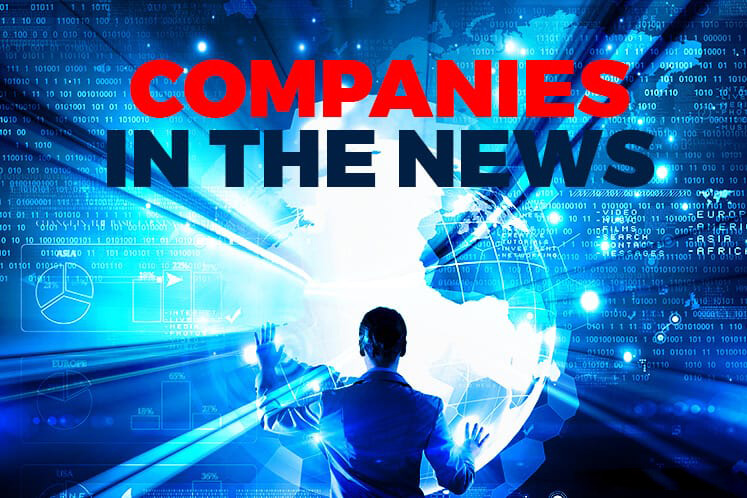 KUALA LUMPUR (March 21):  Based on corporate announcements and news flow today, companies that may be in focus on Friday (March 22) may include the following: Telekom Malaysia Bhd, Mudajaya Group Bhd, Progressive Impact Corp Bhd, Perdana Petroleum Bhd, Dayang Enterprise Holdings Bhd, MCE Holdings Bhd, DRB-Hicom Bhd, Vizione Holdings Bhd and United Malacca Bhd.
Telekom Malaysia Bhd (TM) said Malaysian Football League LLP (MFL) has sued the company, seeking reliefs of over RM400 million, and a declaration that TM has breached a sponsorship contract.
The telecommunications company has instructed its solicitors to take necessary steps to defend the claim.
On Monday, after confirming that it is no longer a sponsor of the MFL from 2019 onwards, TM denied MFL's claim that it had failed to meet its obligations in the contract between the two parties.
This came after MFL had said it is ending the sponsorship contract with TM worth RM480 million.
Mudajaya Group Bhd said the fourth and final unit of its long-delayed coal-fired thermal power plant in India has achieved its commercial operation date (COD).
It said the first three units of the power plant, located in the centre-east state of Chhattisgarh, had secured power purchase agreements (PPAs) through open tender. The power plant has a total capacity of 1,440 mW, comprising four generating units of 360 mW each.
Mudajaya's venture into the Indian power production industry goes as far back as in 2009, when it took up a 26% stake in RKM Powergen Pvt Ltd to undertake the construction of the power plant, with an estimated investment of RM5 billion.
More than a year ago, it reduced its stake in the Indian independent power producer to 18.93% through disposing of its 7.07% stake in RKM to Apollo Ventures Co Ltd for US$19.5 million.
Progressive Impact Corp Bhd has bagged a 109.22 billion rupiah (RM31.35 million) contract from Chevron Corp to undertake environmental sampling and laboratory analysis for its Sumatera operation in Indonesia.
It said the award is a continuity of the existing business that its subsidiary PT ALS Indonesia has with Chevron. Additionally, the contract serves as a business expansion in a foreign market, that is, Indonesia, it added.
Perdana Petroleum Bhd has secured a RM17.7 million contract from Dayang Enterprise Holdings Bhd to supply two units of accommodation work barges.
It said the first work barges will be chartered for a period of 120 days with an extension option. The contract will begin on March 29.
For the second work barges, it said will be chartered for 200 days with an option for a period of 15 + 15 days. The contract is effective from April 1.
MCE Holdings Bhd has secured two contracts to supply various electronic and mechatronic components and parts for Proton and Perodua new car models.
The Proton contract will generate total revenue of RM35 million over the nine-year period, while the estimated total investment cost to be incurred will be RM3.8 million.
The Perodua project is expected to generate total revenue of RM16 million for MCE over the four-year period, while the estimated total investment cost is RM130,000.
Proton, a 50.1%-owned by DRB-Hicom Bhd will collaborate with a local partner to establish a manufacturing assembly plant in Pakistan, its first in the South Asia region.
The agreement was inked by Proton and its local partner, Alhaj Automotive last year.
"This is significant because it will be Proton's first (assembly) plant in South Asia and the population of Pakistan is 210 million," said Malaysia High Commissioner to Pakistan Ikram Mohammad Ibrahim.
Vizione Holdings Bhd said Wira Syukur (M) Sdn Bhd, a construction firm injected into Vizione for RM280 million — reported a profit after tax of RM57.33 million for the financial year ended Dec 31, 2018 (FY18) — has exceeded its profit guarantee by RM3.31 million.
This brings Wira Syukur's two-year net profit for FY17 and FY18 to RM85.91 million, exceeding the guarantee amount of at least RM82.59 million, it added.
Plantation group United Malacca Bhd saw its net profit slide to RM2.36 million for the third quarter ended January 31, 2019 from RM10.29 million in the previous corresponding quarter, due to its adoption of the Malaysian Financial Reporting Standards framework and lower average prices of crude palm oil and palm kernel.
Excluding the impact of MFRS adoption, its pre-tax profit would be RM9.88 million, compared with RM3.3 million.
Quarterly revenue fell 17% to RM53.48 million from RM64.44 million a year earlier.