This article first appeared in The Edge Financial Daily, on June 26, 2019.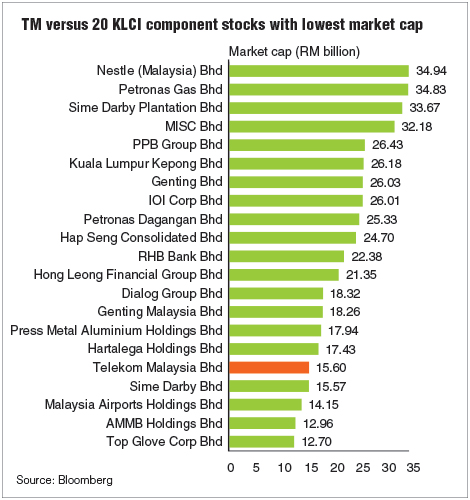 KUALA LUMPUR: Telekom Malaysia Bhd's (TM) share price continues to rise, closing at its 52-week high of RM4.15 yesterday, with a market capitalisation of RM15.6 billion. After the share price meltdown last year, TM has nearly doubled from the trough of RM2.14 — the lowest level since Aug 9, 2010.
The recent rally has given TM the token to return as part of the KLCI component stocks, comprising the 30 largest Bursa Malaysia-listed companies.
At its closing price yesterday, TM's market capitalisation is now higher than those of four KLCI component stocks — Sime Darby Bhd, Malaysia Airports Holdings Bhd, AMMB Holdings Bhd and Top Glove Corp Bhd.
TM's market value also tops the KLCI reserve list for now, followed by Westports Holdings Bhd's RM13.33 billion, Fraser & Neave Holdings Bhd's RM12.65 billion, YTL Corp Bhd's RM12.15 billion and QL Resources Bhd's RM11.11 billion.
Pacific Mutual Fund Bhd chief executive officer (CEO) Teh Chi-chuen told The Edge Financial Daily that while TM has the most comprehensive telecommunications infrastructure in the country, it is not on his buy list, at least not for now.
"We prefer to wait for TM's new CEO Noor Kamarul Anuar Nuruddin to articulate his new strategy going forward, and whether the management could execute this strategy and deliver results, before we increase our position," Teh said.
Phillip Capital Management Sdn Bhd chief investment officer Ang Kok Heng's shopping list also does not include TM. "We have been staying away from telecommunications companies (telcos) for quite some time; the industry is competitive and the margin is compressing," he said.
Nonetheless, another fund manager, who declined to be named, said some of his peers have been accumulating TM shares, banking on the new management's ability to improve the group's performance.
"TM has very good assets. If the new management can make good use of them, they can deliver a better performance, rather than being the retirement home for certain people," he said.
According to Bloomberg consensus, investment analysts' target prices are between RM2.40 and RM5, with an average of RM3.83.
TM's latest quarterly financial results showing better earnings and cost efficiency have helped woo back investors. The telco was once bashed by the mandatory standard on access pricing, resulting in lower fixed broadband prices.
For the first quarter ended March 31, 2019 (1QFY19), TM's net profit almost doubled to RM308.28 million, from RM157.16 million a year ago. This was despite revenue falling 2.4% year-on-year to RM2.78 billion in 1QFY19, from RM2.85 billion previously.
Core earnings per share in 1QFY19 were above expectations, forming 45% of Bloomberg consensus forecasts for the financial year ending Dec 31, 2019 (FY19).
TM's improved financial performance in 1QFY19 coincided with the group adopting the Malaysia Financial Reporting Standard 16 (MFRS 16). This change of accounting treatment helped it recognise an additional RM23.9 million in profit after tax and minority interest (Patmi) for the quarter.
TM's presentation slides, seen by analysts, showed 1QFY19 Patmi, post-MFRS 16, was RM308.3 million or 8.4% higher than RM284.4 million Patmi under the pre-MFRS 16 accounting treatment.
While analysts concurred that there is a positive effect from the MFRS 16, they opined that the major driver of the improved financial performance in the quarter remained the group's rationalisation.