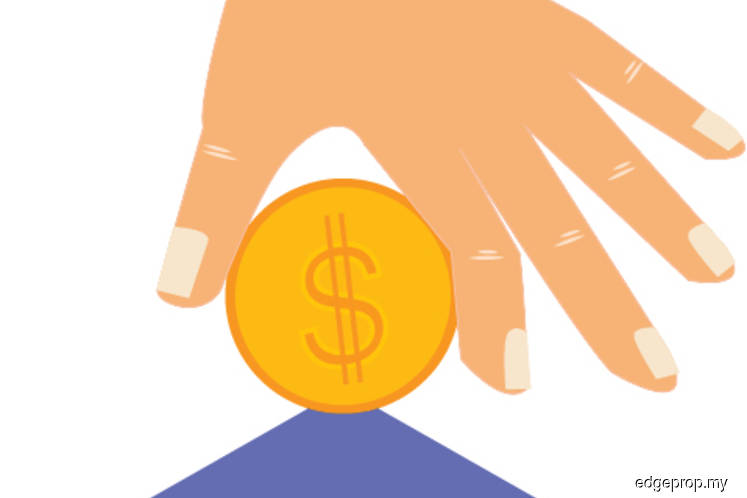 THE property market is still soft with most developers experiencing slow sales. Most property developers, it seems, are taking a cautiously optimistic view of the market in the near term. According to some of the developers participating in EdgeProp.my's Malaysia Virtual Property Expo (VPEX) 2018, the days ahead will remain challenging but they are feeling a tad more optimistic of the future than before.
Most of them say that the zero-rated Goods and Services Tax (GST) announced by the government effective June has boosted consumer sentiments. On the real estate front, the zero-rated GST also means lower property prices due to lower construction cost, and buyers should take advantage of that.
Moreover, the change in government following the 14th General Election has definitely provided greater clarity on the country's political scene.
Meanwhile, in the current soft market, purchasers could actually receive greater bargains with their purchases as developers push sales by offering attractive sales packages, freebies and rebates.
This year's VPEX running from July 6–29 at VPEX.EdgeProp.my, offers more than 29 projects located mostly in the Klang Valley. They come in various price points and types to meet different requirements and budgets.
Some projects can be purchased with low down payments (as low as RM5,000), easy payment schemes, free legal fees for sales and purchase agreement (SPA) or Memorandum of Transfer (MoT) as well as price rebates from 3% up to 15% for bumiputra buyers.
Besides providing an easy entry to own a property, most of the participating developers are also offering freebies with the new unit purchased including kitchen cabinets, electrical appliances, air-conditioning units, water heaters and even vouchers of up to RM50,000 for renovation packages.
Hence, consumers who are still taking a wait-and-see approach should not linger too long as the property developers expect the market to improve by the end of the year, which could mean that prices may continue to climb.
It is a buyers' market out there and definitely a good time to buy.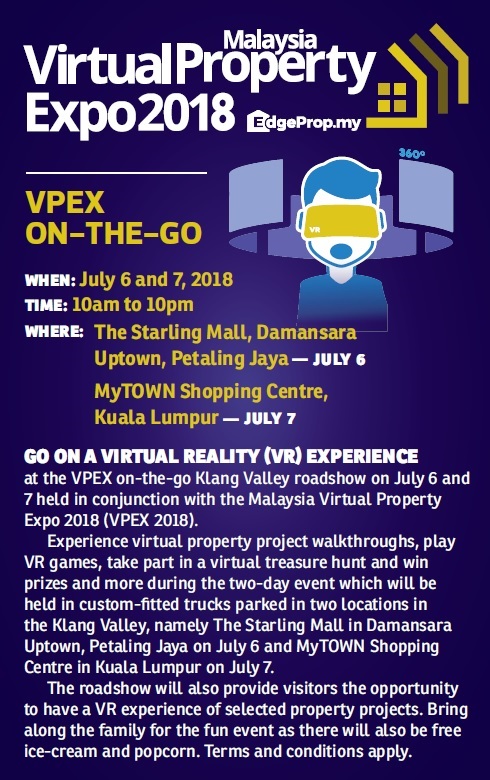 Welcome to VPEX 2018
From July 6 to 29, 2018, log on to VPEX.EdgeProp.my and visit the Malaysia Virtual Property Expo 2018 (VPEX 2018). The expo, which made its debut last year as the first virtual property fair in the country, allows you to visit the "showrooms" of various projects under one roof, at your own time and convenience, as long as you have an internet connection.
Whether you are seeking your first home or an investment property, shop around at VPEX 2018 and check out the latest property projects being offered by some of the leading developers in the country including Asiana Agresif Sdn Bhd, BRDB Developments Sdn Bhd, Eastern & Oriental Bhd (E&O), I & P Group Sdn Bhd (a member of Setia), LBS Bina Group Bhd, Matrix Concepts Holdings Bhd, Paramount Property Development Sdn Bhd, Perdana ParkCity Sdn Bhd, Putrajaya Holdings Sdn Bhd, UEM Sunrise and Yong Tai Bhd.
Among the projects featured are genKL by Asiana Agresif; BRDB's Emerald Bay, Senja Residences, Taman Sari and Verdana; E&O's 18 East at Andaman; I & P's homes in Althea at Alam Impian, Kinrara Anggun, Kota Bayuemas Klang, TEN Kinrara and Cemara Damai Residence; LBS' Alam Perdana and Residensi Bintang Bukit Jalil; Chambers Kuala Lumpur by Matrix Concepts; Paramount's Atwater, Greenwoods and Utropolis Batu Kawan; Perdana ParkCity's South Brooks @ Desa ParkCity; Putrajaya Holdings' Augusta, Duta Villa, Flora Rosa and Aura Residence; UEM Sunrise's Estuari Gardens, Residensi Ledang, Serene Heights, Solaris Parq, Teega and Verdi Eco-dominiums; as well as Yong Tai's Impression U-Thant and The Dawn.
VPEX 2018 visitors also stand a chance to take part in a contest to win daily prizes that include free stays at Resorts World Kijal, Resorts World Langkawi and Awana Genting, courtesy of Resorts World Genting; and mattresses by Slumberland (Hilding Anders Malaysia Sdn Bhd). Resorts World Genting and Hilding Anders are supporting sponsors of VPEX 2018.
Organised by EdgeProp.my with digital partner 16TWO Pte Ltd and media partner The Edge Malaysia, this year's VPEX will also feature a ground event in the Klang Valley on the first two days of the expo. Known as VPEX-on-the-go, the roadshow will offer the public the chance to experience virtual reality for themselves.
So, if you're looking to buy a property, and you find it too troublesome to visit physical show galleries, or you find sales people a nuisance, or perhaps you are just curious to know the new projects that are being introduced in the market right now, why not visit VPEX 2018? Who knows, you may find something you like.
Read on for the participating developers' take on the market's outlook and the projects that are being featured at VPEX 2018.
This story first appeared in the EdgeProp.my pullout on July 6, 2018. Download EdgeProp.my pullout here for free.