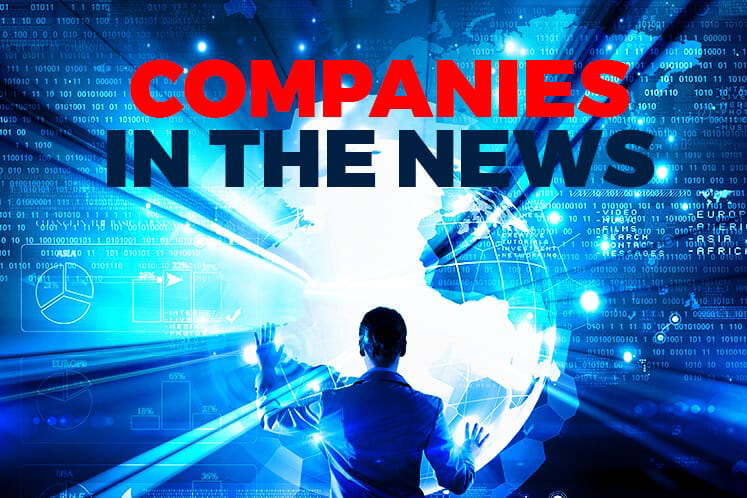 KUALA LUMPUR (Aug 2): Based on corporate announcements and news flow today, stocks in focus on Aug 5 (Monday) may include: Tiger Synergy Bhd, Daya Materials Bhd, Paramount Corp Bhd, KNM Group Bhd, Maxis Bhd and Malaysia Marine and Heavy Engineering Holdings Bhd (MHB).
Tiger Synergy Bhd has aborted plans to develop land in Rantau, Negeri Sembilan, into a residential project as consensus on the terms and conditions of a proposed joint venture could not be reached.
On Jan 31, Tiger had entered into a deal with land owners Joanna Yong Hui Fun and Datin Sek Chian Nee to jointly develop the residential project. Yong is the sister-in-law of Tiger executive chairman Datuk Tan Wei Lian, while Sek, who is Tan's spouse, is the executive director of Tiger and also a director of Alam Kemuning.
Daya Materials Bhd has defaulted on additional payments to AmBank (M) Bhd amounting to RM392,235, raising its total outstanding debt to RM7.7 million.
The Practice Note 17 (PN17) firm said its subsidiary Daya CMT Sdn Bhd (DCMT) has defaulted on the payment which was due today in relation to banking facilities granted by AmBank to the company, as a result of cash flow constraints.
The board is putting in place several fund-raising exercises to address the issue.
Paramount Corp Bhd is establishing an unrated perpetual securities issuance programme of up to RM500 million in nominal value.
Proceeds raised from the programme will be used to refinance existing debt obligations, finance investments and for working capital purposes.
The programme will not have any effect on its issued share capital, net assets, or substantial shareholders' shareholding, but is expected to have a positive impact on the gearing of the group.
KNM Group Bhd has secured a US$4.17 million (RM17.32 million) contract in Indonesia for the supply of shop-assembled static equipment inclusive of large columns.
The group signed a contract agreement with Jo SK E & Co Ltd, HEC Ltd, PT Rekind and PT PP (Persero) Tbk for the order meant for the RDMP RU-V Balikpapan project located at East Kalimantan.
KNM said the RDMP RU-V Balikpapan project is operated by PT Pertamina (Persero), and that the contract's client is a joint-organisation consortium established in Indonesia, and originating from South Korea as managed by Hyundai Engineering Co Ltd.
Maxis Bhd reported a drop in net profit for the fifth straight quarter, hurt by lower average revenue per user (ARPU) and termination of network sharing agreement, higher staff and resource costs, finance costs, depreciation and amortisation.
Its 2QFY19 net profit fell 17% to RM397 million from RM478 million in 2QFY18, while quarterly revenue inched down 1.8% to RM2.21 billion from RM2.25 billion.
Maxis declared a second interim dividend of five sen per share, to be paid on Sept 26. This brings the total dividend for the first half of the year to 10 sen per share.
The group said the guidance remains unchanged for the full FY19.
Malaysia Marine and Heavy Engineering Holdings Bhd's (MHB) net loss for the second quarter ended June 30, 2019 narrowed to RM9.48 million from RM49.48 million a year earlier, mainly due to improved performance in both its heavy engineering and marine segments.
Revenue for the quarter increased 24% to RM276.45 million from RM223.04 million previously.
For the six months ended June 30, MHB's net loss narrowed to RM38.84 million from RM74.75 million a year ago, on the back of revenue of RM479.56 million versus RM411.31 million a year earlier.
MHB said the overall outlook for the second half of the year remains uncertain amidst prolonged unresolved trade tensions, slowing economic growth as well as escalating geopolitical tensions that continue to impact business confidence and investments.