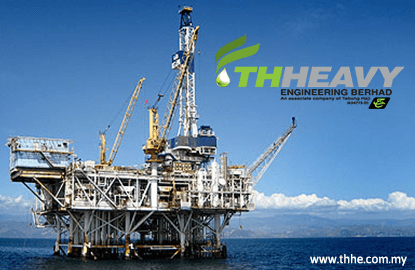 This article first appeared in
Corporate, The Edge Malaysia Weekly
, on July 25 - 31, 2016.
LEMBAGA Tabung Haji-controlled TH Heavy Engineering Bhd is understood to be close to securing a contract in excess of RM700 million to build at least two boats for the Malaysian Maritime Enforcement Agency or Agensi Penguatkuasaan Maritim Malaysia, industry sources say.
It is said that THHE, which is 29.81% owned by the pilgrims fund, has been negotiating the contract for some time now, and that playing a key role in the talks is pilgrims fund chairman Datuk Seri Abdul Azeez Abdul Rahim.
Abdul Azeez and THHE were not available for comment.
It seems that the negotiations have been more or less concluded and the contract could be a lifeline for THHE.
"The only worry would be the two winding-up petitions. Once they are settled, THHE should be able to secure the job," one source says.
At present, the company has two outstanding winding-up petitions — from Orwell Offshore Ltd, to which THHE owes US$7.61 million, and MIB Italiana S.P.A., which is owed US$1.27 million. Another winding-up petition, from Soft Triangle Services Sdn Bhd, has been resolved.
MMEA is basically the Malaysian Coast Guard, and comes under the Prime Minister's Department. It is tasked with maintaining law and order and coordinating search and rescue operations in the country's maritime zone and on the high seas.
The two boats being ordered could be for the patrolling of the shores of Sabah where there have been numerous abductions of Malaysians, one of which resulted in a death. Just last week, five Malaysians were kidnapped from their tugboat in Sabah by the Philippine extremist group Abu Sayyaf.
For its first quarter ended March this year, THHE suffered a net loss of RM33.44 million from a mere RM14.52 million in sales. The company had accumulated losses of RM95.69 million as at end-March this year.
It had cash and cash equivalents of RM48 million while on the other side of the balance sheet, it had short-term borrowings of RM324.56 million and long-term debt commitments of RM83.66 million.
To recap, THHE's woes largely stemmed from its requirement for funds to refurbish Deep Producer 1, a floating production storage and offloading (FPSO) vessel owned by Floatech (L) Ltd. THHE has an 80% stake in Floatech while the rest is held by private company Dynac Sdn Bhd.
THHE had acquired Deep Producer 1 — formerly the 68,000dwt tanker MV Laurita — in July 2011, when it was a distressed asset, for about US$82.5 million. The vessel is now dry-docked and being converted in Dubai.
While it is a good asset acquired at a cheap price, the FPSO did not have a locked-in charter contract and was not able to secure one until 2014. This resulted in THHE having to fork out as much as RM24 million per annum to maintain the vessel.
In the second quarter of 2014, THHE secured an engineering, procurement, construction, installation and commissioning (EPCIC) contract from Japanese outfit JX Nippon Oil & Gas Exploration (Malaysia) Ltd for the bareboat lease of Deep Producer 1, for charter at the Layang oil and gas field in Block SK10, off the shores of Sarawak. The bareboat charter contract had a value of US$372 million or RM1.2 billion back then, and a tenure of 7½ years with extension options of up to 10 years — matching the life of the gas field.
Then, in April this year, THHE was informed that it would be excluded from participating in future Petroliam Nasional Bhd (Petronas) tenders for a duration of two years due to "performance-related issues" at a procurement, construction and commissioning project off the shores of Sabah. The project had been awarded by Petronas Carigali Sdn Bhd, the exploration arm of the state-controlled oil company.
There are also other issues arising from the FPSO financing that are brewing at THHE, which has not achieved financial close since the award of the EPCIC project.
While the new contract may be a lifeline for THHE, it remains to be seen if the company can meet the contract's requirements as many of its more experienced staff are understood to have been let go due to the challenging climate in the oil and gas sector.
THHE gained three sen to close at 11.5 sen last Friday. It was the second most active counter on Bursa Malaysia, with more than 61 million shares changing hands.