This article first appeared in Personal Wealth, The Edge Malaysia Weekly, on July 27, 2020 - August 02, 2020.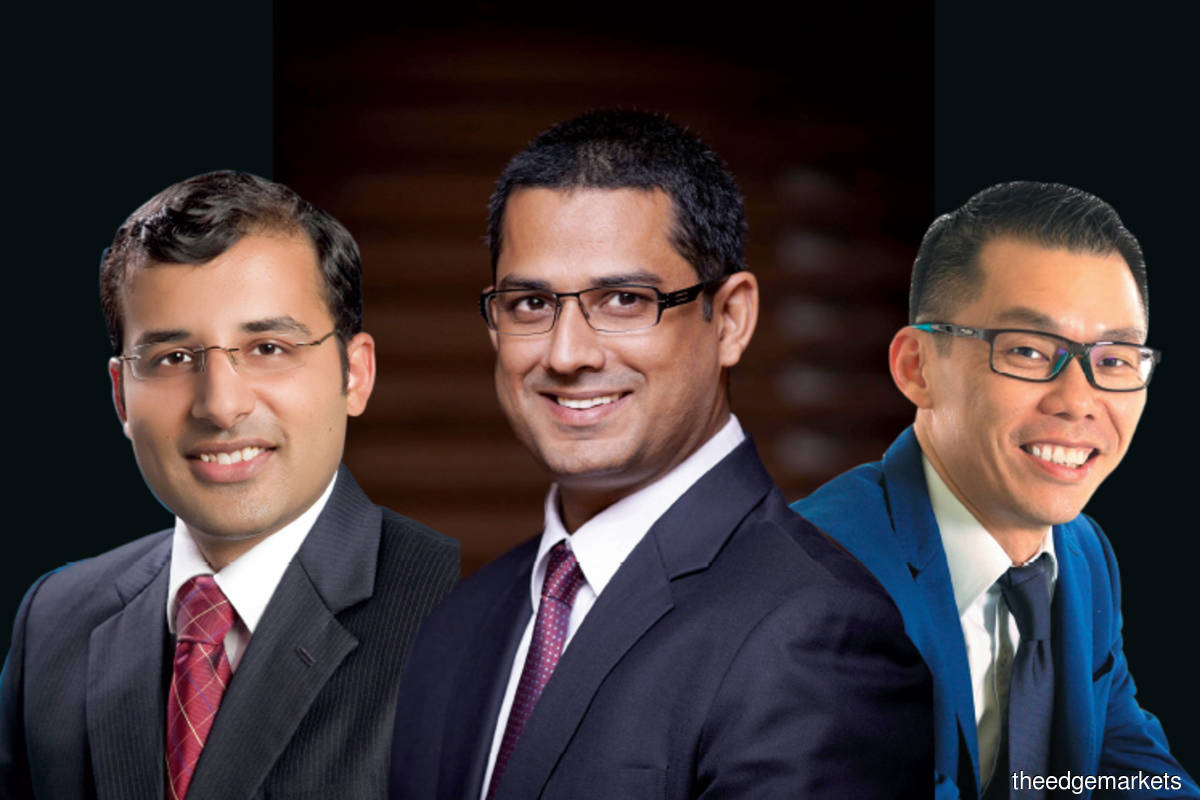 As more countries reopen their economies amid the pandemic, investors could benefit from exposure to risk assets such as high-yield bonds, corporate bonds and equities, said the panellists at Standard Chartered Malaysia's recent virtual press conference on the global market outlook for the second half of 2020.
"We like equity markets. The most common pushback we get now is the view that equity markets are expensive. Most people look at the price-earnings ratios (PERs) [when assessing stocks]. But it is not that simple," said Manpreet Gill, head of fixed income, currencies and commodities investment strategy at StanChart.
"[What is contributing to the high PERs] is that earnings have fallen. But when we look at equity market [returns] relative to where bond yields are today, the [equity] markets look very cheap."
PERs tend to be high coming out of a recession as the markets are recovering, he added. "Share prices [tend to] go up in anticipation of better earnings in the future, although earnings take longer to recover." 
Equities are less likely to outperform credit. StanChart has a slight preference for emerging-market and corporate bonds over equities. That is because the search for yield — as a result of the US Federal Reserve's actions to cap Treasury and investment-grade bond yields — will benefit corporate and emerging-market bonds, according to the bank's global market outlook report.
StanChart prefers developed-market, high-yield bonds and emerging-market US dollar government bonds as they offer high yields and attractive valuations at this juncture. The bank also likes Asian US dollar bonds, which have relatively low volatility.
"The [down] side of high-yield bonds is that this is where defaults tend to happen. High-yield bonds always move to price in the rise in defaults during recessions. But what matters is how many corporate defaults actually happen relative to what the markets have already priced in," said Manpreet.
In the equities space, StanChart prefers Asia ex-Japan equities, especially those in China. With a weaker US dollar expected, emerging markets could see capital inflows, which will benefit markets in the region.
"When you think about risk-on environments, North Asian markets tend to have higher beta while Malaysian and other Southeast Asian equities tend to have lower beta. The North Asian markets tend to outperform," said Manpreet, adding that investors can get more exposure to China's technology sector, which he believes will continue to do well.
StanChart is also positive on US and European equity markets. Historically, the US market has outperformed during recessions and the periods coming out of them. Meanwhile, Europe's policymakers have implemented stimulus packages that will support the market.
The key risks to the economic recovery include a significant surge in new Covid-19 cases, the US-China trade tensions and the US presidential election in November. Gold could be a good asset class to hedge against these risks, said Manpreet, adding that the precious metal is expected to perform well in view of the capped bond yields.
Retirees need to diversify out of cash
An implication of the low interest rate environment is that investors cannot rely on fixed deposits or cash for their retirement. With the current interest rates in Malaysia, it could take 40 years to double one's savings, said Sammeer Sharma, managing director and head of wealth management at StanChart Malaysia.
"Interest rates are at an all-time low and are not expected to move up any time soon. Returns from property investments are also depressed. Depending on traditional savings or real estate may not be the best option when it comes to achieving your financial goals. Looking for alternative options is critical, but the best way to do that is to understand your [investment] biases and find out what your risk profile is," he added.
While equities may be seeing good returns at this time, those who are approaching retirement should consider their time horizon before investing. "If I were going to retire in 10 years, I would invest in equities. But if my retirement were coming soon, then I would be better off having a portfolio that is more skewed towards fixed income," Sammeer tells Personal Wealth after the press conference.
To better assist clients who are facing this situation, StanChart is testing a retirement framework for clients and getting some of its relationship managers certified as retirement planners. "We are starting with 10 of them. They will use a proprietary tool to help clients understand their needs, gaps and time horizons," he says.
Malaysian retirees should have a multi-asset portfolio that includes bonds, real estate investment trusts and high-dividend stocks. Most importantly, they should not continue holding just cash, Manpreet tells Personal Wealth.
"When you look back at history and look at investing in pretty much any risky assets compared with holding cash, you are almost always better off having invested in riskier assets. Emotionally, this is not an easy thing to do, even for professional investors," he says.
To counter such emotional weakness, investors can use dollar cost averaging or take a "thermostat" approach, says Manpreet. "When I see markets go down, I will turn up the thermostat and add more [equities]. If I see markets go up, I will turn down the thermostat and buy more conservative assets."
More sophisticated investors can follow the "shopping list" approach, where they already know what they want to buy and are merely waiting for a good entry opportunity, he adds.
Danny Chang, head of managed investments and product management at StanChart Malaysia, encourages local investors to diversify outside of the country. "In general, if the US dollar weakens, the Northeast Asian markets may benefit more than Malaysia," he tells Personal Wealth.
This is especially important for investors seeking growth stocks, most of which are in the technology and healthcare sectors. Stocks that do well on environmental, social and governance (ESG) scorecards have also been outperforming, he adds.
"You do not get a lot of exposure to [all three segments] in Malaysia. It is a small part of the universe. To get full exposure to these plays, you have no choice but to look at Northeast Asia," says Chang.