This article first appeared in Personal Wealth, The Edge Malaysia Weekly, on February 24, 2020 - March 01, 2020.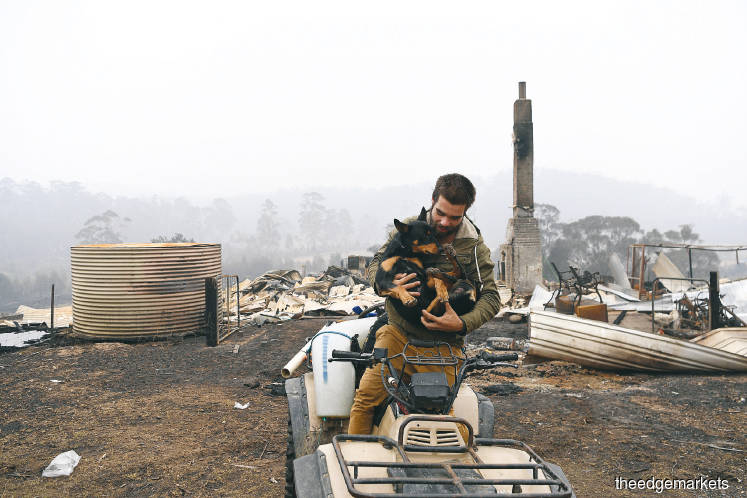 Ignoring the risks that climate change poses could lead to "extremely financially disruptive events" that could trigger the next systemic financial crisis, says the Bank for International Settlements (BIS) in its latest analysis report.
The Basel-based institution, which is regarded as the central bank to the world's central banks, says climate change could lead to "green swan" events unless fast action is taken by authorities to mitigate the risks. The authors of the report urge central banks and regulators to start integrating climate change into their processes for the sake of the stability of their economies.
Climate-related physical and transition risks involve interacting, non-linear and fundamentally unpredictable environmental, social, economic and geopolitical dynamics that are irreversibly transformed by the growing concentration of greenhouse gases in the atmosphere, says the report.
The 100-page report, titled The green swan: central banking and financial stability in the age of climate change, was authored by Patrick Bolton (Barbara and David Zalaznick Professor of Business at Columbia University), Morgan Després (deputy head of the Financial Stability Department at Banque de France), Luiz Awazu Pereira da Silva (deputy general manager of BIS), Frédéric Samama (head of responsible investment at Amundi) and Romain Svartzman (economist on sustainable finance and climate-related issues at Banque de France).
The term "green swan" was inspired by the "black swan" concept — conceptualised and made famous by Nassim Nicholas Taleb, a finance professor, essayist and former Wall Street trader — which refers to unpredictable events that are outside the realm of regular expectations and have potentially severe consequences.
"Green swans, or 'climate black swans', present many features of typical black swans. Climate-related risks typically fit fat-tailed distributions: both physical and transition risks are characterised by deep uncertainty and non-linearity, their chances of occurrence are not reflected in past data, and the possibility of extreme values cannot be ruled out," says the report.
Central banks need to forgo backward-looking risk assessment models that are irrelevant in gauging the far-reaching consequences of climate disruptions, according to the report. "In this context, traditional approaches to risk management, consisting in extrapolating historical data and on assumptions of normal distributions, are largely irrelevant to assess future climate-related risks."
The report points out that a scenario-based analysis is only a partial solution to detect the risks posed by climate change on financial stability. "The deep uncertainties involve the necessary structural transformation of our global socioeconomic system such that no single model or scenario can provide a full picture of the potential macroeconomic, sectoral and firm level impacts caused by climate change. Even more fundamentally, climate-related risks will remain largely unhedgeable as long as system-wide action is undertaken."
These limitations may lead central banks into uncharted waters in the age of climate change, it adds. "On the one hand, if they sit still and wait for other government agencies to jump into action, they could be exposed to the real risk of not being able to deliver on their mandates of financial and price stability.
"Green swan events may force central banks to intervene as 'climate rescuers of last resort' and buy large sets of devalued assets to save the financial system once more. However, the biophysical foundations of such a crisis and its potentially irreversible impacts would quickly show the limits of this 'wait and see' strategy."
This is in reference to the 2008 global financial crisis, when some central banks had to step in and set up rescue packages for troubled financial institutions to protect their economies.
"In the worst-case scenario, central banks may have to confront a situation where they are called upon by their local constituencies to intervene as climate rescuers of last resort. For example, a new financial crisis caused by green swan events severely affecting the financial health of the banking and insurance sectors could force central banks to intervene and buy a large set of carbon-intensive assets and/or assets stricken by physical impacts," says the report.
"But there is a key difference between green swan and black swan events, since the accumulation of atmospheric CO2 beyond certain thresholds can lead to irreversible impacts, the biophysical causes of the crisis will be difficult, if not impossible, to undo at a later stage."
To overcome this deadlock, central banks must be more proactive in calling for broader and coordinated change, it adds. This is so that central banks can continue fulfilling their own mandates of financial and price stability over longer time horizons than those traditionally considered.
"We believe that they can best contribute to this task in a role that we dub the five Cs: contribute to coordination to combat climate change. This coordinating role would require thinking concomitantly within three paradigmatic approaches to climate change and financial stability: the risk, time horizon and system resilience approaches," says the report.
"Contributing to this coordinating role is not incompatible with central banks, regulators and supervisors doing their own part within their current mandates. They can promote the integration of climate-related risks into prudential regulation and financial stability monitoring, including by relying on new modelling approaches and analytical tools that can better account for the uncertainty and complexity at stake.
"In addition, central banks can promote a longer-term view to help break the 'tragedy of the horizon', by integrating sustainability criteria into their own portfolios and by exploring their integration in the conduct of financial stability policies, when deemed compatible with existing mandates."
The report also recommends that central banks coordinate their actions with measures to be implemented by governments, the private sector, civil society and the international community. "This coordination task is urgent since climate-related risks continue to build up and negative outcomes could become irreversible. There is an array of actions to be consistently implemented. The most obvious ones are the need for carbon pricing and for systematic disclosure of climate-related risks by the private sector."
This report comes on the heels of the International Monetary Fund's (IMF) warning that the world economy is becoming increasingly vulnerable to the impact of climate change. It also cites rising geopolitical tensions, notably between the US and Iran, intensifying social unrest, further worsening of relations between the US and its trading partners, and deepening economic frictions between other countries as threats to the global economic outlook.
The IMF also forecast that the global economy will rebound to 3.3% this year from an estimated 2.9% last year. However, the projection for 2020 is a downward revision from the 3.4% forecast in its World Economic Outlook, October 2019.
"Weather-related disasters such as tropical storms, floods, heatwaves, droughts and wildfires have imposed severe humanitarian costs and livelihood loss across multiple regions in recent years.  Climate change, the driver of the increased frequency and intensity of weather-related disasters, already endangers health and economic outcomes, and not only in the directly affected regions," says the Washington-based organisation.
"It could pose challenges to other areas that may not yet feel the direct effects, including by contributing to cross-border migration or financial stress (for instance, in the insurance sector). A continuation of the trends could inflict even bigger losses across more countries."