This article first appeared in Personal Wealth, The Edge Malaysia Weekly, on May 13, 2019 - May 19, 2019.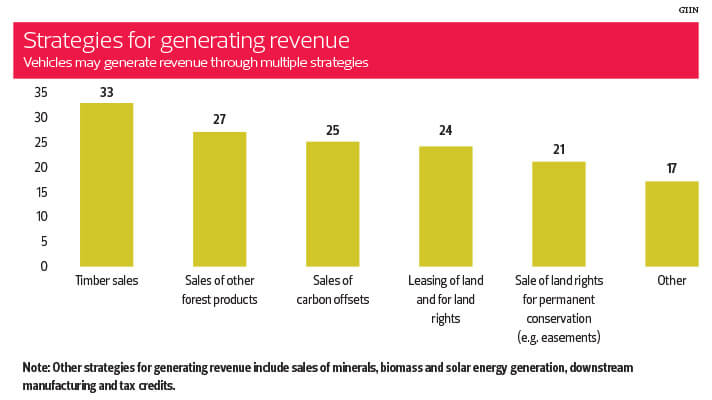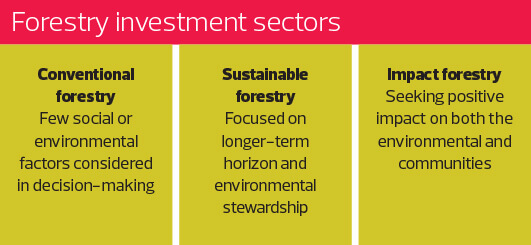 Interest in sustainable and impact forestry investing has been growing steadily over the past two decades, according to a new report by The Global Impact Investing Network (GIIN) titled "Scaling impact investing in forestry".
This presents an opportunity for impact investors to push for social and environmental change in the forestry asset class.
Sustainable forestry projects adhere to commonly accepted certifications such as those by the Forest Stewardship Council and the Sustainable Forestry Initiative. This balances the needs of the environment, wildlife and forest communities and it supports decent incomes while conserving forests for future generations.
Some of the factors driving this trend include the conviction that forestry investments can generate a positive environmental impact such as climate change mitigation, land restoration and social impact. Another factor would be the heightened awareness among investors of climate change, where it is seen as a pressing problem that needs to be resolved.
"It affects everyone in every geography. At this point, it is an inevitable reality of the world that we live in. So, there is a lot of appetite from investors to combat climate change. It is also aligned with one of the sustainable development goals, which impact investors are increasingly targeting," says Sapna Shah, managing director of GIIN.
"Sustainable and impact forestry provide an opportunity to remove carbon from the atmosphere through carbon sequestration efforts. That is aligned with climate change mitigation goals."
The most common strategies for generating revenue while sustainably managing forests are through sales of timber, other forest products and carbon offsets. This is followed by leasing of land or land rights and sale of land rights for permanent conservation.
The GIIN study of investments into sustainable forestry started in 2017, in a collaboration with Cambridge Associates. They found that the performance of a timber benchmark that consisted of 18 impact funds compared favourably with that of a conventional timber fund universe.
According to the report, the top quartile funds in the impact universe generated net returns of 8.6% or higher as compared to net returns of 4.2% or higher among conventional peers.
Cambridge Associates is a privately held investment firm based in the US. It provides investment portfolio management and advisory services to institutional investors, including foundations and endowments, pensions, private clients, and corporate and government entities.
"It was interesting to see that there was a sound financial and impact story there. It shows that this may be a sector that would be of interest to impact investors," Sapna says.
In general, forestry is a sector that is already present in many investors' portfolios, particularly for pension funds and family offices. This is due to timber's historical ability to hedge against inflation and the predictability of cash flows from forests' biological growth cycles, which could take up to 10 years.
Some of the asset owners interviewed in the report also believe that the ecosystem services provided by forests are undervalued, given the targets set by the Paris Agreement around reforestation and afforestation.
"I think as those investors recognise the compelling impact story available through sustainable forestry, it will drive a great pool of investments that already exist in this space towards stronger impact performance. There are a lot of opportunities for investors to ask better questions and expect more from those underlying investments, so they can drive greater impact through sustainable forestry," Sapna says.
Sustainable forestry investing universe
The report's authors compiled and analysed a database of 37 funds and vehicles in the sustainable and impact forestry sector. All the funds in the
database were incepted in the past two decades, underscoring the growth of such funds in recent years. Most of the funds are domiciled and investing in the US, Canada and Oceania.
All but one of the funds target risk-adjusted, market-rate returns. Their gross returns expectations (annualised) ranged from 7% to 18% per annum, with a median target of 8% per annum. Emerging-market focused funds would target annualised returns of 15% on average while the developed-market ones target 10%.
Funds generating revenues through the sale of various forest products targeted returns of 15%, while those sourcing revenues from the leasing of land and or land rights would target 13%. Funds focused on other revenue sources targeted returns between 8% and 10%.
Sapna notes that with the rise of such funds and vehicles, investors have an opportunity to create an impact through their forestry investments.
"So from our vantage point, we would love to see more products that are focused on sustainable and impact forestry. We would also love to see more investors moving into this sector.
"For investors who exist in the more mainstream timber sector, (they should) think about the contribution of that investment towards climate change and whether they can use it to drive better performance from an impact perspective," Sapna says.
Risks and challenges
Some constraints for investing in sustainable forestry would be the illiquidity of private market sustainable timber investments. In addition, there is a relatively small set of funds available, many of which have limited track records. This increases both the real and perceived risks of investing in the sector.
Based on a survey of fund managers, the most commonly cited risk of impact investments in forestry would be natural disasters, followed by competition and financial risks. The biggest barrier for additional capital allocation into the sector is that for many funds, financial returns are tied to a tenure of at least 10 years, which is a relatively long time for investments.
Asset managers in this space are facing challenges in raising capital. These managers also stated that perceived risks among the limited partners and potential investors were consistently higher than the actual risks.
A few solutions are highlighted. This includes using blended finance to structure products. "That means bringing together different capital types that have varying risk-
return levels.
"Fundamentally, these products allow for the funding provided to match the type of financing needed by the investee. It can drive much greater engagement in sustainable forestry if we do it together," Sapna says.
Another recommendation is to develop partnerships with conservation organisations for the sale of land rights as part of conservation easements.
"Forestry is obviously tied to land. Land rights are different in every geography, so it is incumbent upon investors in sustainable forestry to actively develop partnerships and understand the lessons from local conservation organisations," she says.
Examples of sustainable forestry funds
New Forests Tropical Asia Forest Fund
The fund was founded in 2005 with its headquarters in Australia. It invests in sustainable timber companies in Southeast Asia through its Tropical Asia Forest Fund (TAFF).
TAFF manages US$150 million worth of investments in Malaysia, Laos and Indonesia. It generates returns through income from the sale of timber and latex as well as capital appreciation from biological growth of the asset and other sources. It also supports sustainable forest management, land restoration, conservation, reduction of carbon dioxide emissions and rural job creation.
According to the report, TAFF companies planted more than 6,700ha of forests in 2017, of which 3,700ha were for commercial reforestation (planting trees where there was no existing forest cover and supporting native reforestation and restoration).
Climate Trust Capital (CTC)
This fund generates returns via the sale of carbon offsets, which are reductions in carbon dioxide or other greenhouse gas emissions intended to counterbalance emissions made elsewhere. Carbon offsets are sold in markets. Companies or other entities buy them to comply with the cap on the total amount of carbon dioxide they are allowed to emit.
CTC has its headquarters in the US. CTC's investments — in US-based early-stage projects in forestry, biogas and grassland conservation — generate revenue by selling carbon offsets in California's cap-and-trade programme and in voluntary markets.
Criterion Africa Partners (CAP)
CAP is a private equity firm that invests in sustainable forestry in sub-Saharan Africa. It is invested across the value chain, from plantations to forest product processing and manufacturing companies. It also gains revenue from the sale of sustainably-sourced forest products such as plywood, fencing and utility poles.
The Conservation Fund: Working Forest Fund (WFF)
The US-based WFF generates revenue via the sale of land rights for permanent conservation. It sets up Working Forest Conservation Easements (WFCE), which are legal agreements between landowners and eligible organisations such as land trusts or government agencies, to restrict future activities on a piece of forested land.
WFF typically acquires a forest, holds the asset while it secures a WFCE, and then resells the forest once the permanent conservation outcomes have been achieved. WFCEs limits the use of the land in line with specific conservation goals, which aim to protect wildlife habitat, ecological diversity and other assets. It is a permanent agreement.
Many market-rate seeking sustainable forestry managers acquire these post-easement forests. According to various reports, this is typically because these forests command lower estate taxes, reduce the market value of the land to the "open land" (value of land for agriculture or forestry purposes) and enable revenue sources from sustainable activities.
Lyme Timber Company
The Lyme Timber Company is a US-based timber investment management organisation that invests and manages timberland and rural real estate across North America. It makes sustainable forestry investments through pooled private equity funds.
Lyme also earns its revenues from the sale of WFCEs and activities from post-easement forests. The WFCE allows for sustainable timber harvesting and other revenue-generating activities such as recreational leasing for local hunting, fishing and other recreational activities.