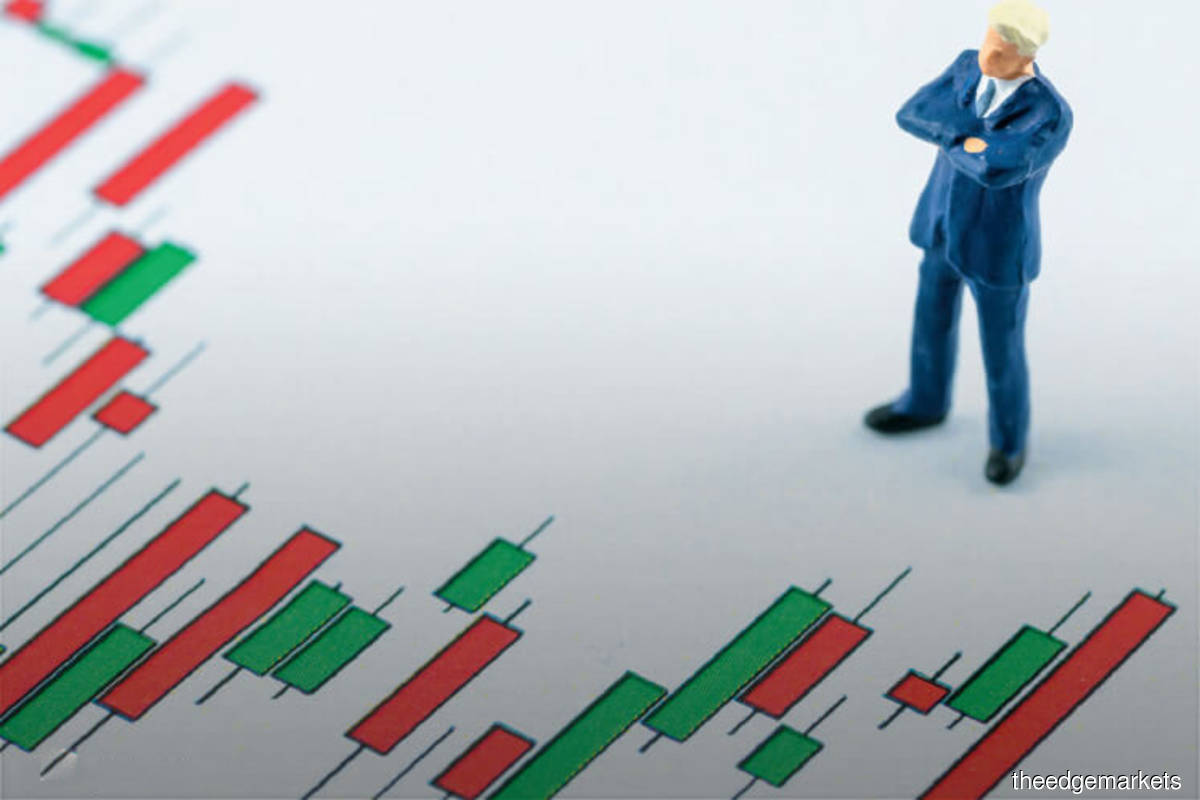 KUALA LUMPUR (Jan 9): The FBM KLCI managed to end the week in the positive zone after it started the first trading week on a bearish note on Monday. It gained 0.37% to close at 1,633.19 points as the three glove stocks, particularly Supermax Corp Bhd, recovered from the selldown that was partly driven by regulated short selling (RSS) on Monday.
The FBM KLCI sank below the 1,600 level in the mid-week, its first time in nearly a month. Mounting political uncertainties and record-high daily new Covid-19 cases dampened the market sentiment. Trading volume was at 37.94 billion during the week.
In contrast, two neighbouring bourses climbed. Ho Chi Minh's Vn-Index soared 22.7% during the week, while Singapore's Straits Times Index climbed 14.7%. The two countries were seen as having succeeded in containing the Covid-19 pandemic. 
Despite the cautious market undertone, the penny stock fever had yet to subside, although it wasn't as high as in the second and third quarters of last year. Up to 27 stocks out of the top 30 most actively traded list were penny stocks with a share price of below RM1. 
Announcements on ventures into rubber glove manufacturing or vaccine distribution could still boost share prices.
PNE PCB Bhd
PNE PCB soared just by announcing its plan to set up five glove production lines, with each making approximately 300 million pieces per year. The circuit board maker emerged as the third biggest gainer, in terms of percentage, on Bursa Malaysia this week.
It surged 49.12% over the past five days to close at an all-time high of 85 sen yesterday, with some 138.9 million shares traded this week. 
Its trading volume yesterday ballooned to 125.7 million shares one day after the news of its rubber glove venture. The daily trading volume was equivalent to 35.5% of its share capital of 354 million shares, far exceeding its 200-day average volume of 2.99 million. Over the past year, the counter has grown by 243% from 25 sen.
Last Thursday, PNE PCB said its production of rubber gloves is expected to commence in stages by the fourth quarter of 2021, said PNE PCB.
While the company attempts to take a bite out of the glove-making pie, investors may raise the question whether the barrier of entry to the industry is that low. 
Industry players have pointed out that it might not be that difficult to set up production lines to ride the current unprecedentedly strong demand, but the key variable is whether new entrants could secure stable supply of raw materials.
CN Asia Corp Bhd
CN Asia's luck seemed to be in contrast to PNE PCB. The skid tank manufacturer's share price slumped after it announced its eyebrow-raising intention to venture into digital banking to offer services specially for women.
The loss-making company's share price hit limit down to close at RM1.66 yesterday. It was among the top 20 losers this week. Still, the counter has risen some 305% from 41 sen a year ago.
Its filings with Bursa Malaysia showed that there were a few boardroom changes this month. However, it was unclear if any of the recently appointed directors had any experience in the digital banking ecosystem.
On Thursday, the company announced that it had signed a memorandum of understanding (MoU) with Intcys Sdn Bhd, under which it plans to invest RM400 million in the establishment of a consortium to provide digital banking for women.
Via the proposed MyWeW (Women Empowering Women) Digital Bank, the company plans to offer services such as entrepreneurial financing, microloans, applications of debit and credit cards, and opening of digital bank accounts.
However, it did not give any timeline for the digital banking venture. 
The new venture came a week after Bank Negara Malaysia (BNM) issued the policy document on the licensing framework for digital banks. The local central bank will be issuing up to five licences to establish digital banks to conduct either conventional or Islamic banking business in the country.
The central bank said submissions of applications to conduct digital banking business or Islamic digital banking business shall be made to the central bank by June 30.
Will the skid tank maker secure one of the five licences? Only time will tell.
AT Systematization Bhd and Iris Corp Bhd
The trading volume of both AT Systematization (ATS) and Iris Corp exceeded one billion shares. 
ATS was the most actively traded counter this week, with 1.6 billion shares traded. But its share price rose only 2.7% during the week to 19 sen. Since last month, its share price has been trading sideways in the range of 16.5 sen to 21 sen.
Iris Corp, an e-government solutions provider, came under heavy selling pressure. Its share price slipped by 18.4% to close at 35.5 sen yesterday. Some 1.11 billion shares were traded this week. Still, the stock has risen 153% over the past 12 months — from 14 sen a year ago.
An analyst, who declined to be named, said that shares in Iris Corp had fallen possibly due to political uncertainties, which would affect awards of e-government service projects.
Likewise, AwanBiru Technology Bhd, formerly known as Prestariang Bhd, was the third biggest loser in terms of percentage this week. It plunged 32.64% to 65 sen yesterday, with some 245.6 million shares traded this week, making it the 20th most actively traded counter.
The e-government service provider has been on the watch as the government is expected to roll out the multibillion-ringgit National Integrated Immigration System (NIIS) project.
Top Glove Corp Bhd
Top Glove topped the list of RSS in terms of both the volume and value. 
Bursa's data on RSS showed that 196.19 million Top Glove shares worth RM1.097 billion were shorted this week. The bulk of the short selling was conducted on Monday, with some 106.11 million shares shorted. 
The number of Top Glove shares shorted was equivalent to more than half or 54% of the total weekly RSS volume. 
Heavy selling of shares in Top Glove saw it plunged to close at RM5.50 on Monday, but it managed to recoup all the losses seen this week to settle 18.2% higher at RM6.50 yesterday. Week-to-date, however, it was only up 6.2% from RM6.12.
Meanwhile, BlackRock, the world's largest asset manager that currently holds a 1.61% equity stake in Top Glove, voted against the re-election of six independent directors at the rubber glove maker's annual general meeting on Wednesday. BlackRock held the view that the board had failed in its oversight responsibility relating to the company's migrant workers' health and safety.
BlackRock also "intends to hold other incumbent directors not on the ballot at this AGM accountable by voting against their re-election at future shareholder meetings", it said in its vote bulletin.