This article first appeared in The Edge Malaysia Weekly, on May 28, 2018 - June 03, 2018.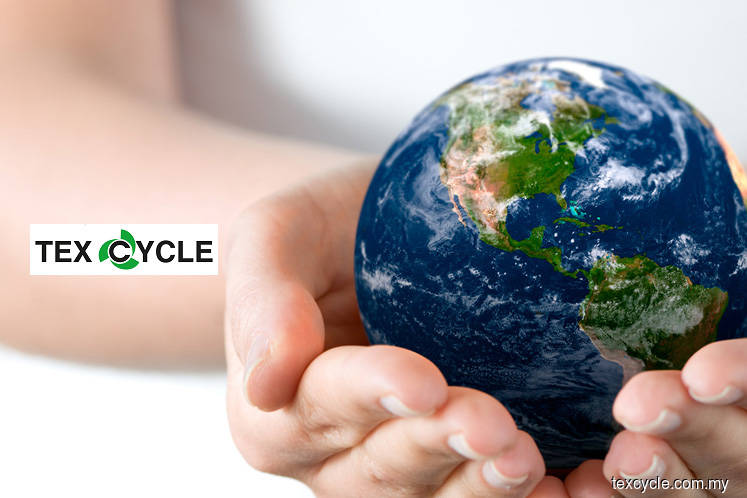 TEX Cycle Technology (M) Bhd is an off-the-radar-screen company that operates quite a unique business.
The ACE Market-listed firm is a scheduled waste recycling company that collects soiled rags, cotton fabrics, rubber, gloves, activated carbon and wood from the oil and gas, electrical and electronics, automotive, printing and other manufacturing industries.
It also charges its customers for the treatment of contaminated rags and gloves. The customers can request that the treated and recycled rags or gloves be returned to them at zero charge, providing them with cost savings as they would not need to buy new ones.
Those not returned to customers are sold. Meanwhile, non-recyclable but naturally biodegradable wastes, once decontaminated, are manufactured into fuel pellets that may be consumed as a renewable energy fuel source.
According to group managing director Periasamy Sinakalai, also known as S Perry, Tex Cycle has state-of-the-art scheduled waste management facilities at its plant in Klang, Selangor, which enable it to achieve economies of scale.
"We have compatible waste management strategies to mix and process different wastes together. This allows us to reduce our operating costs and maintain a good profit margin," he tells The Edge in an interview.
It is worth noting that such a competitive advantage has helped to widen Tex Cycle's profit margin. Its average net profit margin between the financial year ended Dec 31, 2015 (FY2015) and FY2017 was 37% — a figure not many companies can boast of.
Perry, 67, is a substantial shareholder of Tex Cycle with an indirect stake of 41%, held through Can Cycle Sdn Bhd. He was appointed as an executive director in 1986, before being promoted to his current position in 2005.
Besides Perry, other shareholders of Can Cycle are Ho Siew Choong — Tex Cycle's group executive chairman — and his brothers, Siew Cheong and Siew Weng, who also sit on the board as executive directors.
Tex Cycle has been entrusted by the Malaysian Department of Environment with treating items listed in 31 scheduled waste codes — compared with only one at the company's inception. However, it is not licensed to handle medical waste.
Perry says Tex Cycle does not have a major direct competitor in the country, considering that most waste management companies are not actively involved in recycling activities. Even if they are, their size is relatively small compared with Tex Cycle's, he adds.
"We are a recycler. Instead of burning wastes via an incinerator, we try to recover and recycle them. There are many recyclers in Malaysia, but their size is not equivalent to ours. Of course, some wastes cannot be recycled. For instance, medical waste and chemical waste must be incinerated," he explains.
Note that Cenviro Sdn Bhd, an integrated waste management company owned by Khazanah Nasional Bhd, is a big player in the industry. Cenviro is licensed to handle 76 categories of scheduled wastes — there are 77 in total — listed under the Environmental Quality (Scheduled Wastes) Regulations 2005.
According to Cenviro's website, it owns and operates Malaysia's first integrated hazardous waste management centre, Kualiti Alam Waste Management Centre, which is located in Negeri Sembilan and has been in operation since 1998.
Going back to Tex Cycle, the company has about 5,400 registered customers from various industries, giving it an estimated market share of 10%.
In rare cases, if the wastes have "very high value", the company may even share some of the profit with the customers, says Perry.
"We hope that our customers can also get something out of the recycling activities. That's why we are more competitive than others," he adds.
Typically, Tex Cycle's service fee is higher than that of its smaller competitors. However, its customers may eventually pay less with the rebates from the "profit-sharing" plan.
When asked why the company does not reduce its rates instead, Perry explains, "We intend to promote the use of recycled products, which is why it is at zero or low cost mostly, in order to be in line with the cradle-to-cradle approach of not destroying items that still have value in them."
Tex Cycle saw its net profit decline 15% to RM12.8 million in FY2017. This was mainly due to a one-off gain of RM6.2 million in FY2016 for an increase in fair value of the group's investment property.
Over the past five years, its revenue and profit after tax have grown at an average pace of 25% and 38% year on year respectively, inclusive of one-off gains.
Tex Cycle group financial controller Gary Dass says a similar growth rate can be expected over the next five years.
"Overall, our industry is looking very promising. With new factories and industries booming, there is bound to be waste generated. We reserve an optimistic view of the company's outlook, and we look forward to a better earnings performance this year."
Despite its distinctive business model and fairly stable earnings performance, investors do not seem to appreciate the value of the company.
Year to date, the counter has declined 15%. It closed at 70 sen last Wednesday, giving the company a market capitalisation of RM177.9 million. It is currently trading at a historical price-earnings ratio (PER) of 12.5 times, which is considered decent for a stock listed on the ACE Market.
It is worth noting that Tex Cycle has satisfied the profit requirement to migrate to the Main Market, namely having an aggregate profit after tax of at least RM20 million over the past three to five full financial years, and a profit after tax of at least RM6 million for the most recent financial year.
Dass says the company strongly believes that its shares have been oversold and that they are now "undervalued".
He points out that the growing environmental management industry has rosy prospects. This is evident from the PER of similar industry players overseas of 30 to 40 times. For instance, Waste Connections Inc, a North American waste service provider, is trading at a PER of 40 times.
"Sadly, this is not reflected in our share price. There is already a fear of a shortage of natural resources in the world. We, being a core factor to curb this potential turmoil, should be appreciated for the value-added services that we provide in order to save our planet," he remarks.
Save by subscribing to us for your print and/or digital copy.
P/S: The Edge is also available on Apple's AppStore and Androids' Google Play.