This article first appeared in The Edge Malaysia Weekly, on July 8, 2019 - July 14, 2019.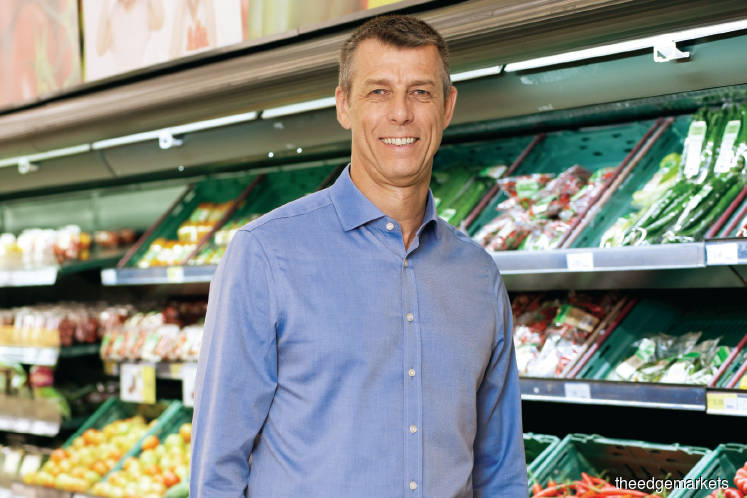 Ritchie: It is about having a more rounded business and not just big hypermarkets, which are a thing of the past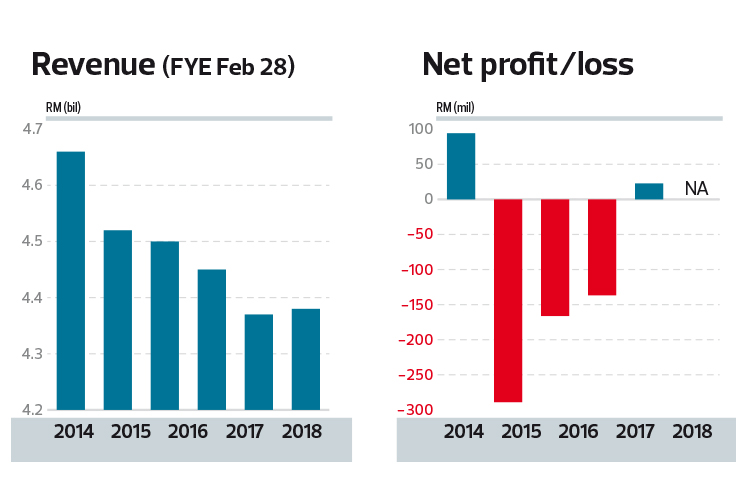 BRITISH retailer Tesco Stores (M) Sdn Bhd, the country's leading hypermarket and superstore operator with 59 outlets, is set to open its first supermarket here as the government has relaxed its rules on allowing foreign hypermarket operators to open smaller stores. Tesco's maiden supermarket, which will focus on fresh food, will open in the Klang Valley this September.
Malaysia has strict guidelines for foreign retail operators in Malaysia, particularly hypermarket operators. Apart from the requirement for a 30% local shareholder and the need to provide 30% shelf space for bumiputera SME goods, their business is regulated through store size.
Previously, foreign players were not allowed to open stores that were below 3,000 sq m in size, says Tesco Malaysia CEO Paul Ritchie. "But that changed last year. We can (now) open supermarkets that measure 2,000 sq m," he tells The Edge.
While these supermarkets can be either a standalone store or located within malls, the government has identified only four areas where they can operate — in the Klang Valley, Penang, Johor Baru and Ipoh.
For some background, the size of foreign hypermarkets cannot be less than 5,000 sq m, superstores between 3,000 and 4,999 sq m and convenience stores around 150 sq m. Tesco's new supermarket will be slightly larger than Village Grocer in Bangsar Village, Kuala Lumpur.
"This is an opportunity for us and we have plans to accelerate that (supermarket expansion) over the next couple of years," Ritchie says when asked how many supermarkets Tesco plans to open.
According to him, the supermarkets will supplement the work Tesco has done at some of its hypermarkets under a transformation plan, which involved reducing the retail space it occupied. "It is about having a more rounded business and not just big hypermarkets, which are a thing of the past … when you have a mix of hypermarkets and supermarkets, that helps."
Like most large-format retailers, Tesco has been hit by declining revenue in the past few years, posting losses in its financial years ended Feb 28, 2015 (FY2015), FY2016 and FY2017 (see chart). However, the retailer managed to reverse its losing streak in FY2018 after implementing a three-year transformation plan in 2016. The plan comprised the introduction of its new-generation store concept that was aimed at strengthening its business in the fast-changing retail industry as well as improving customer experience and simplifying its business structure.
Tesco gave itself three years to ensure its stores were fit for the future by looking at consumer habits and behaviour, which had started to shift towards convenient shopping, whether online or delivery.
Ritchie points out that hypermarkets the world over are making full adjustments because of the change in shopping habits. "The business was set up when hypermarkets were growing and that was the way to shop. Now, people are shopping more often in places like convenience stores and buying less compared with (when they were) buying beyond their consumption."
As part of its transformation plan, Tesco trimmed the retail space it occupied by an average of 35% to 40% and removed certain unpopular items. To date, it has invested a total of RM142 million in 17 next-generation stores, which will increase to 22 by the end of the year. "We managed to keep grocery, fresh food and the clothing range at similar levels as before. General merchandise is where we cut down because of the growing trend of buying online," Ritchie explains.
"It (resizing) was about taking retail space from our shops and giving it to the mall. So, we were increasing revenue through the mall and decreasing the cost of operating our stores."
Retail sales data from Retail Group Malaysia, which prepares the report on behalf of the Malaysia Retailers Association (MRA), reveals that the hypermarket and supermarket category has been one of the worst performing retail sub-categories. The segment has contracted for seven straight quarters since the third quarter of 2017, resulting in a 3.2% contraction that year. It shrank another 5% last year. The situation has yet to improve. In the first quarter of 2019, the hypermarket and supermarket category diminished 2.3% while the sub-sector estimates that performance will be negative in the April to June 2019 period at -7.4%.
Nevertheless, it appears that Tesco has managed to buck the trend. "I think Tesco is in a good position. If you go back to the work we have done in the last three years, it has got us in a much better shape to serve Malaysian customers. Though you may see a big negative, particularly in the MRA numbers, our business is growing," Ritchie says.
Tesco returned to the black in FY2018, posting a net profit of RM22.81 million on revenue of RM4.37 billion. By comparison, it posted a net loss of RM74.59 million on revenue of RM4.45 billion in FY2017. However, the retailer's accumulated losses, as at FY2018, stood at RM522.66 million while its total liabilities were RM3.83 billion, of which RM2.21 billion were current. Its total assets stood at RM3.94 billion, of which RM3.47 billion were non-current.
Tesco's results for FY2019 are not available on the Companies Commission of Malaysia's website but Tesco PLC's results for FY2019 were released last month, revealing a revenue of RM4.38 billion. It is understood that in Malaysia, the retailer was operationally profitable in FY2019.
Sixty six per cent of Tesco's sales come from groceries, 17% from fresh food, 11% from general merchandise and another 3% to 4% from clothing.
The retailer is also beginning to see double-digit growth from online channels, such as Lazada, Shopee, HappyFresh and Tesco delivery. "Overall online sales in Malaysia grew 14% in 2017/18. Tesco is growing in line with it. But it is still a very small base," Ritchie says.
Note that Tesco derives income from both retail and rent as a mall landlord.
Alternative revenue source
Last November, The Edge reported that Tesco was seeking an alternative source of revenue by venturing into property development. It planned to redevelop its stores that were located on large pieces of land to maximise the value of the land it owned. One of the stores identified was Tesco Ampang. When asked about the status of the redevelopment, Ritchie says, "In any business, you look at how to get the best returns on your investments. What we are doing at the moment is investigating that … which is the reason we have been talking to some developers."
The Ampang store, which opened in 2003, needs to be updated because of its age, he adds.
To recap, Tesco Stores (M) Sdn Bhd,  which is a 70:30 partnership between Tesco Holdings BV and Sime Darby Allied Products Bhd, had entered the country in 2002 with its first hypermarket in Puchong.
"There will always be a Tesco Ampang. We are not closing down Tesco Ampang and moving away. It is not only about making sure we give our customers the right offers but also about how to make the right investment choices," Ritchie reassures.
As the store occupies 13 acres, industry experts say the land is big enough to allow the existing store to continue to operate while development takes place around it. Tesco could potentially build a condominium on the site.
Incidentally, Tesco Ampang is the group's top revenue earner, followed by the store in Mutiara Damansara. Both outlets have ample land for development.
On whether Tesco would prefer to be asset-light going forward, Ritchie says, "The ratio of what we own and what we rent right now is good."
Tesco owns 22 of its stores and leases the other 37.
"We have opened a store in Setia Tropika in Johor on a built-to-lease basis so far this year and we are opening another two later, one in Kuala Lumpur (supermarket) and one more outside the Klang Valley. We are always looking to grow and we are currently looking at sites for our long-term plans.
"We think that as a business, we can reduce consumers' cost of living in the rural and urban areas where we can't get into at the moment because of the legislation," Ritchie says, adding that Tesco's prices are standardised nationwide and that it offers consumers better price points.