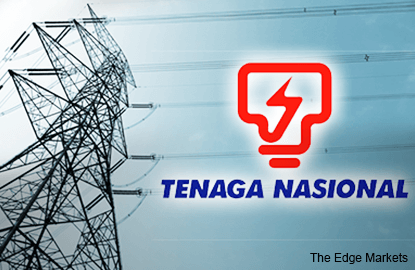 KUALA LUMPUR (Oct 27): Utility giant Tenaga Nasional Bhd saw its fourth quarter ended Aug 31, 2016 (4QFY16) net profit doubled to RM1.76 billion from RM820.9 million a year ago, thanks to the strengthening of ringgit against US dollar, further compounded by the lower average price of liquefied natural gas (LNG).
Earnings per share went up to 31.22 sen from 14.55 sen previously. Tenaga proposed a final single tier dividend of 22 sen per share.
In its filing to Bursa Malaysia today, Tenaga disclosed that its revenue declined by 4.32% to RM11.24 billion during 4QFY16 from RM11.74 billion last year.
"The significant drop in revenue was mainly due to higher amount of over-recoverability of imbalance cost pass-through (ICPT) recognised during the current quarter amounting to RM856 million as compared to RM34 million recognised in the corresponding quarter," it said.
"The increase in the over-recoverability of ICPT is mainly attributable to the lower average price of LNG during the current quarter as compared to the corresponding quarter," it added.
The ICPT is a mechanism approved by the government and implemented by Energy Commission since Jan 1, 2014 as part of a wider regulatory reform called the Incentive Based Regulation (IBR).
ICPT mechanism allows Tenaga to reflect changes in fuel and generation costs in consumers' electricity tariff every six months, subject to government's decision and approval.
For FY16, Tenaga's net profit rose 20.42% to RM7.37 billion from RM6.12 billion in the previous corresponding 12-month period, while revenue grew 2.88% to RM44.53 billion from RM43.29 billion in FY15.
In a statement today, Tenaga said the improvement was mainly due to a 4% electricity demand growth in Peninsular Malaysia, contributed primarily by warm weather condition which occurred during 3QFY16.
During the year, Tenaga said it carried out six electricity generation projects that piled up its capital expenditure (capex) to RM11.39 billion, as compared with RM10.77 billion in FY15.
Out of the six, the group said it had successfully commissioned four projects with total capacity of 1,892 megawatts.
"This year's performance was mainly contributed by positive momentum in Peninsular Malaysia electricity demand," Tenaga president and chief executive officer Datuk Seri Ir Azman Mohd said.
"However, towards the end of the year we have seen that the electricity consumption pattern [has] reverted back to its normal trend with the changing weather pattern. Moving forward, we expect that electricity demand will continue to increase in tandem with the country's economic growth," he added.
Therefore, Tenaga expects electricity demand to grow up to 5% in FY17, which is in tandem with projected Malaysia economic growth due to slower global economy, according to the Budget 2017, which was presented by Prime Minister Datuk Seri Najib Razak last Friday (Oct 21).
"Given this scenario, the board continues to remain cautious on the group's prospect for FY17," it said.
Meanwhile, Azman also said meeting the country's power needs and expansion of Tenaga's business are the management's forefront considerations.
"Given limited growth opportunities in the domestic market, the group recognises the need to venture further to find viable business prospects towards delivering sustainable, long-term earnings enhancement for the group. This in total will be value accretive to our shareholders," he said.
Tenaga shares were traded unchanged at RM14.32 as at market close, giving it a market capitalisation of RM80.82 billion.