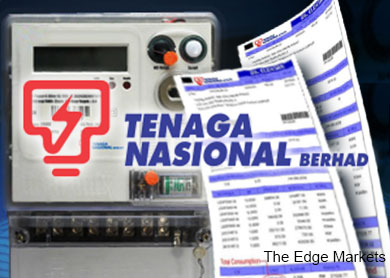 KUALA LUMPUR (Oct 31): Tenaga Nasional Bhd will proceed with the controversial Track 4A project to build and operate the 1,000MW to 1,400MW power plant in Pasir Gudang, Johor, said its president and chief executive officer Datuk Seri Azman Mohd.
"We are presently negotiating with the EPC [engineering, procurement and construction] contractor. The shareholders' agreement should be finalised sometimes next month [November]. Bear in mind that ultimately, the Energy Commission (EC) has the final say on whether to proceed with the project or not," Azman told reporters in a media briefing for the release of Tenaga's quarterly financial results today.
To recap, the EC had in May this year awarded the Track 4A project to a consortium comprising YTL Power Corp Bhd, SIPP Energy and Tenaga through direct negotiations, which was said to cost between RM11 billion and RM13 billion.
However, YTL Power withdrew from the deal on June 17, saying that it would be more than happy to participate in a competitive tender for the job instead.
On the Jimah East power plant in Port Dickson – a joint venture between 1Malaysia Development Bhd (1MDB) and Japan's Mitsui & Co Ltd – Azman said that the commercial operation date will "remain as it is".
"As at the moment, 1MDB has not requested for extension for the power plant in Jimah East. As such, the schedule delivery date will remain as what we have announced previously, which will be sometimes in November 2018," he said.
Azman anticipated that there is a possible shortfall of power, but he said that "it is up to" the EC on whether to build more power plants or extend the existing power purchase agreements.
On the status of its major power plants projects, Azman said that they are "on track as scheduled."
"The progress Janamanjung Unit 4 has reached 99% with estimated delivery by March 31, 2015, while progress of Janamanjung Unit 5 is currently at 19% which is scheduled to be delivered by Oct 1, 2017.
"As for its hydro power plants, the progress for Ulu Jelai project is at 64%, which will be delivered in two stages in December 2015 and March 2016 respectively," he added.
Azman added that the group's other hydro plant in Hulu Terengganu has progressed to 85%, with both units to delivered next year.
On its capital expenditure (capex) planning, Azman said Tenaga has allocated RM24 billion between 2014 and 2017, which will be used for distribution and transmission as well as for construction of new power plants to meet the generation demand.
Tenaga's capex in 2014 rose to a record high of RM10 billion from RM8.46 billion, of which RM4.9 billion or 48.9% was used for system maintenance and improvement to ensure system efficiency, security and reliability.
"Tenaga also invested RM4.4 billion for the construction of new power plants with total capacity of 3,700 MW to meet future capacity requirement. This represents additional 17.6% to the existing capacity," added Azman.
Meanwhile, Tenaga's chairman Tan Sri Leo Moggie said that now was the best time to introduce the fuel cost pass through (FCPT), given the low fuel price.