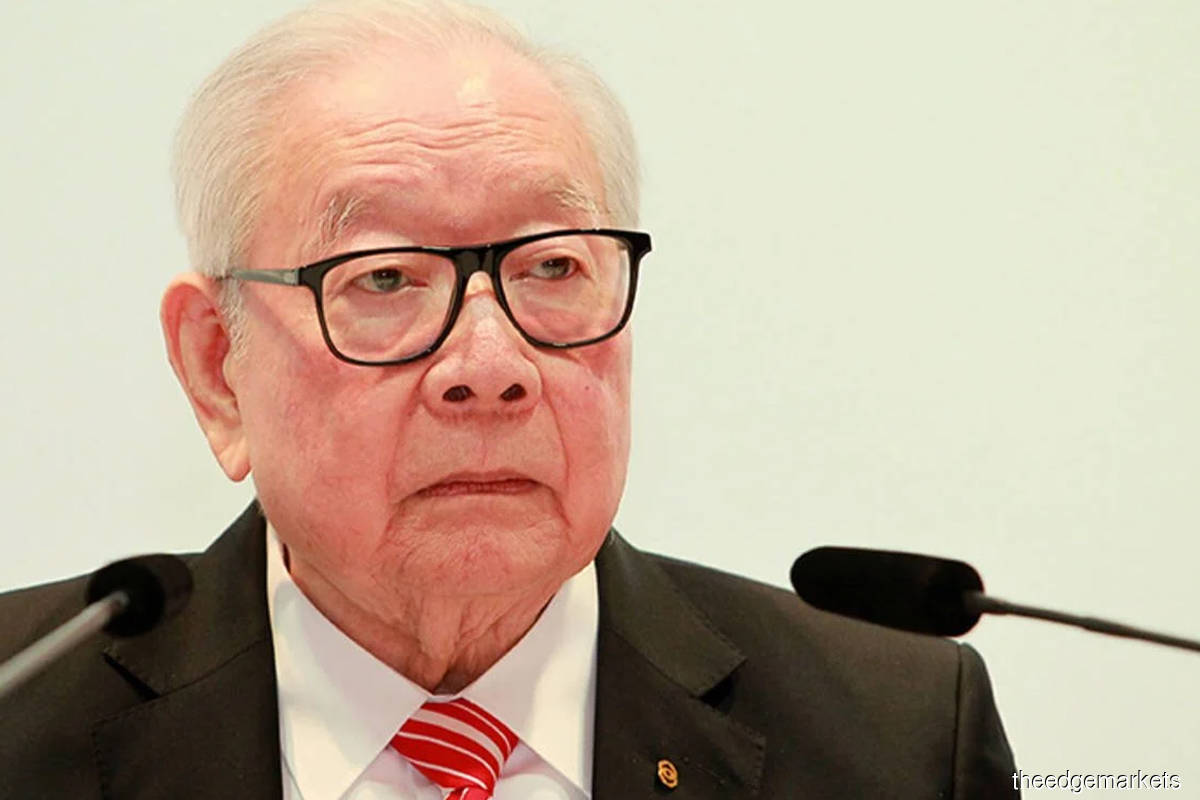 KUALA LUMPUR (April 23): Public Bank Bhd founder Tan Sri Dr Teh Hong Piow said the financial services provider is well poised to be in a position to seize growth opportunities as the group had been carefully managing its balance sheet and asset quality amid the unprecedented impact of the Covid-19 pandemic on the Malaysian economy.
Teh said that in 2021, the recovery of the Malaysian economy is expected to be gradual, supported by easing of Covid-19-driven restrictions and an improvement in global trade, coupled with continued policy support and stimulus assistance. 
"The Covid-19 inoculation programme will also provide further impetus to the economy," Teh said in Public Bank's latest annual report filed with Bursa Malaysia today.
"The group has been carefully managing its balance sheet and asset quality throughout this unprecedented period, and this has provided greater leeway for the group to grow its business with sufficient cushions against potential risks and challenges that may lie ahead," he said.
Looking back, Teh said 2020 was one of the most challenging years in recent history as the Covid-19 pandemic caused a global upheaval and brought a severe shock to the world economy, leading to a steep economic contraction across the world.
In Malaysia, following the initial Covid-19 outbreak in March 2020, the government imposed containment measures including the movement control order (MCO) to control the spread of the pandemic, according to him.
He said these measures were crucial to protect the people's health and safety, but the curtailment of economic activities severely affected the economy as gross domestic product (GDP) contracted 5.6% in 2020. 
"Under such difficult operating conditions, the banking sector was significantly affected on multiple fronts. Business growth was weak due to the implementation of Covid-19 containment measures as well as subdued consumer and business sentiment. 
"Profit was also impacted by further margin compression and higher provisions set aside amid economic uncertainty and various Covid-19 relief measures offered by banks. During these times of uncertainty, when the future and how the pandemic may unfold could hardly be predicted, conventional management models may prove to be insufficient to safeguard the bottom line of businesses. 
"To prepare for the uncertainties ahead, the Public Bank group continued to step up efforts to ensure that its corporate governance and risk management practices keep pace with the changing environment, and that its business model stays nimble even as the group navigates its way forward," he said.
Public Bank also continued to develop its talent pool and digital capabilities in the face of the highly competitive and fast-changing environment, Teh said.
Despite the disruption brought by the Covid-19 pandemic, the group launched several innovative mobile learning initiatives for its employees to continue reskilling and upskilling themselves, he said.
"The group also continued to explore and implement innovative digital solutions, particularly on advancing its e-payment capability, to enhance operational resilience and customer experience," he added.
Teh said that having been through many crises and adversities, Public Bank had learnt, grown and thrived in its past 54 years of operations.
"In 2020, the Public Bank group continued to deliver profitability in spite of prevailing challenges in the operating environment. The group achieved a pre-tax profit of RM6.29 billion and net profit attributable to shareholders of RM4.87 billion. With this, the group continued to sustain a double-digit net return on equity (ROE) of 11.2%," he said.
On Bursa today, Public Bank's share price was one sen or 0.24% lower at RM4.19 at 10.41am, which valued the group at about RM81.33 billion.
Public Bank has 19.41 billion issued shares, according to its latest annual report.