This article first appeared in The Edge Malaysia Weekly, on April 23, 2018 - April 29, 2018.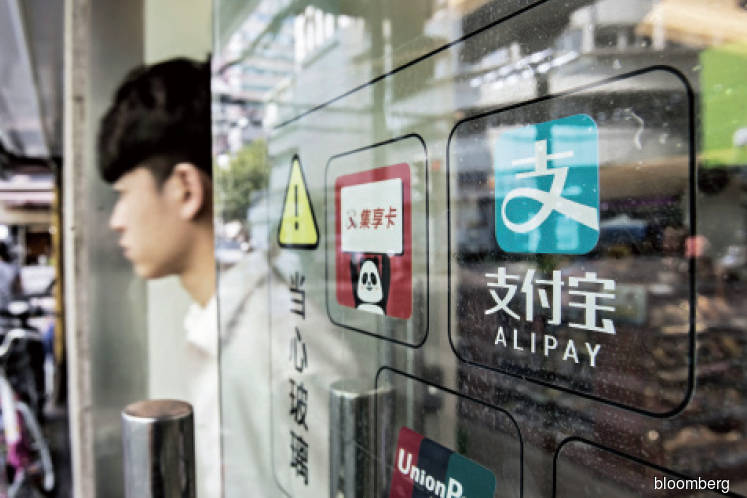 2017 was the Year of China Tech. Global investors helped drive Chinese tech stocks 70% higher last year, with shares of the two internet giants, Tencent Holdings and Alibaba Group Holding, more than doubling as they chased high-growth tech plays. More recently, though, investors have been less enamoured with the duo as well as Baidu, ­JD.com and other Chinese tech stocks. From their peak in late January to the trough earlier this month, large Chinese tech stocks were down nearly 15%, with ­Alibaba 19% lower. Although they rebounded recently, most are way below their January peak.
So, what has changed? Is it just the sentiment towards Chinese stocks in the aftermath of US President Donald Trump's tough talk on trade and tariffs as well as his vow to clamp down on intellectual property violations by Chinese companies? Or are fundamentals, such as margin pressures and a slower pace of earnings growth from the robust levels of last year, a factor? "It is only natural that there was some profit-­taking given how well Chinese internet stocks have performed over the past two years," ­Oliver Cox, portfolio manager for JPMorgan ­Asset Management in Hong Kong, who runs the firm's Pacific Technology Fund, tells The Edge Singapore in a recent interview.
China tech stocks are not alone in feeling suddenly unloved by global investors. Trump's tweets about e-commerce giant Amazon.com, the sight of Facebook co-founder Mark Zuckerberg being forced to testify before the US Congress and Washington's attempt to regulate search giant Google's parent Alphabet have all weighed on the global tech sector. Yet, while an aggressive pushback against the erosion of privacy as well as monetisation of data in the aftermath of recent Facebook revelations has impacted US tech giants, Chinese internet firms are continuing to grow at a much faster pace than their US peers and are also able to harness the data more powerfully.
To be sure, although US internet giants and their Chinese counterparts may share similar business models, their medium- to longer-term outlooks could not be more different. In many ways, Alibaba and Tencent have an advantage over their developed-market peers. For one thing, China's population is more ready to embrace new technology without fretting about privacy. Moreover, the country's regulatory environment is not only benign, but Beijing has been a big cheerleader for its home-grown cham­pions whom it is keen to nurture as global tech leaders. In addition to Alibaba and its ilk being able to collect more data more freely, as China catches up in artificial intelligence and eventually takes the lead, their ability to monetise whatever they collect, including data on their customers' health and finances, makes them more formidable players in e-commerce, search, gaming, financial technology and robotics.
Chinese internet players have long lived in the shadow of global giants such as ­Amazon, Google and social network operator Facebook. "Investors have consistently underestimated growth in consumer demand as well as in e-commerce or online retailing or gaming or even search advertising in China, which have all ended up growing far faster than what the market anticipated," says Cox. They have also underestimated the Chinese giants' ability to chart their own course to the top. Tencent and Alibaba are ranked among the top six tech companies in the world by market value.
Eighty-five per cent of people in China still buy from physical stores. Having cornered 15% of the total market, Alibaba and Tencent are now going aggressively after offline bricks-and-mortar retail. Over the past two years, they have spent about US$20 billion (RM77.7 billion) buying offline retailers as they seek to extend their control of O2O, or online-to-offline, ­retailing by pulling in shoppers who buy online from retailers with a physical presence. More often than not, Chinese consumers are using Alipay or Tenpay to pay for their online or offline purchases. Aside from digital payments, Alibaba and Tencent are pouring money into logistics and delivery as well as mobile digital payments. These investments complement their core franchises, Cox says.
Still bleeding on payments
One area that has long been touted as a key driver for China tech plays is payments. China has leapfrogged into a cashless society. Most people pay for coffee, food, indeed even roadside chestnuts, by scanning QR codes on their smartphones. iResearch expects digital payments in China to grow 66% this year.  Both Ali­baba's 33%-owned affiliate Ant Financial and Tencent's 30%-owned financial arm WeBank were expected to list later this year but analysts say those IPOs have now been pushed to next year. Ant and its mobile and online payment system ­Alipay now boast a little more than half of China's US$17 trillion payments market with Tencent's affiliates having a big chunk of the rest.
As a private company, Ant does not publish financial data, but analysts covering Alibaba have tried to figure out its revenues and profits. Gregory Zhao, China internet analyst for Barclays in New York, estimates that payments accounted for 55% of Ant's US$8.9 billion in revenues last year. He expects payments' share of Ant's total revenues will decline to around 33% within three years as it grows its wealth management and lending businesses. Karen Chan, internet analyst for Jefferies & Co, estimates Ant had operating profits of US$2.1 billion last year. Payments and fintech are a huge opportunity for Alibaba and Tencent, argues JPMorgan's Cox. "Given that ­Alibaba and Tencent have a huge existing user base of people transacting on their platforms, it is only natural that they want to expand the usage," he says.
The way Cox sees it, Ant "may look like a payment business today, but if you fast forward five to 10 years, you might be looking at Ant as China's most prominent financial group. The business model has already expanded beyond mere payments to include credit cards, other lending, banking services, wealth management, savings, pensions and insurance".
Ant is reportedly raising US$9 billion from Chinese and global investors, including Singapore's Temasek Holdings, valuing it at over US$150 billion, or almost as much as Morgan Stanley and Wells Fargo combined. At that valuation, Alibaba's financial arm would be the sixth largest financial institution in the country, just behind Bank of China. Ant is indeed huge; its RMB1.6 trillion ($333.7 billion) Yu'E Bao money market fund makes up nearly a quarter of China's total money market assets.
Bhavtosh Vajpayee, analyst at Sanford Bernstein in Hong Kong, expects Ant to lose money this year and probably next year as it tries to take market share from Tencent's financial affiliates. In recent months, regulators in Beijing have cracked down on high interest rate payday loans, peer-to-peer lending, money market funds and cross-border foreign exchange payments. For its part, Ant has put a 24% interest rate ceiling on consumer loans and caps on money market fund investments. Alibaba CEO Jack Ma has promised that Ant will be "socially responsible" as it expands its services. Ear­lier this year, the People's Bank of China decreed that Ant and WeChat Pay should place 42% of their total assets into non-interest-bearing PBOC accounts, from 12% previously. Not being able to put this much-bigger chunk of money to use will cut into Ant's profitability, says Vajpayee. He notes that Alibaba and Tencent are involved in a fierce subsidy war that could cost between US$2 billion and US$4 billion over the next year. Alibaba is spending billions on merchant subsidies in order to make up for its smaller share in offline payments, he adds.
Cox does not see cut-throat competition and PBOC's decision to force them to set a bigger slice aside as a big negative. As Ant and ­WeBank expand, they are bound to come under the regulatory purvey of the central bank, he says. "They still have a huge user base, they have all the data, they know how to monetise it, they understand how to make online businesses work in what will be, over the next few years, the world's largest economy."
The JPMorgan portfolio manager argues that the internet giants' huge investments in payments as well as growing investments in logistics and offline retail expansion for ­Alibaba, and gaming and video for Tencent should be seen as moves to build stronger foundations for future growth. He concedes that over the next year or two, their margins are likely to be compressed as they continue to make new investments across a whole range of businesses, but argues that they will remain extremely profitable. "What that means is, in the short run, costs will go up and as such, we might have slightly slower earnings growth," says Cox. He argues, however, that this is what fast-growing businesses such as Alibaba or ­Tencent should be doing: "Securing the moat, expanding the network, strengthening the franchise and the entire ecosystem to build a platform for higher long-term growth."
Whether it is buying offline retail companies or building a large global, fintech business that includes not just payments but also online banking, wealth management and insurance, the investments being made by Alibaba and Tencent are strategically very sound and significant and expected to reap substantial returns over time, says Cox. "Investors are looking beyond one-year or 18-month margin pressures because these investments will lead to much higher margins over the long term and help expand the overall franchise and business of these companies."
Alibaba's Ant and Tencent's WeChat Pay and Tenpay have also been expanding their financial services businesses overseas. Tencent has identified Indonesia and Malaysia as markets where it will expand its e-payment services. Ant and Alibaba are shareholders in Paytm, India's largest digital payment firm. Last month, Ant paid US$184.5 million for a 45% stake in Telenor Microfinance Bank, a subsidiary of Norway's ­Telenor that operates a mobile app for financial services in Pakistan. But Ant and Tencent still have no presence in the world's biggest economy, the US. In January, Alibaba was forced to scrap its US$1.2 billion acquisition of US money transfer firm MoneyGram International after the Trump administration objected to the deal.  
CDRs or home listings
As they spend to grow their franchise, one key driver over the next year for giants such as ­Alibaba, Baidu and JD.com that are listed in the US, and Tencent which trades on the Hong Kong bourse, is likely to be mainland listings. Beijing wants these companies to list locally so that Chinese retail investors as well as institutions can partake in their lucrative growth. Alibaba, Tencent and others are reportedly exploring Chinese Depositary Receipts (CDRs), although most analysts do not expect mainland tech listings this year.
One big positive of CDRs is that they will help expand the companies' investor base among their core users in mainland China. Detractors say existing shareholdings may be diluted if CDRs involve the issue of new shares. "If it involves the issuance of additional shares, it could be dilutive, but that won't stop ­Alibaba doing a share buyback and reducing share count," argues Cox, who notes that the tech behemoths do not need to raise money from the A-shares market. "They have been self-funding for a number of years." Moreover, the listing of Ant Financial and WeBank and other affiliates as well as subsidiaries over the next few years will keep their coffers overflowing.
After years of heady 40% to 60% annual earnings growth, Tencent and Alibaba are headed towards 20% to 25% growth this year and next, notes Bernstein's Vajpayee. That still makes them among the fastest-growing large tech companies in the world. They are also seen as a "safe haven" of sorts for investors who are worried about rising protectionism, the spectre of a US-China trade war and punitive tariffs because most of their business is domestic and they are not under the threat of being punished for "stealing" intellectual property as Washington pushes to rebalance trade flows between US and China. Long after the brouhaha of a trade war is over, China's internet giants will still be collecting, harnessing and monetising their customers' data and boosting their bottom lines.
Assif Shameen is a technology writer based in North America
Save by subscribing to us for your print and/or digital copy.
P/S: The Edge is also available on Apple's AppStore and Androids' Google Play.