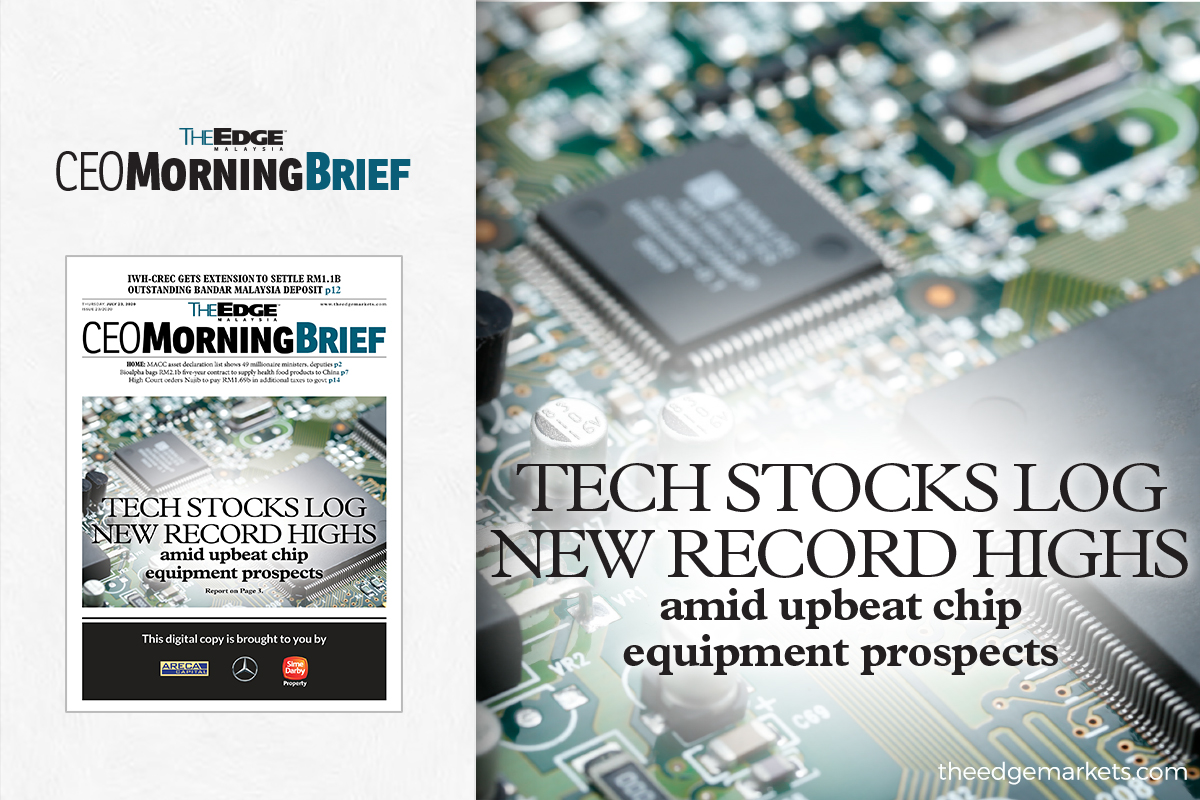 KUALA LUMPUR (July 23): As the tech-heavy Nasdaq index shows signs of stalling lately with the rally in the mega caps losing steam while investors turn to underappreciated sectors like energy, financials and industrials, interest in specific Malaysia tech stocks seems unabated.
Back home, as the rally in glove stocks take a breather, share prices of certain tech stocks kept rising with some logging new highs and emerging as top gainers on Bursa Malaysia yesterday.
The upbeat mode on Malaysian tech stocks could be attributable to US-based global tech association Semiconductor Equipment & Materials International (SEMI) projecting record spending on chip manufacturing equipment amounting to US$70 billion in 2021.
Yesterday, the top tech gainer was semiconductor test socket manufacturer JF Technology Bhd, which rose 26 sen or 7.58% to RM3.69. Year to date (YTD), it is up nearly 2.5 times from RM1.52 as of Dec 31, 2019.
Following close behind was automation equipment providers Greatech Technology Bhd which rose 22 sen or 4.09% to RM5.60, and Pentamaster Corp Bhd, which settled 20 sen or 3.1% higher at RM6.65.
YTD, Greatech is up by a whopping 133%, while Pentamaster has added 46.4%.
The bullish sentiment also spilled over to ICT products distributor, Vstecs Bhd, which rose 26 sen or 14.05% to RM2.11. From the start of the year, the stock has risen 46.5%.
As the four tech stocks all closed at their all-time highs yesterday, the Bursa Malaysia technology index reached a 16-year high, after logging four consecutive weeks of positive advancements.
In its mid-year total semiconductor equipment forecast released yesterday, SEMI said chip manufacturing equipment sales are expected to increase by 6% to US$63.2 billion this year from US$59.6 billion in 2019, before logging a record high of US$70 billion in 2021.
The global tech industry association expects growth across a number of semiconductor segments to power the expansion, spanning from wafer fab equipment, assembly and packaging equipment and semiconductor test equipment.
It also said it expects countries like China, Taiwan and South Korea to lead the pack in spending in 2020.
Last Thursday, Shanghai-based Semiconductor Manufacturing International Corp (SMIC) debuted on the Shanghai tech bourse with an over 200% jump in its share price.
SMIC is seen as a key player in China's ambition to boost its domestic chip industry and is expected to play an important role in China's ambitious plan of making 70% of the chips it uses by 2025 under the Made in China 2025 initiative.