This article first appeared in The Edge Malaysia Weekly, on March 19, 2018 - March 25, 2018.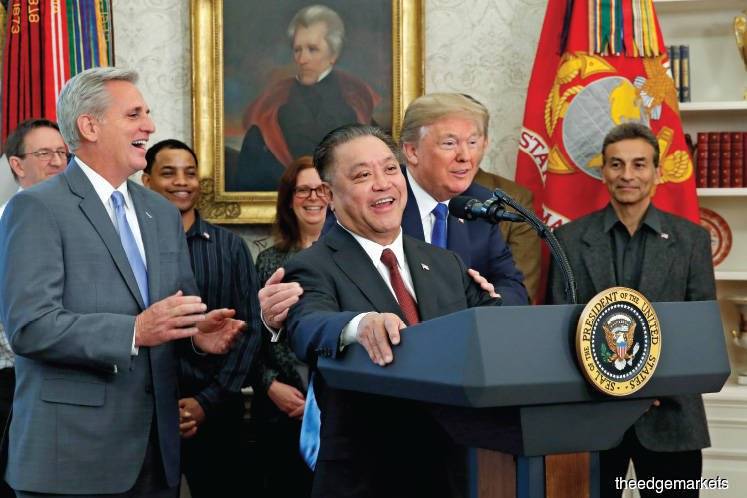 LAST November, Penang-born Tan Hock Eng, CEO of Singapore-based, San Jose, California-run global communications chip giant Broadcom, stood behind a rostrum at the White House to announce his company's redomicile to the US. President Donald Trump praised him as "a great, great executive" and called Broadcom "one of the really great, great companies". Apart from making America Broadcom's home again, Tan — who wore a US flag lapel pin — vowed to bring back more jobs to the firm's new abode and boost domestic investments. The world's most powerful man and the chip industry's most admired and feared CEO then hugged each other in a priceless Oval Office photo op.
Within hours of that meeting, Tan launched the largest takeover deal in tech's history, a US$117 billion (RM458 billion) cash-and-share bid for rival Qualcomm, known for its baseband 4G chips used in smartphones. Though his White House appearance was derided as a move to curry favour with Trump ahead of a controversial takeover, the betting was that Broadcom-Qualcomm was a done deal, particularly after Tan sweetened the offer in January with a higher stocks component, boosting the total price tag by US$16 billion. The deal was being financed with US$106 billion in debt from private equity players and banks.
On Monday March 12, Trump scuttled Broadcom's hostile bid through a shocking executive order. The White House said it had "credible evidence" to believe that if Broadcom were to acquire control of Qualcomm, it "might take action that threatens to impair the national security of the United States".
The Broadcom blocking reverberated through the market the following day as investors rushed to sell tech stocks. The benchmark PHLX Semiconductor Sector Index, which had just days earlier touched a new high surpassing its 2000 record peak, plunged nearly 2%. On March 14, Wall Street took another dive on fears of a looming trade war with China.
Investors are still trying to figure out what Trump's move to block Broadcom really means for the tech sector in general, tech mergers and acquisitions, and other cross-border deals. The White House is proposing US$60 billion in additional tariffs on Chinese tech goods. The concern in Silicon Valley is that Trump's trade policy adviser Peter Navarro and Commerce Secretary Wilbur Ross, who are both seen as trade hawks, are ready to push for more targeted investment restrictions and tariffs against China. This, in turn, will hurt Chinese tech and telecom-related exports, driving up the cost of gadgets such as smartphones and ultimately impacting the entire global tech sector.
The decision came just days before Qualcomm's shareholders were set to finish voting on whether to replace six of the firm's 11 directors with Broadcom nominees to help smoothen the takeover. Nearly two-thirds of the shareholders had already voted, and a poll of large institutional investors suggested an overwhelming majority were in favour of electing Broadcom nominees. Tan had been trying to expedite his firm's redomiciling to evade the review of the Committee on Foreign Investment in the United States, or CFIUS, which has been scrutinising the deal following a secret plea by Qualcomm that the deal breached US national security. CFIUS would no longer have any jurisdiction over Broadcom once it legally becomes an American company. In the end, Broadcom's haste in redomiciling itself became an issue for the regulator. CFIUS had warned Broadcom that it had been violating its order to provide the panel with five days' notice before taking any action on its redomiciling plans. Yet Broadcom charged ahead, forcing the panel's hand and resulting in CFIUS swiftly recommending a Presidential blocking order.
In recent years, CFIUS, which has a fairly narrow mandate to scrutinise foreign takeovers, has grown increasingly wary of any deals with potential national security ramifications linked to China as well as any dealmaker it perceives to be trying to evade its review. Last September, the Trump administration blocked a deal by Canyon Bridge Capital Partners, a Chinese government-linked entity, to buy Lattice Semi­conductor, a small US programmable logic devices maker.
"It's unprecedented, unwarranted and clearly a surprise," Stacy Rasgon, semiconductor analyst at Sanford C Bernstein & Co in San Francisco, says of the decision to bar Broadcom. "I don't see why national security should be an issue with a company that is in the process of completing its redomiciling." Koen Heimeriks, Professor of Strategy at Warwick Business School, argues that "leakage of intellectual property to China is not a defendable argument as Broadcom was (already) moving to the US". Other analysts wonder why the US president hastened to intervene in a deal before it was actually completed.
For its part, the White House noted that it blocked Broadcom because the merger might allow Chinese chip firms such as Huawei Technologies or ZTE Corp to steal a march on Qualcomm on next-generation wireless, or 5G, technology. While the current 4G technology has facilitated video streaming, 5G would be an even bigger leap with its use in the Internet of Things, AI-enabled security cameras and driverless cars, particularly with the advancement of artificial intelligence and robotics. Even Trump's fiercest opponents applauded the decision. "When China attempts to steal our best technology by buying American companies, whether it's robotics or AI or chips — like Qualcomm — we ought to block it," gushed Chuck Schumer, the leader of the Democratic Party in the Senate and one of the president's harshest critics.
Tan has a reputation of being a ruthless cost cutter. Over the years, his modus operandi has been to buy chip companies, pare down their costs to the basic minimum, cut hierarchical managements and replace them with a flat structure. CFIUS was concerned that Broadcom would cut back on R&D funding at Qualcomm, which would be akin to handing the 5G baseband chip market on a silver platter to Chinese companies such as Huawei, ZTE Corp and Tsinghua Unigroup, which have been locked in a race with American chip companies to make state-of-the-art communications chips.
"Given well-known US national security concerns about Huawei and other Chinese tele­communications companies, a shift to Chinese dominance in 5G would have substantial negative national security consequences for the United States," CFIUS said in a note to Broadcom. Tan has denied that he wanted to drastically slash Qualcomm's R&D budget to boost Broadcom's own bottom line. Indeed, as the debate around Qualcomm's R&D funding mounted, he pledged to create a US$1.5 billion fund to invest in American chip engineering talent and promised to keep investing in 5G.
Prominent Taiwan-based tech guru Ben Thompson, who writes the Stratechery blog, believes the real reason for CFIUS' decision was not 5G, which is in process of being rolled out in Asia late this year and the rest of the world next year, but future technology. "It is really about 6G and beyond," Thompson noted in a recent post. "The structure of the deal itself said far more clearly than anything else that Broadcom wanted to feast off of Qualcomm's past innovations and contribute far less to future ones than Qualcomm would on its own."
Politics matters
The White House's move against Tan should be seen in the light of Trump's growing political predicament. Special Counsel Robert Mueller is scrutinising Trump and his campaign for possible collusion with the Russians to win the 2016 elections. On March 13, a Democratic candidate won a by-election in the key Rust Belt state of Pennsylvania in a district that Trump had won with a 20% majority just 15 months ago. Republicans currently have 238 of 438 seats in the House of Representatives and a 51-49 majority in the Senate. The Pennsylvania result shows that Democrats may be poised to win back control of the House of Representatives, although Republicans are likely to expand their narrow majority in the Senate, which re-elects only a third of its members every two years. This November, more Democratic seats in traditional Republican strongholds are up for grabs.
Analysts see the Broadcom blocking, the recent steel tariffs, the ouster of Trump's moderate chief economic policy adviser Gary Cohn, and the president's recent concessions to the US gun lobby as part of a larger strategy to win as many congressional seats in the mid-term elections ahead of a likely impeachment next year if Mueller can convince the Congress that Trump really did collude with Moscow.
Domestic politics aside, the Trump administration now needs to get ahead in the intensifying arms race with China over advanced technologies such as communications and semi­conductors. Having blocked China from acquiring memory chip maker Micron Technology a few years ago, Washington's aim has been to prevent Beijing from acquiring key technology related to semiconductors, AI and robotics. China is pouring US$22 billion into Tsinghua Group to make a home-grown semiconductor champion. And Huawei, which has flown under the radar for too long, is no minnow now.  It is China's Intel, Apple, Qualcomm and Cisco Systems all rolled into one. Last year, it posted sales of US$95 billion, which makes it among the top four tech players in the world. The bigger it gets, the more concerned governments around the world are about its ultimate game plan.
One big concern is whether the Broadcom ruling will end the long-running consolidation process in the chip industry. Semiconductor companies have had the urge to merge in recent years because their margins have been under pressure and they need scale to deal with giant buyers of components such as ­Apple, HP, Dell and Amazon.com. "As leading chip firms fight for the lead in their industry to secure survival and long-term profitability, blocking them for political purposes makes no sense," says Warwick University's Heimeriks. "Politics is never an adequate response to block an industry in need of competition."
The collapse of the Broadcom-Qualcomm deal has focused attention on pending mergers including that involving communications chip firms Cavium and Marvell Technology Group, which might face CFIUS scrutiny. Marvell, for example, is domiciled in Bermuda. Other pending deals include that of Microchip Technology, which is buying Microsemi Corp. If CFIUS' move against Broadcom is any guide, from now on, it will be harder for a foreign entity to take over a US-based tech company. The Broadcom ruling "changes the entire tech landscape", says Amit Daryanani, semiconductor analyst for RBC Capital in San Francisco. Among other things, valuations of tech companies will be impacted now that foreigners are legally barred from a big slice of the US tech space.
American regulators need to be more mindful that they do not stifle innovation by picking winners. A blanket ban on large-scale mergers in the US chip sector is clearly misguided. What the US chip industry needs is two or three deep-pocketed giants that can take on China, innovate and churn out cutting-edge next-generation chips so that we can all move around in driverless cars, use AI and robotics for the most mundane tasks and get food and groceries delivered to our doorstep by drones. If R&D spending, revenues and profits are divided among four or five players, as they would be now that the White House has barred Broadcom and Qualcomm from teaming up, it would be hard for the US to compete.
Hunting for the next prey
What's next? Broadcom will proceed with redomiciling from Singapore to the US by the end of the month, which would cost it US$500 million in extra taxes annually even after the recent US tax reforms. Despite the blocking of the Qualcomm deal, Tan is likely to pick himself up, dust himself off and start looking for new deals. "That's the kind of guy he is," says Rasgon of Sanford C Bernstein. Daryanani believes Broadcom has only been shut out from a deal with Qualcomm. Tan is likely to steer the company to a number of smaller deals in the chip industry. The RBC analyst says target companies could include programmable logic devices maker Xilinx as well as Analog Devices and mixed signal device maker Maxim Integrated. Other prey could include memory-chip maker Micron Technology, currently the hottest tech stock. Micron stock is up 37% this year and 526% since May 2016. Less likely is Broadcom's bid for the combined Marvell-Cavium if that deal goes through, because it will certainly raise the eyebrows of regulators.
Whatever else Broadcom does, Rasgon believes it is likely to remain a predator rather than becoming a prey, despite rumours that Intel was ready to pounce had the merger with Qualcomm gone through. It is highly unlikely that Intel is interested in gobbling up Broadcom now that Qualcomm is out of the picture — if it ever was interested, he argues.
Bruised after the Broadcom debacle, serial acquirer Tan may not do another transformational Qualcomm-sized deal anytime soon but will find plenty of smaller and mid-sized targets to keep him busy. With the semiconductor industry's growing importance and the sensitivity around technology transfer, he just needs to navigate his march ahead more cautiously. And if Qualcomm has taught him one thing, it is the need to be patient and not rush or try to outsmart regulators.
Assif Shameen is a technology writer based in North America
Save by subscribing to us for your print and/or digital copy.
P/S: The Edge is also available on Apple's AppStore and Androids' Google Play.