This article first appeared in The Edge Malaysia Weekly, on November 18, 2019 - November 24, 2019.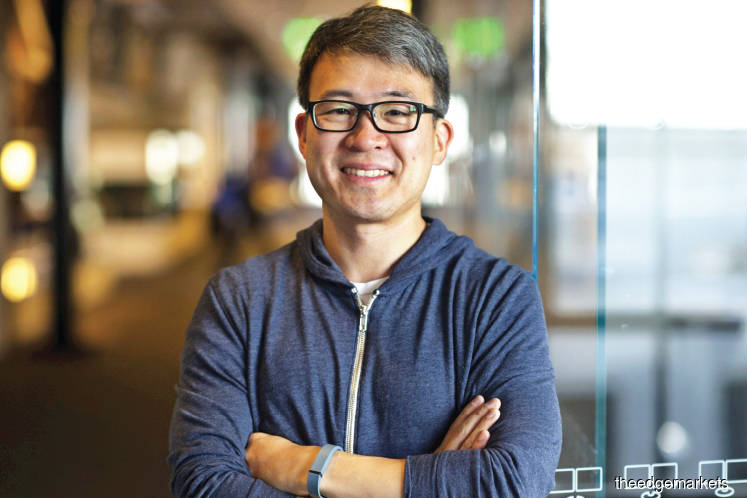 James Park, CEO of Fitbit … Google can now use the fitness tracker's health data to make money
Photo by Bloomberg
TWO weeks ago, search giant Google acquired fledgling fitness device maker, Fitbit, for US$2.1 billion (RM8.7 billion). In mid-2015, Fitbit was listed at a US$4.1 billion valuation, with its stock soaring to US$51.90 within six weeks of its IPO, or a peak valuation of more than US$13 billion. Indeed, until rumours of Google parent Alphabet's impending deal first surfaced a month ago, Fitbit stock was languishing around US$3.40 a share, or a valuation of US$1 billion.
The global smart wearables market is huge and growing fast. It is expected to nearly double to more than US$54 billion by 2023 from US$23 billion last year. Already, 2019 is turning out to be a banner year for wearables, with annual sales forecast to grow 35% as holiday shoppers make smart watches, fitness trackers and earbuds their year-end gift of choice.
Tech firms from Apple to Facebook, Google and Microsoft are expected to launch an array of augmented reality (AR), virtual reality (VR) and mixed reality glasses, smart rings as well as wearable sensors over the next two years, catapulting wearables into a major market not far behind the now-maturing smartphones. VR headsets immerse people completely in virtual environments whereas AR devices let people see their physical surroundings while presenting digital imagery that augments those surroundings. Apple is expected to roll out a combined VR and AR headset with a focus on gaming, watching video and virtual meetings within the next 18 months and a lightweight pair of AR glasses by 2023.
Here is the ugly truth about wearables: With the exception of Apple, which makes the widely popular AirPods and Apple Watches, nobody — not Xiaomi nor Huawei, Fitbit, Snap or, indeed, even Samsung Electronics — is making any money selling smart watches, fitness trackers, glasses or earbuds, not to talk of Facebook, which sells VR headset Oculus, or Microsoft, which makes the mixed reality HoloLens headset.
To be sure, Fitbit — which makes wireless-enabled wearable technology devices that measure data such as the number of steps walked, heart rate, quality of sleep, steps climbed and other personal metrics involved in fitness — has been in trouble since Apple, the world's largest listed firm, launched the Apple Watch. Fitbit's sales peaked at 22 million units in 2016 and, by last year, they were down to 13.9 million and falling. On Nov 6, the fitness tracker firm posted a quarterly net loss of US$26.7 million, down from a profit of US$10 million a year ago.
Wearables strategy
For years, Google has struggled with its wearable strategy. In late 2017, it introduced Pixel Buds, its earbuds, which work with Google Home, its smart speakers but were not compatible with every Android phone in the market. Earlier this year, it paid US$40 million for the smartwatch techno­logy and intellectual property of Fossil Group, a US fashion designer and manufacturer of handbags, wallets, jewellery and watches. Google had swooped in after Fitbit's talks with social media behemoth Facebook faltered. Facebook had bid to buy Fitbit out of its misery, but was willing to pay not much more than US$1 billion, or less than half of what Google eventually ended up paying.
While it has licensed its wearables opera­ting system Wear OS to companies such as Samsung, until now Google had avoided dipping its toes in the smartwatch market. The search giant does, however, have Google Fit, its own health and fitness app, which uses sensors built into your devices to automatically track activities such as walking, biking and running. Over the past two years, premium watchmakers, including TAG Heuer, Hublot and Emporio Armani, have entered the connected touchscreen smartwatch space using Wear OS.
The Google-Fitbit deal is all about data. There is an arm's race among tech companies — parti­cularly Facebook, Alphabet, Amazon.com and Microsoft — to gather as much data about you and me as possible. Also, making good hardware that people love is hard, but everyone still wants to make hardware because it helps to hook them to software and, ultimately, to a larger ecosystem. Internet and software companies are all imitating Apple's strategy to own the entire ecosystem, with hardware at its apex. Microsoft sells Surface tablets and laptops; Amazon peddles Echo speakers; Google makes Nest video doorbells, thermostats, smoke detectors, Google Home speakers, Pixel smartphones and laptops; and Facebook recently launched Portal smart displays. Yet, the more data that companies peddling hardware and software collect, the more vulnerable they are to growing backlash over privacy and the use of that data to generate outsized profits.
Invasion of privacy
If, like me, you have been using the Google search engine since the late 1990s, Google probably has two decades of your web search history. If you have the Google Home smart speaker and Pixel laptop and home security cameras, Google is deep inside your home with a microphone as well as video camera that constantly records everything you say or do. Moreover, Pixel or Android phones track your GPS location 24/7 and, thanks to Nest video doorbell and other devices, Google knows when you are home, when you go to sleep and, indeed, even what time you normally wake up. Because Google has so much data on you, it is able to micro target you for everything from political advertising to pushing an array of goods and services.
With so much more data about you on its servers, Google will be able to further micro target you to sell more services than ever before. David Cicilline, one of the US Congressmen leading an antitrust probe into Google, believes the Fitbit acquisition "would give the company deep insights into most sensitive information" about Americans. "This transaction is a major test of antitrust enforcers' will and ability to enforce the law and halt anti-competitive concentrations of economic power," he says. Google is the target of antitrust investigations examining whether the massive amounts of data that it collects gives it an unfair advantage over competitors. Two years ago, it was at the centre of healthcare data privacy investigations in the UK, when its DeepMind artificial intelligence (AI) project used data from patients in a way that regulators said had failed to comply with data protection laws.
Google insists that it will not use a trove of health and wellness data collected by Fitbit devices to sell ads on its platform. Fitbit devices not only collect health data but also a slew of other information such as your location data, which Google could combine with other data it has on you to sell ads. The promise not to use health data to sell ads also does not preclude Google from tying Fitbit with other devices that Google makes or folding the data it is collecting into its AI operations.
There are many ways that Google can monetise your health data than just selling a few more ads. The Financial Times reported recently that Google has been trading sensitive data — including medical symptoms, diagnoses, drug names and menstrual and fertility information — with data brokers and other websites in the UK. Google is also reportedly teaming up with pharmaceutical companies that treat diabetes and sleep apnea. With a wristband, it will be able to collect a trove of data about how much exercise you get every day, your blood sugar levels as well as just how well you sleep every night.
Toehold in healthcare industry
Last year, Google hired David Feinberg, CEO of Geisinger Health, a New Jersey-based regional health provider, to lead its healthcare strategy. On Nov 11, Google announced it was teaming up with Ascension, the US' second-largest non-profit health provider with more than 150 hospitals, to collect and crunch the detailed personal health information of more than 50 million Americans across 21 key US states. Code-named "Project Nightingale", the venture will help Google gain access to personal health data and esta­blish a toehold in the US$3.65 trillion healthcare industry.
Google will collect data including lab results, doctor diagnoses and hospitalisation records. The search giant will have the complete health history of patients, alongside other personal data. Google is also using the data to design new healthcare software, with advanced AI and machine learning-based health products that can suggest changes to a patient's care. Ascension, meanwhile, wants to access records faster and know which tests it should be suggesting to individual patients.
Some commentators and politicians have criticised Google's tie-up with Ascension because tens of millions of patients whose data has been collected so far are unaware that their sensitive personal and health information has been gathered surreptitiously and commercially shared with other healthcare companies. Ascension is sharing sensitive data with Google because it gets a sweetened Google Cloud deal allowing the use of "G Suite" analytics. The Office for Civil Rights in the Department of Health and Human Services, the US regulator, is investigating "Nightingale" data gathering.
Until recently, the main concern with Google was the way it collected a whole range of data about you and me and monetised it by selling ads. Now, consumers and privacy advocates worry that the search giant not only has access to our intimate health and wellness data but, with AI and machine learning, is making even more money by suggesting a variety of treatments and medi­cations.
Data is now as important as top-notch doctors in determining healthcare outcomes. Google is betting that by collecting more data and leveraging it with AI and machine learning-enabled cloud-based healthcare analytics, it will get a leg up against competitors. Consumers are hoping tech giants will help expedite more affordable and better healthcare, but Google and its ilk must make sure they are not sacrificing the privacy and security of patients' sensitive health data or profit from it by selling it to third parties for ads or e-commerce.
Assif Shameen is a technology writer based in North America