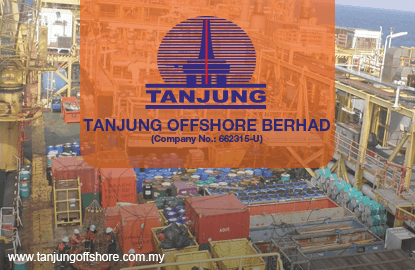 KUALA LUMPUR (May 20): Tanjung Offshore Bhd (TOB) said it aims to eventually have a 70:30 contribution ratio between its oil and gas (O&G) segment and its other business segments, based on its diversification plans.
Group chief executive officer Rahmandin Md Shamsudin said the O&G services provider aims to diversify into aerospace and education, in addition to its construction venture.
"Petroliam Nasional Bhd (Petronas) has cut its spending, which translates to less jobs in the O&G segment. For (O&G services) companies to get these jobs, we have to sacrifice margins.
"At the same time, we have to make use of our existing resources to venture into some other areas where we hope will bring us revenue in the future," Rahmandin told reporters after the group's annual general meeting today.
He said the group would like to reduce its reliance on the upstream O&G business, amid challenging times.
"Some of the areas that are doing well include infrastructure where there are opportunities, as well as education.
"For aerospace, we are considering a wide scope. But it's difficult for us to explain which areas we're looking at," he said.
Rahmandin said TOB is in exploratory talks with several parties on its aerospace initiative, noting that UMW Holdings Bhd, which is building a RM750 million plant, and Rolls Royce would be good potential partners to speak with in future as these are established aerospace players.
"We are in the midst of talking to different parties, but we have not signed any memorandum of understanding yet. So, it's not official," said Rahmandin.
While the group is looking to commence the diversification of its operations this year, he said the O&G business will still be its core business as TOB pursues more downstream projects at Petronas' Refinery and Petrochemical Integrated Development (RAPID) project in Johor.
Currently the group's tenderbook stands at RM1 billion, with 80% comprising works relating to RAPID, while the balance 20% consist of its unit Gas Generators Sdn Bhd's (Gastec) contracts and other projects.
"We are targeting a success rate of between 20% and 30% for these projects [that] we are bidding for," he said.
On the RM20 million lawsuit filed against its former directors, relating to the acquisition of Gastec, Rahmandin said this will not affect the performance of the company.
"As you may know, the previous managing director Datuk Harzani Azmi has been charged by MACC (Malaysia Anti Corruption Commission). The process is ongoing. And we have already initiated a civil suit against some of the officers, directors of the previous board.
"I cannot say much as it may jeopardise the actions we are taking, but we want to show that we are doing something about those legacy issues," he said.
Asked if the case would impact the group, in terms of sentiment and performance, he said there will be no significant impact, adding that TOB is leaving it up to its lawyers to handle it.