This article first appeared in Enterprise, The Edge Malaysia Weekly, on August 14, 2017 - August 20, 2017.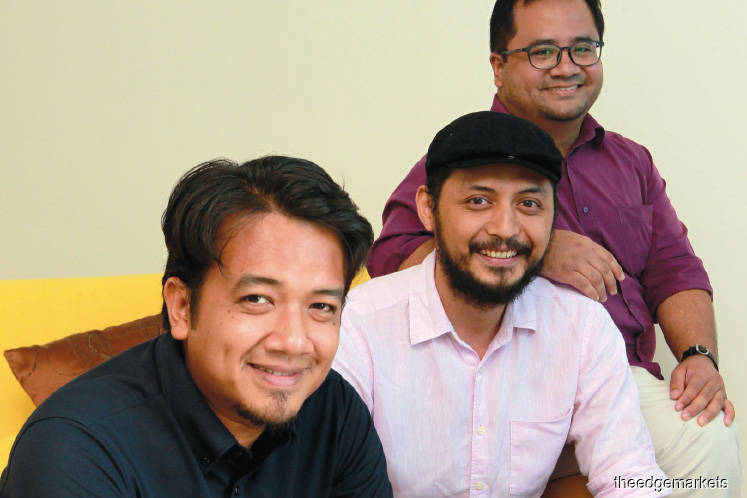 Mohd Shahidi Ismail quit law school at 20, married his girlfriend — who was still at university — a year later and opened a tuition centre in the middle of a squatter settlement in Pantai Dalam, Kuala Lumpur. His relatives and friends thought he had gone mad. But he needed the pittance he earned from the tuition centre to survive.
He and his wife gave lessons on the Quran and used the money earned to fund seminars and leadership courses for the students, all of whom were in the lower income group. He had noticed that while many of the students were talented, the education system was not designed to accommodate them. So, they were frequently left behind.
"Some of the students who were called stupid or bad or underachievers were actually smart. You could tell from the way they spoke and answered questions," says Mohd Shahidi.
Unfortunately, Malaysians are conditioned to only pay attention to exam results. So, he felt that he needed to do something about it. He decided to learn how to start a business by participating in conferences and training programmes for small and medium enterprises.
This included the [email protected] Programme in 2011, which was jointly organised by SME Corporation Malaysia and Universiti Kebangsaan Malaysia (UKM, the participating university at the time). There, Mohd Shahidi was one of five entrepreneurs chosen to attend a leadership course at the University of Oxford's Saïd Business School.
He also entered a business idea competition that was held during the Silicon Valley Comes to Malaysia conference in Kuala Lumpur. "I submitted my idea and it was chosen by the Silicon Valley companies there that day as one of the top 100 ideas pitched. I was coached by Sputnik5, a consulting firm based in Silicon Valley, and I got to chat with Jeff Hoffman, the billionaire founder of Pricefinder, and Paul Bragiel, founder of virtual reality and augmented reality-focused venture capital firm Presence Capital."
Chance encounters
Mohd Shahidi says one of the better things to come out of that conference was meeting Zainal Aroha Zainal Arshad, who is now chief technology officer at their company, Tell N Search PLT. They hit it off immediately.
Zainal Aroha, a computer engineering graduate of Michigan Technological University, had worked in San Francisco for three years as an internal programmer at a bank. He decided to return to Malaysia during the 2008 global financial crisis.
"When I met Mohd Shahidi at the conference in 2011, I had already started a business supplying laptops and software and setting up networking systems via government contracts. I told him when we first met that I had noticed that many Malaysian graduates do not utilise their degrees. Some pursued a career path totally unrelated to their degree or joined multi-level marketing companies," says Zainal Aroha.
"I thought it was such a waste of money, time and talent. I mean, the government spent RM500,000 to RM1 million in taxpayers' money to send one student abroad. So, Malaysia should reap the benefits of that expenditure."
He felt there should be a way to ensure that the courses are suited to the students who apply for them. "The question is, how do you accurately identify your innate talents, personality and aptitude before you go off to pursue your degree?"
Through Mohd Shahidi's network at UKM, they were introduced to Prof Dr Khaidzir Ismail, a clinical psychologist, whom they consulted on a weekly basis.
"We met weekly to discuss the pros and cons of the psychology tests in the market. From there, we worked with his research assistants and doctoral students to come up with questions and improve on them. We made sure that the questions had local context as the commonly available tests were anchored on western values and norms," says Mohd Shahidi.
It was during this time that an old friend of Zainal Aroha introduced them to Imran Hashim, who is now chief operating officer at their company. Imran, an accounting and finance graduate of the University of Warwick in the UK, was a Public Service Department (JPA) scholar. He too had returned to Malaysia during the global financial crisis and was one of the lucky ones to secure employment at Bank Negara Malaysia.
"I worked there for several years, got an understanding of the banking industry and left Bank Negara to join Leadernomics, which focuses on talent development and acceleration. I saw that there was a huge space for human capital development, specifically after dealing with some commercial bankers, whose sole motivation was to obtain financial gain at the expense of their customers," says Imran.
"So, I thought to myself, there had to be a way to identify aspects of one's personality or aptitude that are lacking so that they can be improved upon. That is because they impact the way you make decisions and communicate."
Tests developed
With Prof Khaidzir's help, they developed five tests to accurately profile someone in terms of his or her personality, aptitude and tendencies. "The first was a developmental test for children aged four to nine. The second was to test any inclination towards substance abuse. The third was on personality and the fourth, on implicit association, which tests a person's automatic association of an object with a memory or emotion. Finally, we devised the future orientation test, which tests how a person plans their future, says Mohd Shahidi.
"To get a more holistic view of the test takers, we took into consideration their socioeconomic backgrounds, key performance indicators, cumulative grade point averages and their attitudes, via surveys and interviews. Then, when all of these were keyed into our system, it provided an analytics and a report on them."
The tests have been integrated into a digital platform called Tell N Search. The team came up with two suites — Education, which is for institutions of higher learning, and Enterprise, which caters for human resources departments.
Imran says test takers only need to spend 30 to 40 minutes on the tests and the results are confidential. "Only a select few have access to the analysis, results and report and in their entirety. The test takers can, of course, view their own results, but that's it."
In terms of clientele, there are currently two universities on board — UKM and Universiti Putra Malaysia (UPM). "UKM subscribes to both the Education and Enterprise suites while UPM only subscribes to the Education suite. Haluan Malaysia, a non-governmental organisation that focuses on orphans, subscribes to our Enterprise suite," says Imran.
Zainal Aroha adds that UKM uses its platform to screen students and employees for promotion, hiring, talent development and performance appraisal. "We have been working with UKM for two years now. But the data is not complete as we have not gone through a full cycle with the university yet.
"For us, the Education cycle starts when the undergraduate students begin their first year and ends when they graduate. So, three to four years, depending on the length of their degree."
As the Enterprise suite is used to hire and promote staff, it does not have a specific time frame or cycle.
Imran says when they present their findings, the dean of the faculty or management usually has a preconceived idea of what the results should be. "If the results do not tally with their beliefs, they will be indignant. They will ask 'How could this be true?' or exclaim 'This is impossible!' We say to them that this is what your students or employees are telling us. This is the data."
Mohd Shahidi says the programmes are gaining traction with other universities and the team is looking forward to having five universities on board this year. "You can say that we have found the perfect market fit because as it turns out, universities really value this kind of service," says Imran.
Zainal Aroha says this has been invaluable to critical academic faculties such as the faculties of medicine and law. "The faculty of medicine has one of the highest number of dropouts. The university found that the majority of students who enrolled in this faculty did so not because they were interested in the subject, but because their parents had coerced them to. The same goes for the faculty of law. Our tests enable the admissions department to screen out students who are not really interested."
Challenges
Imran says his main challenge has been getting adequate funding for the company. He points out that the company's research was not funded by the universities or with a grant. It had come out of their own pockets. "It was pure bootstrapping from the start."
They had tried to get grants and funds, with no success, says Zainal Aroha. "We got rejected again and again by Unit Peneraju Agenda Bumiputera (Teraju), Cradle … you name it. Perhaps we are not in a sexy field such as financial technology (fintech). Also, for us to show the full impact of our platform, we need at least three to four years to collate enough data.
"As our business model is business-to-business or business-to-government, the sale cycle is longer than the norm. Perhaps this is too slow for them."
This may be due to a lack of awareness, he says. "Not many here are aware that US survey data and cognitive analytics companies such as IBM Kenexa or Qualtrix are billion-dollar companies. Even Culture Amp, an employee feedback and analytics platform, was able to clinch US$6.3 million in funding."
Imran agrees, saying that psychometric testing is not seen as something valuable in Southeast Asia. "From our experience, even universities were sceptical at first, until they saw the output — the analytics and report of the system. They now know this information is invaluable as it provides them with a clearer picture of their students' profiles so they can make better admission decisions."
Protecting intellectual property is another challenge. "Unfortunately, algorithms cannot be patented in Malaysia as these are deemed easily adjustable. All we can do now is to copyright it," says Imran.
Going forward
The team's main goal now is to make Tell N Search's services available throughout Asean. "In my opinion, it is important for us to look outside Malaysia for our company to grow to the next level because of the volume of potential customers. Malaysia only has a population of 30 million. If we expand regionally, our potential customers increase to about 625 million," says Zainal Aroha.
"Of course, there will be growing pains in terms of customising our tests for each Asean country, but this is our differentiation as well. We believe these tests should be localised so that the results are accurate."
Tell N Search has seen tenfold growth in revenue. Its Education and Enterprise suites are available only by subscription and the cost depends on the number of users. "For about 1,000 users, the ballpark number is six figures," says Imran.