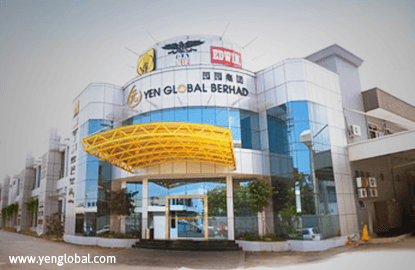 KUALA LUMPUR (July 15): Yen Global Bhd confirmed that its major shareholder Gemtek Investments Co Ltd has raised its stake in Yen Global to 30.07%, after acquiring a 20% stake in the company yesterday (July 14).
"After due enquiry with all directors and major shareholders of the company, we wish to confirm that the company has today received notification from Gemtek that it has raised its stake through an acquisition of 28.75 million shares of Yen (Global) in an off-market deal on July 14," the apparel manufacturer and distributor confirmed in a bourse filing today.
The total shareholding of loss making Gemtek after the acquisition stands at 41.25 million shares, which translates into a 30.07% stake in Yen Global.
Shares in Yen Global jumped as much as nine sen or 13.85% to 74 sen today, the highest point since April 30, 2004, when the counter was last traded at 73.9 sen.
It pared some gains to close at 72.5 sen, still up 7.5 sen or 11.54%, with 3.39 million shares traded. This valued the counter at RM99.47 million.
Yesterday, Yen Global saw 28.34 million shares representing a 20.65% stake in the company traded off market for RM14.17 million.
The shares were moved in eight direct business transaction blocks, at 50 sen per share, which were 15 sen or 23% lower than the 65 sen closing price of its shares yesterday.
Taiwan-listed Gemtek on June 17 emerged as a substantial shareholder after acquiring 12.5 million shares or a 9.09% stake in Yen Global via private placement at 52 sen per share.
According to Yen Global's latest annual report, its executive chairman Goh Kok Beng and former managing director Goh Kok Heng, the largest shareholders, have a deemed interest of 24% in the company via their shareholdings in Extreme Lifestyle (M) Sdn Bhd.
Last month, Yen Global sold its entire stake in loss making Twin Access Sdn Bhd to two individuals for RM3.41 million to improve liquidity and cash flow, while raising additional working capital.
The group posted a wider net loss of RM9.22 million in the nine months ended April 30, 2016, compared with a net loss of RM8.63 million in the previous year, due to an impairment for slow-moving inventories.