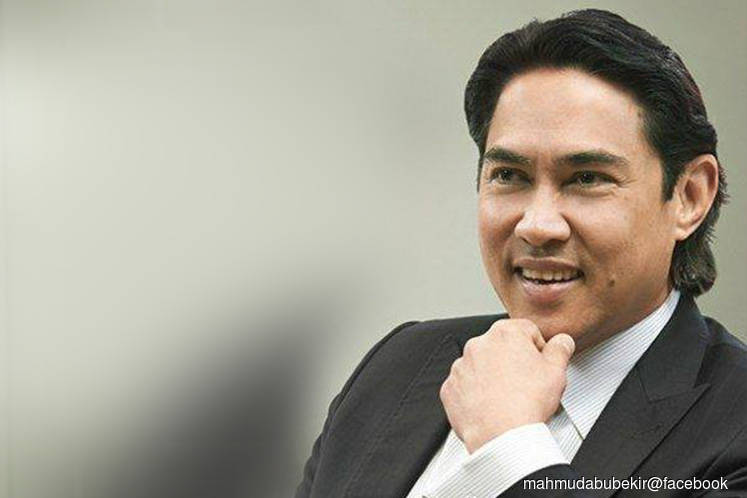 Taib Mahmud's former daughter-in-law seeks RM300m in matrimonial assets
KUALA LUMPUR (May 9): The former wife of Datuk Seri Mahmud Abu Bekir Taib, Datin Shahnaz A Majid, has filed a claim seeking RM300 million in joint matrimonial assets at the Syariah High Court here.
Shahnaz, the elder sister of jazz queen Datuk Sheila Majid, had previously been successful in getting a mutaah (conciliatory gift) following their divorce to the sum of RM30 million.
This follows a three-member Syariah Court of Appeal bench affirming on last Oct 16 the Syariah High Court decision on March 10, 2016 to award the RM30 million for the alimony payment.
The couple were divorced on May 11, 2011, after they married in 1992. The couple has a son Raden Murya, who will turn 26 later this year.
Abu Bekir is the son of former Sarawak chief minister and current governor Tun Abdul Taib Mahmud.
In Shahnaz's latest legal action that she re-filed on Jan 25 this year, sighted by theedgemarkets.com, she reduced her initial sum sought from RM400 million, which was filed in 2011, to RM300 million.
In her statement of claim, Shahnaz, 56, claimed that there are assets obtained by Abu Bekir, who is the executive chairman of Cahya Mata Sarawak Bhd, which allegedly has billions of ringgit in investments and revenue.
She said in their marriage, she had contributed in working, being the wife and looking after the family. Shahnaz graduated in the United States, and prior to her marriage she was working at a local bank.
Former husband's stakes in companies
Shahnaz claims that during their years of marriage, the couple had the following assets: RM219.68 million of stakes and shares in 18 exempt private companies. She listed her husband's 50% stake in Agapanthus Sdn Bhd, Alterdot Sdn Bhd, Arena Taat Sdn Bhd, Aspire Teamwork Sdn Bhd, Bakat Sensasi Sdn Bhd, Campanula Sdn Bhd, Cattheya Sdn Bhd, Dianthus Sdn Bhd, Echinacca Sdn Bhd, Ivy Craft Sdn Bhd, Lisianthus Sdn Bhd, Mizahi Sdn Bhd, as well as 80% stake in Bismuth Sdn Bhd, 47.5% in Gypsophila Sdn Bhd, 99% in Radiant Lagoon Sdn Bhd, 47.5% in Strategy Expert Sdn Bhd, 80% in Titanium Engineering Sdn Bhd and 5.1% in Vanadium Land Sdn Bhd.
The divorcee further claims that Abu Bekir holds stakes in 11 companies where the financial accounts are not audited: Bella Magic Sdn Bhd (47.5% stake), Callistephus Sdn Bhd (50%), Cyrilic Sdn Bhd (50%), Essential Straits Sdn Bhd (47.5%), Fair Sprit Sdn Bhd (79%), Hammorial Sdn Bhd (9%), Log Oak Promotions Sdn Bhd (47.5%), Monarda Sdn Bhd (52%), Murya Holdings Sdn Bhd (1%), Polar Red Sdn Bhd (37.35%), and Titanium Project Management Sdn Bhd (51%).
Shahnaz further claims her former husband has 20 stakes in companies where the accounts are audited: Cahya Mata Sarawak (9.12% stake, shares worth RM161.9 million), Sarawak Cable Bhd (20.66%, RM31 million), Achi Jaya Sdn Bhd (15.65%, RM506,589), Daya Shukra Sdn Bhd (25%, RM8.54 million), Digamma Sdn Bhd (99%, no amount), Espatial Resources Sdn Bhd (47.5%, RM955,833), Graceful Design Sdn Bhd (10%, no amount), Infratech Geotechnique Sdn Bhd (25%, no amount), Kris Sakti Holdings Sdn Bhd (100%), Kris Sakti Petroleum Sdn Bhd (100%, RM999,300), Man15 Sdn Bhd (50%, no amount), Pehin Sri Heritage Sdn Bhd (9%, no amount), Pelitamas Bumi Sdn Bhd (20%, no amount), Bumitime Xtra Sdn Bhd (67%, RM290,255), Sarawak Capital Sdn Bhd (51% RM45,133), Sure Versatile Sdn Bhd (55%), Trenergy Infrastructure Sdn Bhd (6%, RM2.378 million), Titanium Management Sdn Bhd (59.58%, RM8.394 million), Central Paragon Sdn Bhd (52.5%, RM4.273 million), and Double Versatile Sdn Bhd (65%, no amount)
Savings and landed properties
Shahnaz also alleged that her former husband has savings in several bank accounts amounting to RM10.75 million as of 2012, along with Amanah Saham Bumiputera, Employees Provident Fund and Tabung Haji savings.
She also claimed Abu Bekir holds inheritance from his late mother Datuk Amar Laila Taib, namely an 11.48% stake, worth RM203 million, in Cahya Mata Sarawak and her 50% stake in Demak Jaya Holdings Sdn Bhd.
The divorcee further listed the 10 luxury cars that her former husband possesses, including a Bentley, Lamborghini, Bugatti, two Ferraris, an Alphard, and Audi Q5.
She also listed more than 20 properties in the form of palm oil plantations in Sarawak, buildings in Sarawak, and a bungalow in Bukit Tunku here as some of the assets owned by her former husband.
Following this, she is seeking RM300 million as joint matrimonial assets, declaration that she is entitled to 50% of the listed assets, and that the amount of 50% of the stakes in the assets is transferred to her.
Today, the matter came up for case management before the Syariah High Court registrar Abdul Hadi Hamad, who directed Abu Bekir's lawyer, Waliuddin Alias, to file the defence by June 18.
Shahnaz was present with her lawyer Datuk Akberdin Abdul Kader.