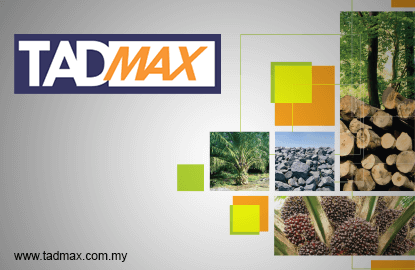 KUALA LUMPUR (July 22): Tadmax Resources Bhd said it is raising its stake in subsidiary Wawasan Metro Bina Sdn Bhd from 55% to 100% to boost its foothold in property development and construction activities.
It is buying the additional stake from three companies — Inas Angkasa Sdn Bhd, Impiria Jaya Sdn Bhd and Global Showcase Sdn Bhd — for RM42 million, it said in a filing to Bursa Malaysia.
Tadmax said the price took into consideration its complete control of Wawasan Metro's operations and future strategic directions upon acquisition, as well as the subsidiary's future prospects and upcoming projects.
The acquisition, it said, presents an opportunity for the group to consolidate Wawasan Metro's earnings in full as its wholly-owned subsidiary, which will in turn improve the  group's future earnings.
Tadmax said 70% to 75% of the acquisition cost will be funded by bank borrowings, and the balance from internally-generated funds.
If a 70% financing is secured, the group's gearing will rise by about RM29 million, it said.
Based on the audited gearing of the group as at Dec 31, 2015 of RM3.1 million (including hire purchase), the additional RM29 million will raise the gearing ratio from 0.01 times to 0.12 times, it added.
Tadmax said the acquisition will not have any effect on the group's net assets and earnings for the financial year ending December 2016, but is expected to contribute positively to future earnings upon the commencement of property development activities.
Tadmax shares closed 3 sen or 5.94% higher today at 53.5 sen, for a market capitalisation of RM262 million.