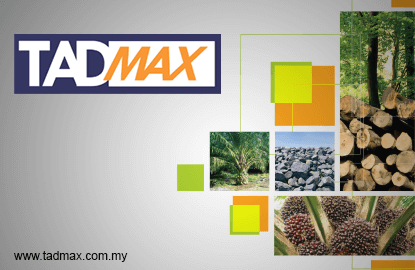 This article first appeared in Corporate, The Edge Malaysia Weekly, on July 4 - 10, 2016.
TADMAX Resources Bhd has got the nod for a 1,000mw combined cycle gas turbine (CCGT) power plant project that would cost around RM3 billion to develop, according to industry sources. The Cabinet has approved the project that will be developed on Tadmax's 60-acre piece of land on Pulau Indah, they add.
Tadmax's share price has been climbing steadily, gaining 37.5% this year as at last Friday's close of 40 sen a share. In fact, riding higher 
trading volumes, Tadmax had been flagged for an upper Bollinger breakout last week by TA Securities when its share price hit a high of 42 sen.
According to one source, the Pulau Indah power project was green-lighted at last week's Cabinet meeting. However, Tadmax will still need to negotiate the terms and tariffs with the Energy Commission as well as a power purchase agreement with Tenaga Nasional Bhd.
When contacted, Tadmax's management declined to comment on the matter.
"The rationale for this project is simple. The Klang Valley is the load centre of the country, consuming most of the electricity, yet most of the power plants are located far away — in Johor or up north. Meanwhile, most of the power plants located close to the load centre, like Kapar and Connaught Bridge, are already quite old," explains an industry veteran with knowledge of the matter.
That said, the award to Tadmax is seen as surprising by some quarters. Formerly known as Wijaya Baru Global Bhd, it has no track record in developing power plants. The bulk of its assets is tied up in timber concessions in Papua New Guinea and most of its revenue comes from its property segment. Furthermore, with a market capitalisation of less than RM200 million and only RM23.4 million in cash, Tadmax would seem to lack the financial muscle to undertake the project.
However, this can be easily resolved by finding a financial and/or technical partner to co-develop the project.
Note that this is not Tadmax's first foray into developing power assets. In 2013, the company was one of seven that bid for Project 3B, a 2,000mw coal-fired power plant project, which was eventually awarded to 1Malaysia Development Bhd (1MDB).
In the request for qualification, Tadmax proposed to develop a coal-fired power plant on a 310-acre tract that it owned on Pulau Indah. Interestingly, this piece of land is located adjacent to the Port Klang Free Zone.
Tadmax and another bidder failed to qualify at the time. However, industry sources say it continued to lobby for a power project on the land, amid delays in the planting up programme at the time.
When it failed to secure a power project, Tadmaxeventually sold the land to 1MDB for RM294.38 million.
Note that Tadmax still retains 60 acres on Pulau Indah that will be used for the development of the 1,000mw CCGT power plant. While its bid for Project 3B would have utilised the 310-acre tract, a CCGT power plant is substantially smaller than a coal-fired plant, so 60 acres will suffice.
Interestingly, Tadmax had also sought to dispose of the 60-acre piece of land in April 2014, signing a sale and purchase agreement (SPA) with Inai Kiara Sdn Bhd.
The land, held under Tadmax's wholly -owned subsidiary Kirana Abadi Sdn Bhd, was supposed to be sold to Inai Kiara,  controlled by Guljar Mohamad Noor Mohamed, for RM48.35 million. But on June 24, Tadmax and Inai Kiara mutually agreed to terminate the SPA that had been signed almost two years earlier, with Tadmax returning the RM4.8 million deposit to Inai Kiara.
The industry veteran who is familiar with the project's site says a coal-fired power plant would be more suitable as per Tadmax's original proposal.
"Coal plants need to be accessible by sea so that coal can easily be delivered in large quantities. The Pulau Indah site met this requirement. There is no problem with building a gas plant there; it (Tadmax) just has to build a gas pipeline. But a coal plant in that location would have been more strategic," he explains.
Note that there are already two known gas power plants in the pipeline. SIPP Energy Sdn Bhd, a company linked to the Sultan of Johor, is reportedly in the final stage of negotiating a tariff with the Energy Commission for a 1,400mw CCGT plant, also known as Project 4A.
Meanwhile, 1MDB's former energy unit Edra Global Energy Bhd, which is now owned by China General Nuclear Corp, is also in the process of negotiating the tariff for Project 4B — a 2,000mw CCGT plant in Melaka.
Hence in total, there may be as much as 4,400mw of power in the pipeline, including Tadmax's, which will be delivered over the next three to four years.
Both Project 4A and 4B will be key to Tadmax as they will set the new benchmark for generation tariffs. The current benchmark of 34.7 sen per kW hour was set by TNB's CCGT plant in Seberang Perai, but iit s considered too low to be commercially viable given the depreciation of the ringgit over the past two years.